Adobe's renewed push into mobile has produced a veritable fleet of slick iOS apps aimed at creative artists, but has thus far neglected designers who rely upon traditional page layout software. With today's release of Comp CC for the iPad, Adobe has finally given InDesign users something to get excited about.
Instead of being chained to the desktop while roughing out an initial draft, designers can now create more freely from nearly anywhere using only an iPad, safe in the knowledge the work they've done so far will actually be part of the final project.
Comp it up
Adobe Comp CC is the latest in what's become an entire suite of Creative Cloud-powered apps. While previous offerings have focused on creating individual elements for Photoshop or Illustrator users, Comp CC brings all of that disparate content together to create layouts for mobile, web, or print.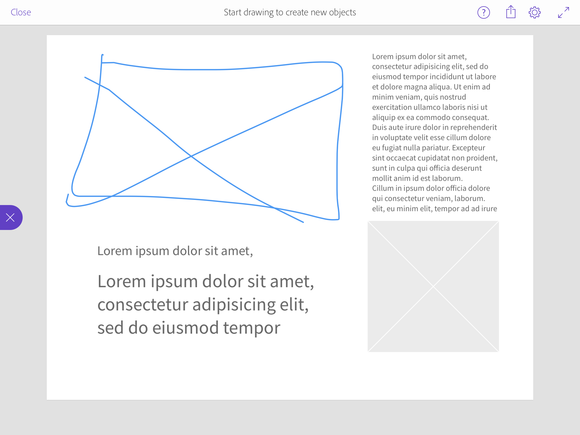 This isn't quite a stripped-down version of Adobe InDesign CC, although the company has done an exceptional job of keeping things nimble while retaining core tools designers depend on.
To get started, choose from a variety of preset layout sizes for the most common web, page, or iOS devices, or create your own custom dimensions from scratch. For now, projects are limited to a single page, and you'll want to keep a conversion wheel handy, because points are the only measurement supported.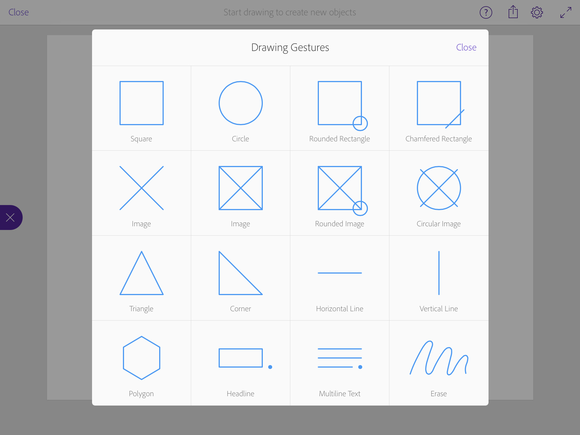 Layouts are automatically saved to a user's Creative Cloud account when closed, and Adobe includes a fully editable sample comp from each layout category to demonstrate what the app is capable of. (While you need a Creative Cloud account to use Comp CC, you don't need to be a paying Creative Cloud subscriber. But to open files from the desktop apps on the iPad, you do need a paid subscription.)
Who you calling dummy?
In Editing mode, Comp CC enables designers to dummy up designs using stock placeholders for image frames, text, lines, and shapes. The app comes equipped with vectors for basic shapes, while other assets (such as those created with Adobe Shape CC) can be placed directly from a Creative Cloud Library, camera, or iPad photo library.
The most truly awesome feature is the ability to draw shapes using gestures—even if you can't draw a straight line. Using technology first demoed at last year's Adobe MAX conference, the app automatically converts finger doodles into clean vector objects right before your eyes.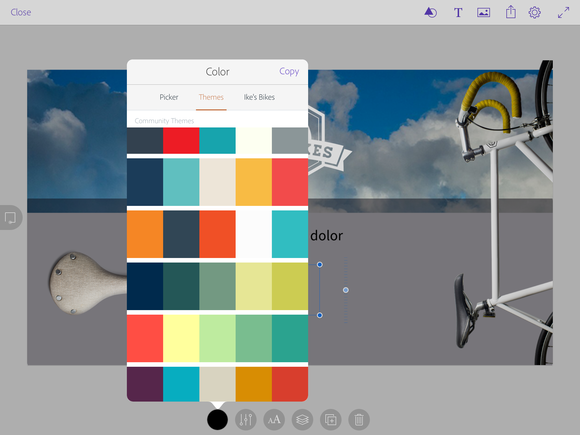 Not happy with a particular shape? While in Drawing mode, a squiggle drawn over existing elements erases them instead. (A Trash button is also available in Editing mode.) Two- and three-finger gestures can be used to undo or redo one or more steps, and there's even a combination for adding a block of placeholder text (draw three horizontal lines, followed by a dot).
While basic shapes require minimal effort, I found myself frequently consulting the in-app cheat sheet when drawing image placeholders, which require more complicated gestures. If Comp CC doesn't recognize one of 16 available gestures, the app simply ignores and erases it.
Designed for design
No layout app would be complete without text formatting options, and Adobe Comp CC solves this problem brilliantly by reaching into Creative Cloud's vast library of Typekit fonts. Tapping a cloud icon downloads that font family to the device, which also syncs to any connected computers.
One thing missing is a way to preview cloud fonts already available in an account prior to downloading them first, but Typekit offers a more pleasant selection experience anyway, making it a breeze to search for and add new typefaces from there.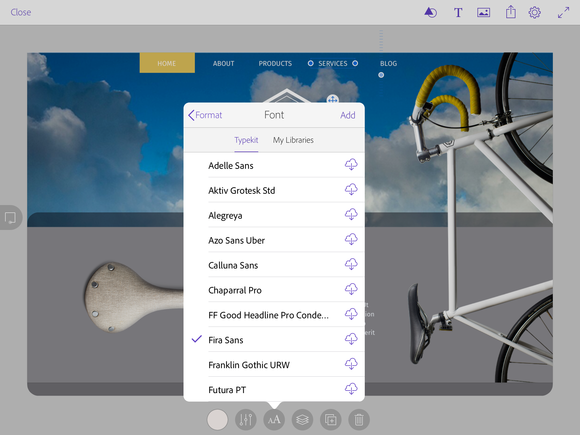 You won't find all of InDesign CC's rich text editing tools here, but the included paragraph indentation, line and letter spacing, and type styles more than get the job done. Formatting can even be copied and pasted from one block to another, further streamlining the initial design process.
Once completed, designers can share layouts with clients or colleagues from the iOS 8 share sheet, or send fully editable files directly to Photoshop, Illustrator, or InDesign, allowing designers to pick up right where they left off. (Saving to desktop also launches the corresponding Mac or PC app with the file already opened, a nice touch.)
Bottom line
Layout is finally going mobile: Adobe Comp CC is a godsend for InDesign users accustomed to being tethered to the desktop. It may not be a full-featured solution, but there's more than enough here to knock out quick comps for clients or even attractive first drafts for mobile, web, or print work.