In last week's Think Retro—and with my apologies to him for bringing it up yet again—I told the tale of Kenny gouging a track in the lid of his brand new 12-inch PowerBook G4 within days of buying it, and I bet you too have your own tales of woe about that first time your perfect, beautiful bit of Apple hardware got its first scratch.
Today, though, I want to celebrate those scratches.
Those scratches are the signs your iPod, your iPhone, your Mac is yours. They show it has lived—with you. They show it has worked.
These aren't froufrou museum pieces, kept, switched off, in rarefied air behind sheets of Plexiglass. They get scarred as they go through life just like you, and just like the scars on your body, you'll often remember where, when and how your Mac got each one. Each one is a story.
Some Apple devices, though, get so scratched that it's impossible to keep track of when each mark was made, even if you wanted to. Exhibit A: the iPod.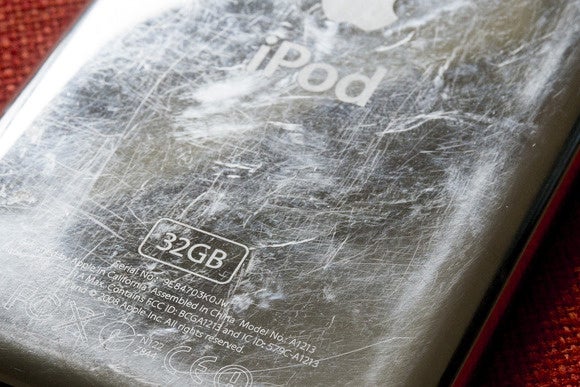 Without a case, that shiny, mirrored metal back would start attracting scratches and dings as soon as you took it out of its box. Hell, I bought an iPod classic which went straight from its box into a felt sleeve my wife fashioned, and then straight into our car's glove box where it has lived ever since, and even its back didn't stay pristine for long.
But to me, an iPod whose metal case has been dulled by wear and by use is a thing to cherish. As a face lined with wrinkles and bearing the evidence of a life lived can be as beautiful as a child's, so your iPod's ravaged visage is just as lovely as it was when you first prized it from its box.
It came with you every day on your commute. It was with you when you vacationed in Europe. When you took a late flight on your way to a reunion, when you journeyed home after a funeral, when you just sat on lazy summer afternoons and watched people pass by, it was in your pocket. On it you played the music that you were obsessed with when you met your boyfriend, the music you can't listen to any more because it reminds you of the breakup with your girlfriend. You took it with you on good days and on bad; it was your constant companion, your salve and your escape, your friend. And the scuffs, the scratches, the dirt built up in the seams—all of that happened when it was with you. You.
The iPhone 6 and 6 Plus don't really get dinged-up in the same way, and of course I can't in good conscience complain about that. The black surface of the iPhone 5 and 5s easily got nicked to show the bare metal underneath, and though they were comfortable in the hand, the soft plastic rear of the iPhone 3G and 3GS doesn't age gracefully.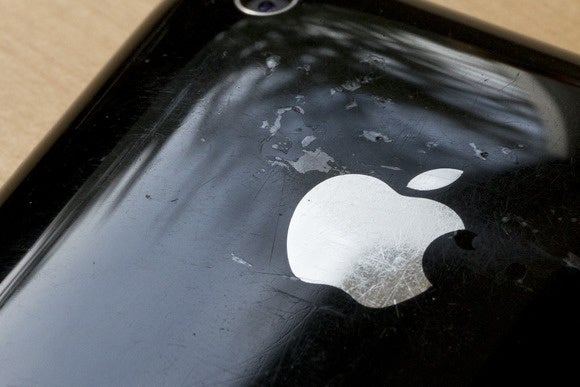 As so often in Think Retro, though, I can pine for the past while appreciating the present I live in, and I find myself in the odd position of missing something that hasn't happened yet; I know that even if I were to keep my iPhone 6 for as long as I kept my early iPods, it wouldn't accrete the same evidence that we'd journeyed together.
All this is the same impulse behind one of the reasons I love my wedding ring so. Wherever I've been, whatever I've done, and through the tough times and the joy since I married my wife 10 years ago, my ring has been with me, the countless scrapes and barely visible scuffs that abrade its soft surface bearing testament to all that time.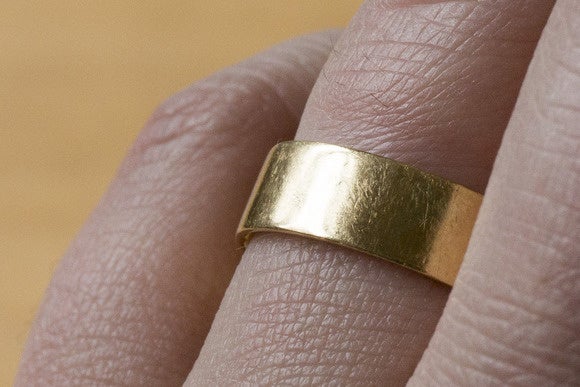 I actually have a tip for making your scratched iPod look less beaten up—and it's to carefully rub the back with a yielding sandpaper block in one direction, which gives it an astonishingly professional-looking brushed metal effect—but instead, I urge you to love it for what it is, an encoded record of everything you did and everywhere you went for the years you owned it. Go: unearth your old iPod from a drawer, and remember.