Apple opened the floodgates for Apple Watch preorders overnight, but most of us were buying blindly without experiencing the device up close. After I placed my order for the 38mm Apple Watch Sport (with a white band just like Tim Cook), I booked an early try-on appointment at the nearest Apple Store to make sure I didn't just make an expensive mistake.
The Apple Store near my office happens to be inside Grand Central Terminal in the heart of midtown Manhattan, which means it's always a madhouse. I was expecting some level of pandemonium at the Apple Store, but it was completely calm. I arrived two minutes before my appointment, checked in with an employee at the top of the staircase, and was whisked to a separate area of the store for my demo.
Try it on for size
Apple Stores have an array of Watch Sport models under glass at the front to immediately grab your attention, but you can't get any hands-on time there like you can with other Apple devices. The Watches are encased in opaque boxes on tables in a section away from the entrance, where a friendly employee helped me try on the Watch I preordered.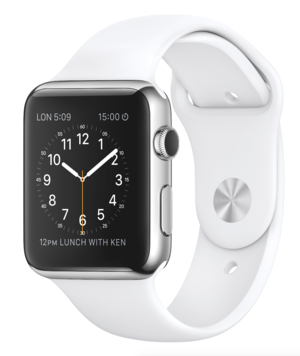 The Watch has been written about and photographed extensively, but trying it on for size is a completely different experience. The display clarity is stunning. The Sport Watch band was more comfortable on my wrist and the texture richer than I expected. The part I was most concerned about was whether the 38mm would look like an oversized computer on my tiny wrist. Crisis averted: It looks like a regular-sized computer. Just kidding, it's watch-sized—probably a little bigger than I would pick for an analog watch, but perfectly fine for a smartwatch.
The Watches you try on play a demo reel of feature highlights, so you can see watch faces, messages, activity, and other selling points in action. You also feel the Taptic Engine at work, which is neat.
During these 15-minute appointments, you can try on any Watch you want (except for the Edition), so I proceeded to don the 42mm Sport with black band (no thanks) and the 38mm stainless steel Watch with the Milanese loop band (please take my money). My biggest takeaway from the try-on appointment: Bands will be big business for Apple and any of the third parties who jump on board early.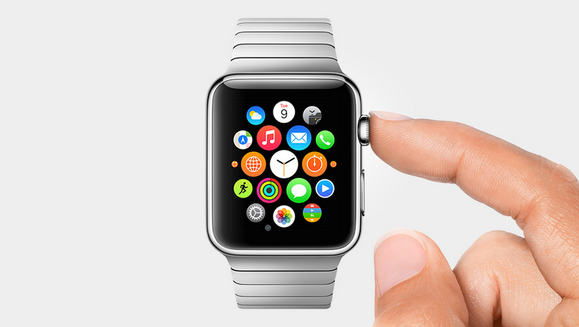 Learning how to use the Watch
Your try-on appointment also includes some hands-on time with the Watch's features, not just the demo reel. The employee who helped me said he's been training for weeks to show customers how to use the Watch, and he guided me on how to use the Digital Crown, Force Touch, and side button to navigate notifications, glances, watch faces, Siri, and the Watch's other facets. While it's nothing like using an iPhone, I could tell it wouldn't take long to get the hang of using the Watch's interface. The Digital Crown was a nice surprise: It feels a little awkward trying to move around the tiny Watch screen with your finger, so the Crown makes perfect sense as a sturdy and easy-to-use navigation tool.
My 15-minute appointment stretched to 25 minutes but my guide didn't abruptly end the demo, even though I had already preordered a Watch. I walked out of the store pleased with my purchase, more comfortable using the Watch, and already plotting out which bands to buy next.
Something to note: You won't be able to buy an Apple Watch at your appointment, even after the devices officially ship on the 24th, but an employee can help you preorder one at an in-store kiosk for home delivery if you fall in love. And you will.