Keeping your contacts wrangled can be a challenge, especially when you have to hop between Mail, your calendar, your contacts, and social media apps to keep tabs on everything that might be going on in your personal orbit. BusyContacts, a new contact manager-cum-customer-relationship-manager from the folks at BusyMac, attempts to simplify and centralize all your contact needs into a single app, helping you keep tabs on everyone without having to leave the BusyContacts app.
BusyContacts works its magic by linking to and collecting information from Apple's Mail, Contacts, and Messages apps, and your social media accounts, gathering that information into a single, multi-paned window that lets you select a contact and see your personal interactions with them as well as their social media feeds.
While BusyContacts is great at using OS X's existing apps for most of this integration, there's one small and somewhat annoying caveat when it comes to calendar info: If you want to pull your upcoming schedule into the application you're going to have to commit to using BusyMac's BusyCal calendar app—BusyContacts offers no direct integration with Apple's Calendar app or any third-party calendar applications. It's a curious shortcoming, and one that may make it a deal killer for those simply looking for a good, basic CRM tool. (BusyCal is $50, and a bundle of BusyCal and BusyContacts is available for $80.)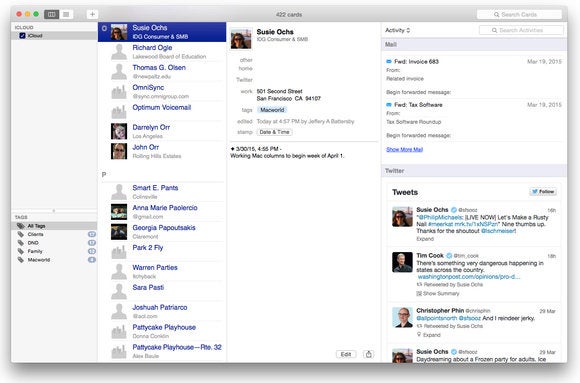 The setup
Getting started with BusyContacts is a snap. Open the app and you'll be walked through a multi-step process that gives BusyContacts access to your to your contacts. If you're using Apple's 2-factor authentication for your iCloud data, you may need to create and use an app-specific password for BusyContacts to gain access to your personal information.
For BusyContacts to pull information from your contact's social media feeds you may need to have related accounts set up in the application's Accounts preference. I say "may" because BusyContacts will pull someone's Twitter feed without requiring that you have your Twitter account set up, but it cannot pull Facebook information, even if you have your contact's Facebook account information, without your having set an account up. This makes sense, because for most Facebook feeds you can't see information unless you're logged in.
Adding social media has the effect of importing all contacts from each of your sources into BusyContacts. The upside of this option is that you can see all your contacts and their related social media feeds in one place. If you have the same contacts in each source the application lets you link them within BusyContacts, but in order to avoid displaying duplicate contacts you also need "combine" the linked cards to change the way you see them. This merge doesn't actually combine the contacts into a single record, it just changes the way contact information is displayed. This isn't difficult to do, but can be a mite confusing if you don't take the time to go through the documentation.
Oddly, even though I have a Twitter account set up on my Mac and I follow most of my contacts, BusyContacts' built-in Twitter feed always displayed a "Follow" button, even for contacts I already followed.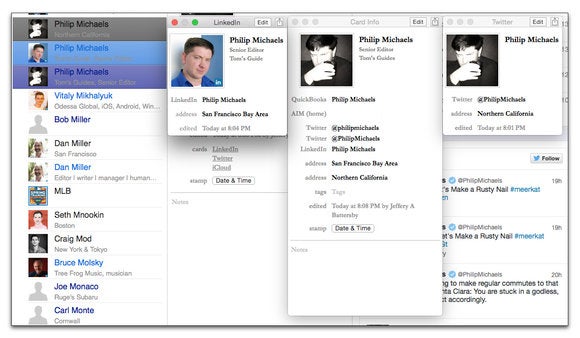 The workflow
As soon as you step through the initial setup process, BusyContacts' usefulness is evident. Select a contact and you'll see your most recent email conversations right alongside your selected contact. Double-click a mail message and the Mail app will open that message. If you have BusyCal installed a list of future and recent events will appear above the list of related email messages. Scroll down past the mail list and you'll see items the contact has posted on social media.
The beauty of BusyContacts is that it's effortless. Beyond the initial setup there is nothing you have to do to corral the information. If an email message is sent to a group of people, that message will be linked to each of those contacts and every email message, Messages conversation, and social media feed is searchable within BusyContacts
One of BusyContacts' best features is its ability to link contacts with events created in BusyCal. This works two ways. You can create a new event from within BusyContacts, which opens BusyCal, creates a new event, and adds the contact to BusyCal's contacts field, or you can create a new event and manually add associated contacts to BusyCal's contacts field. In both instances you will see the event when you select that contact in BusyContacts and it's quite simple to add or remove contacts for an existing event.
While I love the way BusyContacts links related information for selected contacts, I did find the way you create events, create notes, or otherwise initiate contact to be a bit uneven. The application offers several ways to initiate these events, but those options aren't always where you expect to find them. For example, BusyContacts lets you use an Action menu and a contextual menu to perform contact-related tasks. But you can't use a contextual menu when clicking on a contact to start a FaceTime call. Instead you have to use the action menu or control-click the contact's phone number to initiate a call. Likewise, you can't use the Action menu to add a tag to a contact. In short, it seems that the Action menu could have been eliminated altogether and the same tasks could have been performed using a contextual menu. The separation of tasks between these menus seems unnecessary.
Bottom line
As a first iteration contact management app, BusyContacts has much to offer. Easy set up and centralization of every tidbit of your contact information, including email, and social media feeds, makes it easy to keep an eye on everything your contacts are up to. But, while BusyCal integration is a huge benefit, it's also a limitation if you're happy with your current calendar app. In addition, some minor interface quirks, while not deal killers, make BusyContacts unnecessarily inconsistent.