Photos for Yosemite is finally out! And that's a real "finally" given how long we've all been wrestling with the limitations of iPhoto in OS X and Apple's early announcement of its replacement. Photos for OS X has a lot going for it, especially in speed. But it's also a ground-up rewrite of our Mac photo experience, and some pieces are missing (some permanently), some moved, and some broken.
This week, I'll answer some early questions about Photos, but there are plenty more Photos queries in the queue, and I'm sure you all will have more. (Read Jeff Carlson's Photos review for an overview of features and how they work.)
Merging libraries
Several people wondered about how to cope with multiple existing iPhoto libraries. Harald wrote, "Do I import them one after another into the new Photos for Mac? And which one will be the default System Photo Library?"
Like iPhoto, Photos can only load one library at a time and can only convert libraries to its format. You can import a library other than the default one you used with iPhoto into Photos by holding down the Option key and launching Photos. It then lets you select any iPhoto library you've already converted (either the original or the Photos-converted version) or click Other Library to find another one.
(If you have trouble with Photos stalling during an import, I recommend rebuilding the iPhoto library first. Launch iPhoto and hold down Option to select a library, but then hold down Command and Option when clicking Choose. You'll be prompted to repair the library. Choose the last option, Rebuild Database. It can take some time.)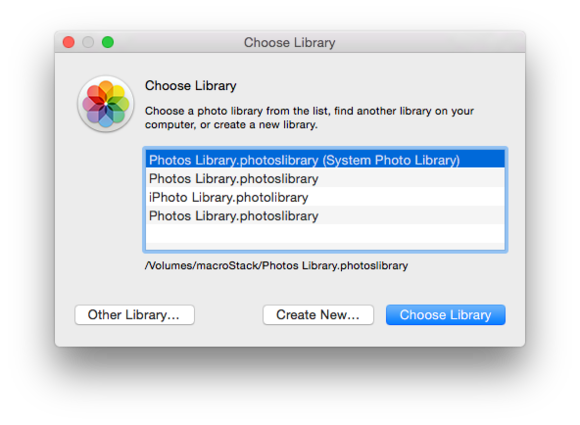 There's no tool in iPhoto or Photos for merging libraries, and you can only import photos and folders of photos from within Photos. You have a few different paths to take, although you will lose something no matter which route you opt for. As the above-mentioned Jeff noted to me:
The problem with export is that iPhoto is terrible about exporting data. Lots of stuff doesn't get included, so you're left with exporting the photos but not a lot of the hard work you may have put into it.
That includes potentially losing metadata, location tagging, and edits. If you have Aperture, Jeff notes, you can import multiple iPhoto libraries into its format, then import the Aperture library into Photos.
From within iPhoto, you can export images either in their original unmodified form or in the "current" form, which is the way they appear including any edits in the library.
Select any set or all photos.

Choose Export.

From the Export dialog box, choose either Current or Original from the Kind pop-up menu, then click Export.

Choose a destination and click OK.

Drag the exported photos into the Photos library or use File > Import to select and import them.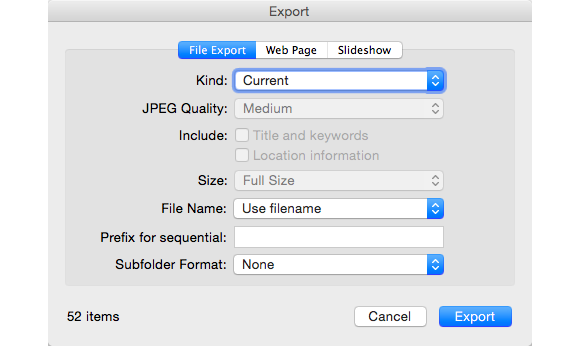 Repeat for each library.
Or, you can export from Photos:
Option-launch Photos and select an iPhoto library you want to merge with another.

After conversion, choose View > Albums and double-click All Photos.

Choose Edit > Select All.

Either:
Choose File > Export Unmodified Originals and click Export. This will exclude all changes to an image made within Photos or imported from iPhoto.

Choose File > Export [number] Photos, pick a format, and click the expansion triangle, then select Full Size from the Size menu. Unfortunately, while this preserves the current state, it exports all photos into either TIFF, PNG, or JPEG formats, rather than the original file format.
Choose a destination.

Close Photos and re-open it with the library you want to merge into.

Drag the exported photos into the Photos library or use File > Import to select and import them.
If it's worth it to you to spend $29.95, there's another course of action: the third-party utility iPhoto Library Manager from Fat Cat Software. The utility includes the ability to merge iPhoto libraries. A trial version lets you preview what a merger would look like.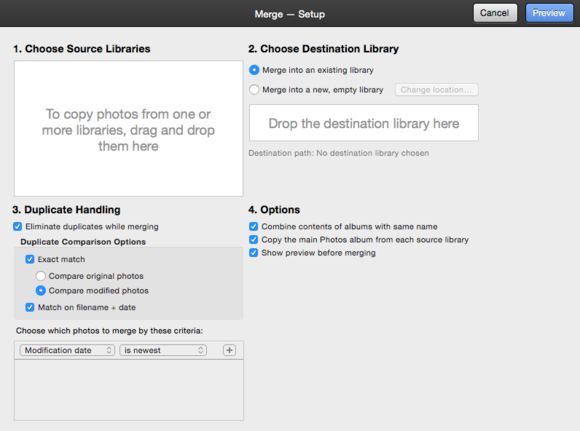 It does not work with Photos libraries—which answers a question from reader Christine—but the company just announced it will release in a few days a Photos-only version called PowerPhotos, which will be included at no cost with iPhoto Library Manager and sold separately for $19.95.
Consolidate isn't a merger
The Consolidate feature works separately from Import, and doesn't let you "consolidate" multiple libraries. In iPhoto and Photos, you can keep originals stored in folders, and only have the app keep track of changes and metadata. But those images can't be included in iCloud Photo Library, and keeping them outside of the Photos library also makes the library less portable.
Choose one or more images, up to the whole photo library, and then choose File > Consolidate. In my testing of the release version, Photos first asked for permission to access a folder outside its library, which I gave, and then after a bit of cogitation crashed every time I tried this. One assumes either my library has a problem or Apple needs to fix this in a future release.

The pause that refreshes
And one quick note about iCloud Photo Library, which I'll get into in more depth in future weeks. Several readers and tweeters have written in with problems about uploading to iCloud, and I've seen the same myself. This relates to your broadband connection and a lack of visible feedback in Photos.
Apple didn't build a throttle into the upload or sync operations. So if you have gigabytes of files to upload, it will entirely fill your pipe. You might consider how much is being uploaded if you have overage fees for your monthly usage as well.
Based on my testing, it looks like Photos will download files already in your iCloud Photo Library and perform other background sync operations before uploading new files from the local Photos cache. However, in Preferences, you can click the iCloud button and then click Pause for One Day to give your broadband a break. Before the day is up, you can click Resume at any time.
I'm using this strategy to upload during my non-waking hours after letting it chew on my broadband during the day, but seeing no movement on the progress bar. I'll report back with more news on this front.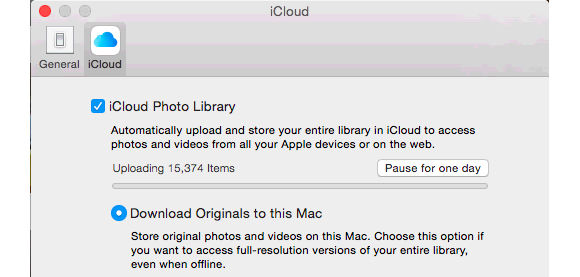 Ask Mac 911
We're always looking for problems to solve! Email us at mac911@macworld.com, tweet them at me (if brief) @glennf, or call 206-337-5833 and leave a voicemail message. (We'll be experimenting with some audio in the future, and may put your question "on the air.")
Mac 911 can't provide direct email responses or answers for every question. For that, turn to AppleCare, an Apple Store Genius bar, or the Apple Support Communities.