The release of Photos for OS X has many people considering whether they want Apple to be a central storehouse and manager of their photos and videos. Security, privacy, persistence, and data integrity (i.e., multiple levels of backups) all have their place. But cost is a factor, too.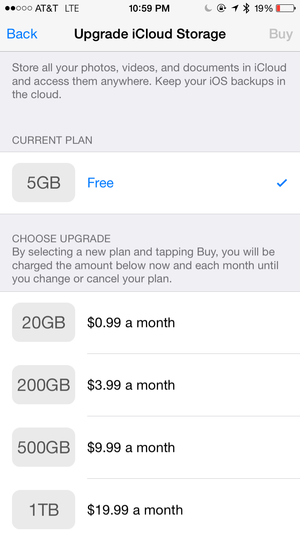 While Apple substantially lowered iCloud storage fees last September, those fees remain high compared to Apple's competitors. The question is whether the utility associated with iCloud Photo Library is worth the extra dollars compared to the ecosystems of other companies.
Most storage pricing is predicated on the notion that most subscribers will use very little data, coupled with the continuous trend downward for the cost of hard-disk and SSD storage and bandwidth. (You can read more about this trend in Backblaze's latest annual report, in which they evaluate how commodity, off-the-shelf hard drives perform in their data centers.)
And for many companies, cheap storage is a leading edge of a wedge to bring you into their product and service ecosystem. For instance, Amazon wants more users, because its users order more products, especially high-margin digital products like books, video, and music.
(I use U.S. pricing and U.S. dollars throughout for consistency. Prices outside the U.S. are typically slightly to somewhat higher.)
Apples to Amazons and more
Apple currently has five pricing tiers for iCloud storage:
5GB: Free
20GB: $1 per month
200GB: $4 per month
500GB: $10 per month
1TB: $20 per month
There is no yearly billing option, nor any option to store more data than 1TB.
Competitors pack in more storage for the buck:
Dropbox. The free tier is 2GB, with the ability to earn up to a total of 16GB through referrals and other programs. Its single paid tier is 1TB for $10 per month or $99 per year—40 percent of Apple's cost.
Amazon Cloud Drive. Amazon recently announced a seemingly outlandish deal: unlimited photo storage uploaded from any mobile hardware (phone, tablet, or other), computer, and Fire device for $12 per year after a three-month free trial. For $99-per-year Amazon Prime subscribers, the media storage is included at no extra cost.
That price also includes 5GB of non-photo storage, such as videos, which Amazon counts separately from still images. For $60 per year, you can store unlimited data of any kind. Prime users pay full price for that unlimited plan.
Google Drive. The first 15GB tier is free. 100GB costs $2 per month, and 1TB is $10 per month. Google Drive offers plans up to 30TB for $300 per month.
Microsoft OneDrive. Microsoft offers 15GB free (and up to 35GB with bonuses), then has three tiers: 100GB for $2 per month, 200GB for $4, and 1TB for a mere $7 per month—a third of Apple's price—including a subscription to Office 365.
(Amazon and Google also offer pure cloud-storage plays intended more for developers, and not integrated with sync services.)
The ecosystem
Apple's ecosystem is obviously designed to work seamlessly and in the background across all its devices and operating systems. With iCloud Photo Storage enabled on iOS devices and Macs, photos and videos are synced to every location—either at full resolution or in downsampled preview versions—as well as backed up in Apple's cloud, and accessible via your iCloud account.
Flip switches on your devices and in your hardware, and you simply don't think about sync. Or that's the general intent.
Let's look at the others, assuming that a common disadvantage is that you won't be able access the images in the Photos app on all your devices without additional steps. And let's also assume that if you're looking for an alternative, you don't frequently edit your photos: You mostly want to view them yourself, share them in person via a device, and share them via album links and social networks.

You can import specific images into Photos, of course. You can also use cloud-sync services to distribute and back up your media, and then import entire folders regularly into Photos on a given computer; you could even use an Automater action to accomplish this. (Syncing a Photos library is completely feasible, but you wouldn't want to open the same library on multiple computers, and that sync doesn't provide iOS access, either.)
Dropbox. Dropbox may have the best-designed ecosystem because they've been at it the longest. Any visual media (or any files) placed in a Dropbox folder in OS X, Windows, or other desktop platforms is automatically synchronized to Dropbox's central storage and to all other computers linked to your account. (Selective Sync can be used to exclude specific folders on any given sync device.)
Dropbox's desktop utility can automatically import media from devices when they're attached, such as an iPhone. Its smartphone apps can be set to upload photos and videos when the app is opened, as well as through background uploading.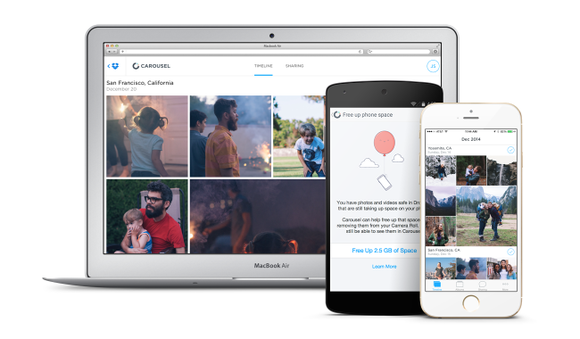 While you can look at photos and videos in Dropbox's mobile apps, the company introduced a separate media app and site last year called Carousel, which is optimized for visual media playback and scanning.
Advantage: Lower price, and you may already be paying for it. Extremely efficient behavior related to uploading and syncing. Selective sync allows you to pick which media (and files) are duplicated to which computers.
Disadvantage: None.
Amazon Cloud Drive. Amazon has the lowest price by far, but its cloud infrastructure is designed around centralized storage with the ability to view everywhere through apps, its Fire devices, and the web. The Amazon Photos app for iOS can upload photos automatically, but its desktop apps require you to select them.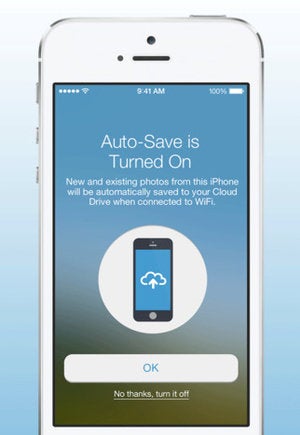 This approach makes sense if you want centralized storage and your primary intent is to view them and share them, rather than edit or upload them elsewhere.
Advantage: Unlimited storage at an extremely low price.
Disadvantage: Missing automated computer upload and sync.
Google Drive and Microsoft OneDrive. Desktop software lets you sync the contents of a folder as you would with Dropbox, and mobile software can upload photos and videos, including automatically with OneDrive. However, neither service is targeted for any particular advantage except central storage. They lack the point of Amazon's "display everywhere" direction, Dropbox's sync and photo view apps, and Apple's sync everywhere.
Advantage: You may already be using it and paying for it.
Disadvantage: Offers no particular advantage except cost.
Photo finish
Dropbox seems the clear winner if you don't routinely edit photos in Photos on different platforms, and Amazon if your intent is a central storehouse with access everywhere and at the lowest cost.
Apple can change this with a few keystrokes, such as halving its storage price. But as long as it has ecosystem lock in, it may feel its added value will keep its users paying.