Here at Macworld, we love a good DIY-project involving old Apple tech—and any time you can turn a landfill-bound product into something more useful (and, in this case, so much cooler) than it was before, well, that's just a win all around.
Minneapolis-based industrial designer and fellow Apple geek Ross Mackert might just be the new Apple DIY king: He retrofits old Power Mac G4 towers to house liquor and barware, and loves to surprise and shock fellow Mac users when he flips down its side panel to show them what's inside.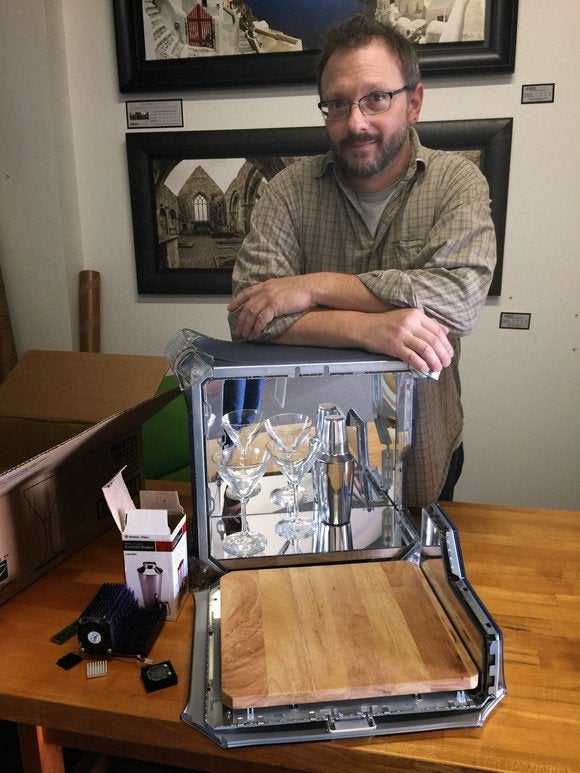 They're of course expecting to see the classic computer's high-tech (well, by 1999's standard) innards, including drive bays and power supply inside the tower, and the computer's other components—processor, memory, expansion cards, cooling fan—laid out on the panel's inner surface.
Instead, that surface is covered with a thick, elegant sheet of wood. Tucked within the tower, surrounded by reflective surfaces, is a pair of martini glasses and a shaker—entirely suitable for mixing the vodka/apple Schnapps-based concoction called an appletini.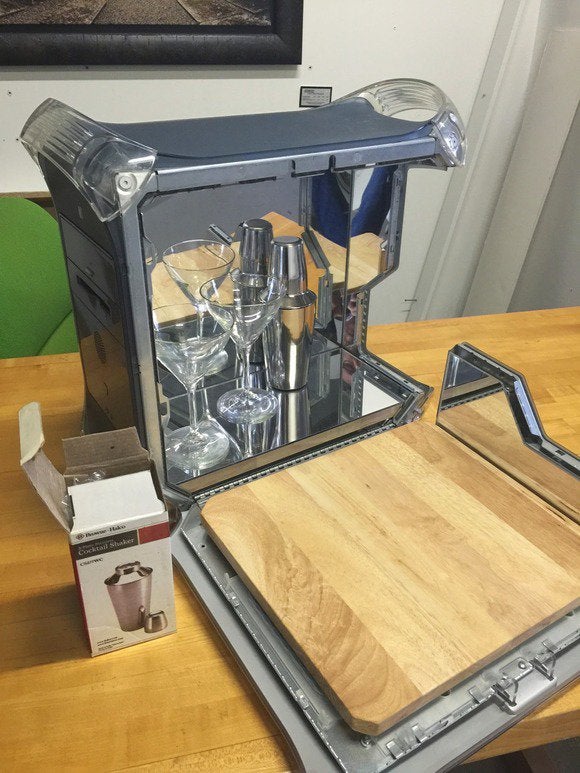 Mackert had that very drink name in mind when he christened his Power Mac creation. He calls it an Appletini Bar, and he's made more than a dozen of them at $300 a pop—and he'll make one for you, too.
There might be a bit of a wait, he warns, and you might have to supply your own Power Mac carcass, because his own scavenged inventory of old Macs is running low.
But, eventually, when you invite your friends over for a Mad Men marathon, you'll have the perfect setting to shake up a 1960s-style martini suitable for Don Draper himself. Mackert, who specializes in furniture and lighting design, said he drew inspiration from that era—sometimes called the Jet Age—when he came up with the Appletini Bar idea.
"I am a big fan of mid-century design, and the martini culture is in my head," he said. "I probably had a martini in my hand when I thought, 'Man, this would make a great little martini bar.'"
Old Power Mac G4 cases are "built like a Mercedes," Mackert said. "So much more work went into it than was necessary. The solidity is outstanding. I had one and didn't want to throw it away."
So he gutted the computer and, using thick-paper templates, figured out where each bar component would go. For the wooden mixing surface, he repurposed a food-cutting board. The tower's insides were given mirror-like surfaces to better show off the martini gear, and the outside of the computer got a good buffing.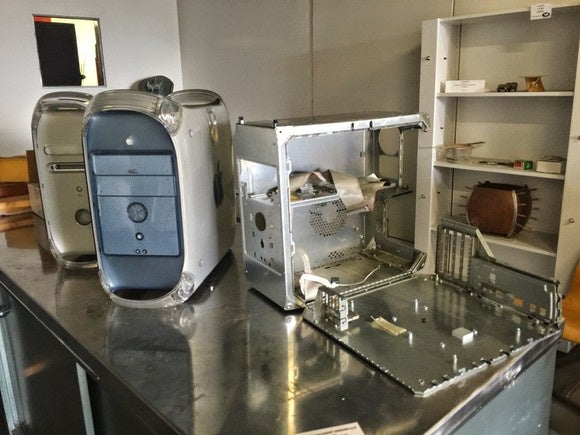 But making Appletini Bars turned out to be a perpetual challenge, because the various versions of the Power Mac G4 have different interior layouts. Mackert had to modify his design for each one.
"You wouldn't believe the changes made in the cases over the years," Mackert said. "The number of ports changed, the doors got bigger and smaller, the motherboards are different, the heat sinks are different, the structures over time got more robust. They kept making these better and better."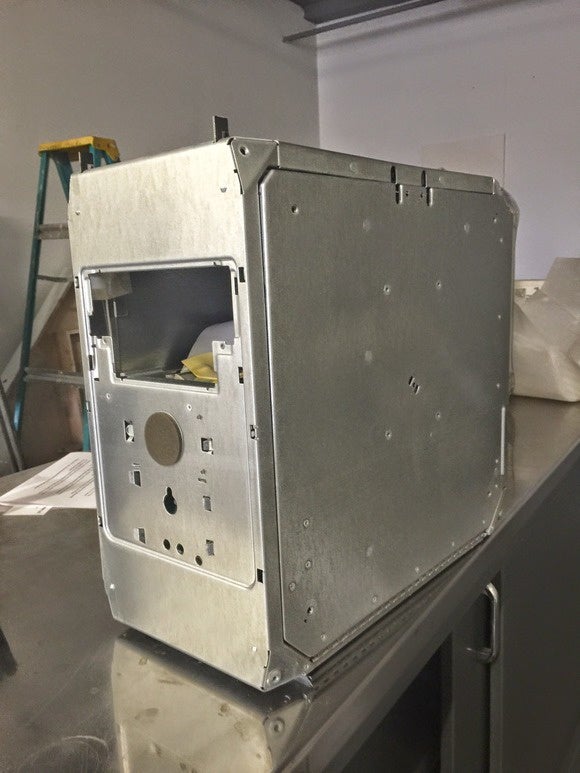 He also has had to improvise where his working materials are concerned. For the wood surface, for instance, he's been known to use the tops of wooden tray tables, purchased on sale at Sears and cut down to size.
"Every single one is slightly different," he said of those wood surfaces, which gives each Appletini Bar its own personality.
Martinis in the office
His best Appletini Bar customer, an Apple-focused Minneapolis company called JAMF Software, is happy he makes the effort. A few years ago, JAMF chairman Jim Hansen was preparing for an all-hands company retreat and looking for a way to show co-founders Chip Pearson and Zach Halmstad the appreciation he thought they deserved.
Hansen had hired Mackert to create several outdoor-sculpture pieces for his home, and when visiting the studio one day, he happened to see an Appletini Bar on display there. "I bought the one he had, and commissioned a second one," Hansen said. "I think it is the perfect symbol of what we do. It is a nice fit with our focus as a company that helps the Apple platform."
JAMF is best known for the Casper Suite, a set technology-management tools for large companies and other organizations that are deploying Macs and iOS devices en masse. Hansen added that Mackert's creation is an appropriate gift for the JAMF co-founders since, as company legend goes, the men kept whiskey and other booze at the ready for occasional drinks when the company was just one guy in Eau Claire, Wisconsin, and another guy in the Twin Cities.
If that is still the case, Hansen jokes, no one will know—the founders have Appletini Bars to hide the evidence now.
Pearson now displays his Appletini Bar on a table in a conference room, with its door open and a classic Macintosh Portable placed alongside it. "It is an amazing use of the case," Pearson said of his Appletini Bar. "The internal G4 guts are way outdated today, but the exterior design is amazing and it's great seeing it get a second life. Very green approach to reusing outmoded technology."
When the first two Appletini Bars became a hit at JAMF, Hansen decided to make this a regular thing. Now, the bars are given out every year as a Chairman's Award to "people inside the company who have demonstrated behaviors that exemplify what it means to be a JAMF employee," he said.
For instance, one Appletini Bar went to an employee "who got on a plane with no time to go home and pack to stay at a customer's site for two or three days, and solve a customer's problem," Hansen said.
As a result, the Appletini Bar has become a prized JAMF possession since only a few of the staff have them. "It's a badge of honor to have one in your work area," Hansen said.
So, does anyone actually mix drinks on it?
"Let's just say that mine is fully operational," Pearson said. "The first time people see it they kind of flip out, as they never imagined this use. It does feel a bit clandestine, like a mix of Hogan's Heroes and a Prohibition-era speakeasy."
Barkeep? I'll take two.