It may be the most amazing MacBook yet, but as you no doubt expected, Apple's new 12-inch Retina MacBook is a nightmare for the fix-it-yourself crowd.
Per their custom, the teardown masters at iFixit took apart this slender clamshell to discover all the secrets contained within its aluminum frame. What they found is that its secrets didn't come easily, thanks to a mess of proprietary screws, glue, and soldering.
In fact, iFixit gave the 12-inch MacBook one of the worst repairability scores possible at 1 out of 10, with 10 being the easiest to repair.
The impact on you at home: A bad repairability score shouldn't matter to most MacBook users for now. If a problem arises with the new laptop you can just sling it into a local Apple Store and let the Genius Bar fix you up. Once your warranty is done, however, fixing any problems is either going to be real expensive or a real pain. If you've turned up your nose at paying for AppleCare in the past don't do it with this laptop. Those extra two years of hardware coverage may turn out to be worth it.
All battery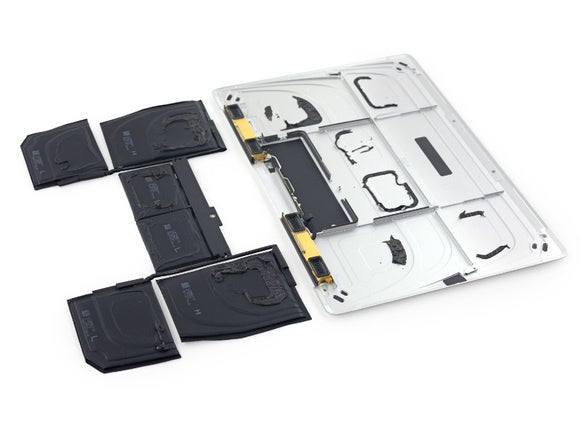 When Apple first announced the 12-inch Retina MacBook in March it said the new laptop would be packed with batteries thanks to the company's new terraced battery design. It wasn't lying. The picture above shows all those batteries post-teardown.
The new battery also keeps its connector underneath the laptop's tiny logic board. That's a first for Apple laptops, according to iFixit—but it's not an unusual sight on the iPad, showing how the influence of Apple's tablet on the Mac isn't just about size and software.
Beyond the laptop that's mostly battery, iFixit found that the Force Touch trackpad in the 12-inch model is a "slimmer, daintier version" of the one it found in the 13-inch MacBook Pro.
The MacBook's single USB-C port also isn't easy to get at it, which could be a problem when the laptop gets older and needs out-of-warranty repair. IFixit argues a single port is more likely to wear down than a typical single-purpose port.
IFixit also found that the Retina display is once again fused to the protective glass, meaning you have to replace the two components at once. As we've seen before with other Macs, Apple loves to solder components to the logic board, including the processor, RAM, and flash memory.
If you want to find out more about the secrets packed into the 12-inch Retina MacBook head over to iFixit for the complete details.