Photos for OS X made a big impact—some might say a crater. While the software has huge improvements in speed, it comes with a lot of changes, some bumps in get started, and a few bugs. In last week's Mac 911, I covered merging iPhoto and Photos libraries and a tip on pausing iCloud Photo Library sync. Jason Snell last week also explained how to use Photos with Automator, the limits of geotagging, and hard linking in Photos.
One update from last week: Fat Cat Software has already released PowerPhotos 1.0 ($20) to work with new Photos libraries, but the first version doesn't let you merge libraries. The developer is thinking about adding that feature in a future release. For now, you need to merge iPhoto libraries first via the company's $30 iPhoto Library Manager (includes PowerPhotos in that price), or one of the other techniques described in my and Jason's columns last week.
(Also tune in to the Macworld podcast this week for a discussion of Photos' issues with me, executive editor Susie Ochs, and regular Macworld contributors Jeff Carlson and Joe Kissell.)
Photos questions
Many users asked similar questions, which I'll consolidate here.
If I import my iPhoto library into Photos, should I delete my iPhoto library? There's no need to, because as Jason pointed out in his column last week, Apple uses Unix hard links, which allow a single file to be referenced from multiple places without duplicating it on the same hard drive. So you're not using more storage for the original images, which make up the bulk of a photo library. However, deleting the iPhotos library won't delete the images that are hard linked to your new Photos library.
iPhoto disappeared or can't be upgraded after I installed Photos. What do I do? Several readers noted this problem via email and Twitter. In some cases, it disappeared from the Dock. In others, it either had somehow been deleted from the Applications folder or, if out of date, couldn't be upgraded to a Yosemite compatible version. Use the Mac App Store to re-download iPhoto.

Launch the Mac App Store, and click the Purchases tab, as iPhoto no longer appears as an option in the main catalog. You may need to scroll to find it. If it's labeled Install, click that. If there's an Open label next to it, click Open, and if it launches successfully, it's still available to use. If iPhoto refuses to launch, find it in the Applications folder, delete it, and empty the trash. Return to the Purchases tab and click Install. The latest Yosemite-compatible version will install.
Do I have to use iCloud Photo Library? No! You don't. (You don't even have to install and use Photos.) It's optional. If you don't enable iCloud Photo Library in Photos > Preferences > iCloud, you can still maintain isolated Photos libraries on any Mac.
Wait, did My Photo Stream disappear? Also a no. In the same preferences dialog, you can enable or disable the feature. My Photo Stream syncs recent photos (not videos) between all iOS and OS X devices logged into the same iCloud account and have the option enabled. It keeps as many as 1,000 of the most recent photos on iOS devices, and unlimited numbers in Photos for OS X. The iCloud servers keep just the last 30 days of pictures, and doesn't count these images against your iCloud storage limits.
Do I have to import everything from an iPhoto library into Photos? Yes. You can export images or use Fat Cat's above-mentioned iPhoto Library Manager to pull in just specific images, but you can't choose just certain albums or events.
I had one count of photos in Aperture or iPhoto and another in Photos. How do I figure out what's missing? I and others definitely saw changes in photo counts! One reader says just upgrading to Yosemite changed his Aperture photo count without Photos being involved at all. This may stem from storage improvements that count photos more accurately or the removal of duplicates.
The only good way to know? Export all your images from iPhoto or Aperture and try to import them into Photos, which is designed to recognize duplicates by characteristic—creating a kind of signature for a file rather than looking at its name and modification date. It's an ugly solution, and it would have helped if Apple had exposed more data about a library conversion from Aperture and iPhoto to Photos, such as stating "1,300 duplicates removed" or "1,000 images not imported."
Did Photos kill my metadata? Photos isn't supporting the display of some metadata, such as extra fields created in Aperture. However, it doesn't modify the original files on import, so later updates that improve metadata access or exports with EXIF metadata included should include all of your original information.
Where did the map go? While you can't view a map with all your images anymore, you can view any moment that contains geotagging information on a map. In the main Photos view, keep clicking the left arrow at the upper left to get to larger groups of moments until you see a place name or names next to the date range. Click that and it shows any geotagged photos in that moment on a map. You can zoom all the way to the Years view and see a year's worth on a map at once.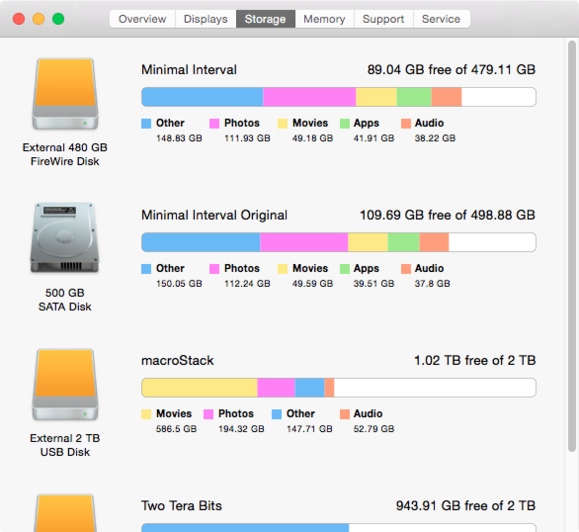 Photos says I don't have enough storage space, but I have plenty! What gives? According to some users, Spotlight can mess up OS X's available storage calculations, leading Photos to say there's not enough storage. Select  > About This Mac, and click the Storage tab. Does the drive's total less free space match what the Finder says is available? If not, open the Spotlight preference pane, click the Privacy tab, and drag the volume in. This will disable indexing and reports indicate it can fix the problem when you attempt to convert the iPhoto library again. After importing, just delete the drive from the Privacy tab to re-enable Spotlight indexing on it.
What happened to my Smart Albums? Several readers reported problems with importing Smart Albums and having them fail to work correctly; duplicated Smart Albums; and missing ones. We're still looking into that.
More specific questions
Brandon writes, "My wife has an iMac and I a MacBook, and we both have our own Apple IDs. Currently all our photos are in iPhoto on the iMac. We only want to have/maintain/purchase iCloud space for a single large family photo library. Is this a possibility with the new Photos app?" Michael Beatrice asked a similar question about using the same library with different iCloud accounts.
Sadly, Apple continues to put "family" in quotation marks. You can't purchase a single amount of iCloud storage, pool images, and maintain images with separate Apple IDs (or iCloud logins). You can have separate libraries and use iCloud Photo Sharing to invite multiple people to contribute to shared albums, but you have to then choose which images to include—there's no automatic synchronization.
Peter would prefer to maximize his 256GB SSD storage on his Mac and would prefer to store no images there, but just use it as an uploading conduit. He asks, "In the iCloud option you have the 'Optimize Mac Storage' that I guess should fit my needs, but it says that 'Originals will be stored on this Mac if you have enough storage space.'…Will it fill up my 256GB as long as there is free storage?"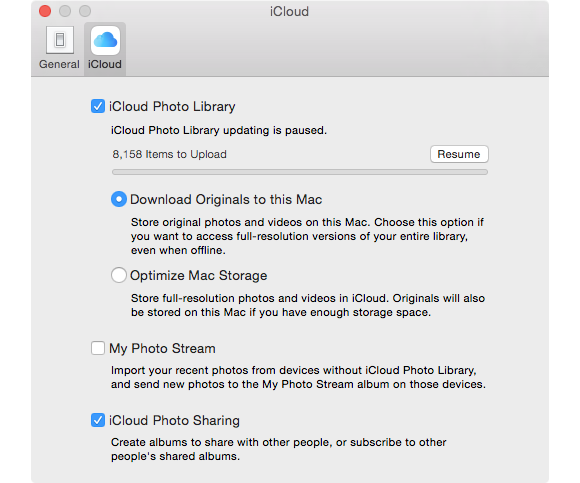 As far as we can tell, yes—yes, indeed. However, in practice, it's unlikely as, when you choose to optimize, Photos will dump the high-resolution version of files that have been synced as space fills. It only downloads them again if in Photos you want to view them at full size (by clicking them in a view), as opposed to seeing the thumbnail in a moment, album, or search result.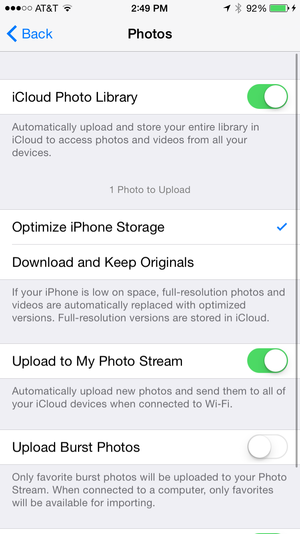 You could force this strategy by syncing everything to iCloud Photo Sharing, then deleting the library entirely, then allowing Photos to sync down just the thumbnails.
Pete Roberts noted, "I used to create albums in iPhotos and then synchronize via iTunes selected albums to our iPads. Not any more with Photos! And I do not want to use iCloud." Check that iCloud Photo Library isn't enabled on your iPads. When you connect an iOS device to iTunes and select that device, the Photos item in the navigation bar, when selected, will also tell you that "iCloud Photos is On." Disable this, and you can once again sync.
Disabling iCloud Photo Library in iOS allows you to to use iTunes to sync albums and folders from OS X to your iOS devices.
Ask Mac 911
We're always looking for problems to solve! Email us at mac911@macworld.com, tweet them at me (if brief) @glennf. Mac 911 can't provide direct email responses or answers for every question. For that, turn to AppleCare, an Apple Store Genius bar, or the Apple Support Communities.