It arrived earlier than I expected, a narrow rectangular box with nothing particularly special or Apple-like about it. But that nondescript brown package belied the brilliant white box inside, which contained an equally bright 38mm Apple Watch Sport with silver aluminum face and blindingly white band.
I gingerly lifted the Watch out of the box, much like I've done with new iPhones, not wanting to scuff or smudge the device in any way. There's really nothing like a gleaming new gadget that hasn't been yet been marred by dirty hands. (Yeah, my Watch face is already covered in fingerprints.)
Apple is offering personal setup appointments online and in-store for people who want a little extra assistance, but setting up your own Apple Watch is even more simple than getting started with an iPhone.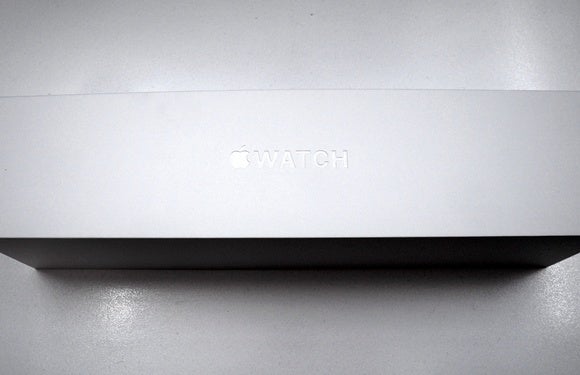 Watch, meet iPhone
Once you've ogled your Watch for a minute (or 20), it's time to strap that sucker to your wrist and put it to good use. First, make sure you turn your iPhone's Bluetooth on. Then check to see if you have either Wi-Fi on or a strong cell signal. Then press the side button beneath the Digital Crown to turn on your Watch. The Apple logo will appear.
At this point, you have to pair your devices, because the Watch can't function without your phone. Open the Apple Watch app that came preinstalled on iOS 8.2, then tap to start pairing on both your Watch and phone. The Watch screen will turn into an animated display, which you need to capture with your iPhone camera and hold steady until you see a "Apple Watch is paired" message. You can also do this manually if the animation doesn't work. The Watch will then prompt you to choose which orientation you prefer, right or left wrist.
Now they're paired. This is where the fun begins.
Getting to know the Apple Watch app
I spent much of my first hour with Apple Watch playing with my iPhone settings, which sounds absurd, but I promise it doesn't defeat the purpose of having a Watch. To configure the device to behave like you want it to, you need to go through all of its settings—and those are all stored in the Apple Watch app that came preinstalled with iOS 8.2.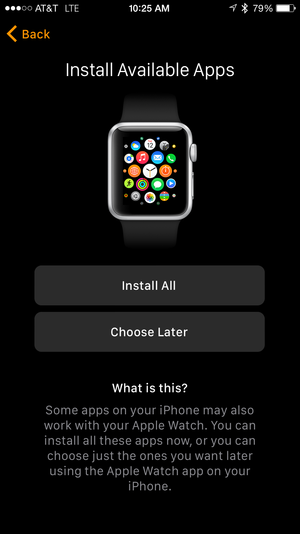 I chose not to immediately install all of my iPhone apps with Watch companions, but that's an option. Instead, I chose which apps I would actually want immediate access to on my wrist. Twitter, the New York Times, Instagram, Nike+ Running, Foursquare, and Hipchat are a few of my early selections, but there are a slew of others (about 3,000 of them, actually) that I need to comb through in the Watch App Store. You can even change the layout of your Watch apps within the Apple Watch app (say that five time fast) if you want, which I did, of course.
The most important thing to consider when setting up your Watch is notifications. This device is designed to give you snapshots of your life without having to dig out your phone, but your life probably includes a lot of crap you don't want tapping you on the wrist. The Watch app lets you adjust every app's notification settings, so you can either allow them to mirror your iPhone or customize them to suit your needs. For instance, my childhood friends and I have a Viber group chat that can blow up my phone with hundreds of messages before I have time to dive in and catch up. I don't want that noise on my wrist, as much as I adore them.
What you need to know
There's been a lot of talk about how the Watch can be confusing. The new Digital Crown navigation tool, Force Touch gesture, and Glances view are all brand-new to Apple devices, and there will be a learning curve.
It took me a few minutes to realize what I was looking at when I swiped up on the screen to see Glances, which are views of the latest (or greatest) piece of information from each app. I still prefer to use my finger to navigate instead of the Digital Crown. It took me 15 minutes to remember that I could banish Cupertino time from my Watch face by using Force Touch, or a hard press, to swap in a new face (solar time, which is by far the coolest option).
But I've only been using this thing for an hour, and I'm already smitten. Instead of constantly unlocking my phone to see what I'm missing out on, I trust my Watch to alert me when I have a new message, Twitter mention, or Instagram like. It's also probably adding a decade to my life (or so I prefer to dream) by tapping me on the wrist when I've been sitting for too long.
What did you think when you unboxed your Watch? Was it exactly like you expected, or wildly different? Share your first impressions in the comments.