If you work hard to ensure that the music files in your iTunes library are tagged exactly right, you may be frustrated with iTunes' tools for doing this. The iTunes 12 Info window—the one that displays when you select tracks and press Command-I—is less efficient than that of previous versions, and while there used to be a way to display the old-style window, you can no longer do so.
Metadatics ( Mac App Store link) is a powerful tool that's a bit more efficient to use and offers more features for changing tags than iTunes. You can use it for basic tagging, as you would with iTunes, when you rip tracks from CDs or add downloads to your library. But it goes much further.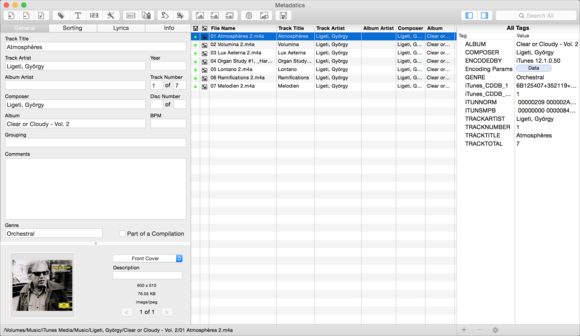 When you use this app, you need to work on files in the Finder, not in iTunes, so it's best to use Metadatics before adding files to iTunes. If you've already added files to iTunes and want to tag them with Metadatics, you should remove them from your iTunes library. To do this, drag the files from the iTunes window to a folder in the Finder, and then delete the files from iTunes. You'll lose any personal metadata, such as play counts, last played dates, and ratings. (If you use Metadatics to tag files that are in your iTunes library, iTunes may lose track of their locations.)
Drag the files onto the Metadatics window and start tagging. If you select all the files, tags you change in the left-hand section of the window will apply to all of them, such as tor change Artist or Album tags. If you select just one file in the Metadatics window, you can alter just that file's tags, such as its Track Title or Lyrics.
Metadatics offers a whole range of power features. It can search for tags on the MusicBrainz website, and it can search for album artwork on Amazon and Google. I wish the Google artwork search allowed you to specify the size of the artwork you prefer, such as 600-by-600 pixels. Metadatics just shows all the artwork it finds, regardless of size.
There is also a panoply of tools that allow you to manipulate text in tags. You can insert text in a tag, remove text from a tag, remove a number of characters, convert case, replace text, number files, and much more.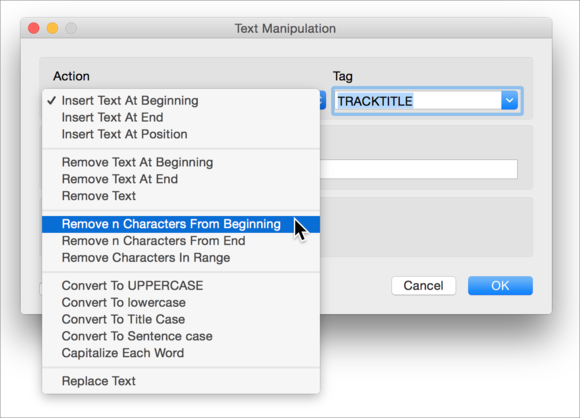 Serious iTunes taggers will be familiar with some of these features as tools available in AppleScripts from Doug Adams' Doug's AppleScripts for iTunes website. I often refer to these AppleScripts in my Ask the iTunes Guy columns, as ways of getting around iTunes' limitations. Metadatics can do many powerful text manipulations, but you need to perform them outside of iTunes, whereas Doug Adams' AppleScripts perform the changes in your iTunes library.
My only criticism of Metadatics is that I find the overall interface of the app to be a bit spartan. This can be a daunting app, because of all its features, and a bit of design might make it easier to work with.
Bottom line
If you're the type of person who needs a tool like this, you'll quickly recognize how powerful Metadatics is. I've only touched on the most commonly used tools in this review: Metadatics has many more tricks up its sleeves, so if you care about your music files' tags, this app can save you a lot of time.