Scanners are slowly going the way of fax machines. Phone and tablet photo quality and software algorithms continue to improve and the devices don't take up precious desk space like a flatbed scanner does.
There are, however, a few problems with switching over to a mobile-first approach to scanning documents. Speed, quality, efficiency, and cost are all factors to consider.
The App Store has a countless number of apps that claim to be the best scanning app for your iOS device. I tried to sort through the noise, catchphrases, and mumbo-jumbo to find the best scanning apps that work on both an iPhone and iPad.
Scanbot
Scanbot is arguably the best designed app out of this bunch. It looks right at home on iOS 8, with fluid transitions and fun animations throughout its flat interface. For example, toggling the switch to enable iCloud Drive sync results in a wave animation. The animation is simple and brief, but a pleasant indicator that the app is doing something based on your interaction. Small touches like this go a long way in creating a solid experience.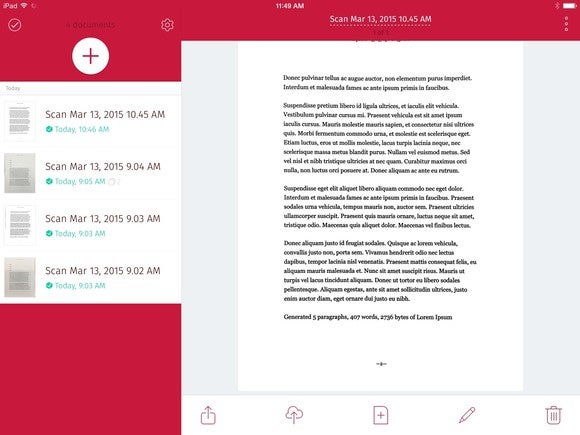 As for the main purpose of scanning documents, it does a fine job of that, as well. Launching the app results in your camera automatically being opened, ready to scan any document placed in its way. Actually, you don't even have to press a button to scan a document—Scanbot does it automatically.
Gentle instructions are presented on the screen letting you know if you're too close or too far away from, and when you're at just the right height you're asked to stay still.
Cloud storage is available with Dropbox, Google Drive, Evernote, Box, and a few more services present. Also available is the ability to automatically upload documents to your preferred service once a scan is complete. Again, a feature that's included for free.
An in-app purchase of $5 unlocks OCR (optical character recognition), smart naming of documents, themes, and the option to passcode lock the app on your device.
With OCR you can scan a document, then copy and paste text within it to another app or search through your scanned library using keywords.
Scanner Pro
Scanner Pro is an app that's received high-praise here on Macworld, even when it was listed in the App Store at $7 in 2012. Fast-forward to today and it's currently priced at $3 and offers even more features than it did back when we first reviewed it.
With Scanner Pro, you'll also find the ability to upload and sync files using various cloud services. Automatic upload is available, both on Wi-Fi and cellular networks (there's an option to turn the latter off).
The process for scanning does require a bit more interaction than Scanbot, but it's nothing to scoff it. Point your camera at the document, ensure it's identified properly (a transparent blue box is put over the document) and snap the photo. Continue snapping for multiple pages, or save the document within the app.
Once a document is scanned, you can upload and share it via the usual means, or you can fax it. Faxing is done through the app, with the cost of each scan calculated at the time of sending and paid for via an in-app purchase.
Unfortunately, Scanner Pro is missing an OCR feature to recognize text within a scan. This may sound like a small detail, but for those who rely on a scanned documents to fill out expense reports (or, say, business cards for entering contact info) the lack of this feature only creates extra work.
NeatConnect
Even with the advances in technology making mobile scanning a possibility, there's still something to be said about a dedicated scanner that's smaller and connected. That's where the NeatConnect comes in. Forgoing the older, flatter, scanning method, the NeatConnect sucks documents through one of three different openings and spits them out on the other side; after digitally duplicating the documents, of course. I was able to scan thirty-some business cards in a matter of seconds, all of which were then uploaded to Neat's cloud service. Neat then attempted to identify pertinent information on the cards and create a contact entry on my behalf. After verifying the information, using either the iOS or OS X app, I was able to add the contact to my address book with a few taps.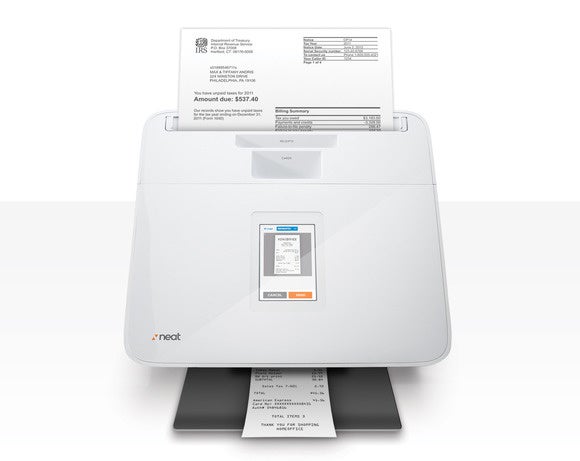 For the most part, the service properly identified the contact info. In the instances where it was off, I was able manually adjust it and then save it. Alternatively, you can pay for NeatVerify credits for sending a receipt or business card scan to a real person, who then verifies its contents.
One thing I experienced with NeatConnect that you'll never face with a scanning app is a paper jam. In fact, the first receipt I attempted to run through the machine was eaten. Subsequent tests resulted in better outcomes, for the paper.
The biggest benefit of using NeatConnect is speed. Where as a mobile application is one page of a document at a time, you can place a stack of documents, receipts, or business cards in the appropriate slot, tap a button and walk away. Once it's done, NeatConnect will upload everything to the cloud account of your choosing (or email it on your behalf).
Naturally, a drawback of using a dedicated scanner is that it's not mobile. Neat, of course, thought of that and offers a mobile application for scanning on the go. Arguably, Neat is the solution that best covers all possible use cases, but unfortunately it's also the most expensive. The NeatConnect is normally priced at $500, with monthly Neat cloud plans starting at $6 a month. I should note, the monthly plan isn't required to use the scanner. That's only if you want to use Neat's cloud service to store your documents in lieu of Dropbox or similar.
NeatConnect
Price When Reviewed:
$500