If there is a single conundrum of working with technology it's how to stay on task with so many little distractions vying for your attention. How to stay focused? Well, it may be as simple as turning off notifications, trimming open apps down to only those required to get your job done, and keeping a timer ticking in the background to help keep you on task.
To be clear, I'm not one of those "Getting-Things-Done-inBox-Zero-Make-A-List-And-Don't-Let-Go-Until-It's-Done" kind of folks. But, sometimes I do need a simple tool to help kickstart my focus, particularly at the beginning of a project. For that, I use a timer.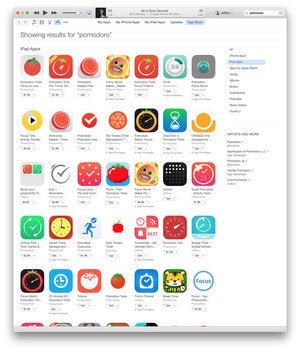 If you take big tasks and break them into smaller timed slices, whether you know it or not, you're using a method formalized by Francis Cirillo called the Pomodoro Technique. The name derives from the simple, tomato shaped timer Cirillo used to focus on his work and the technique provides a simple method for taking your work and breaking into tiny 25 minute time slices. Each of these slices is followed by 5 or 15 minute breaks.
Like most time management tools, you can spend a whole lot of time and money buying books, gadgets, and organizers to help you get the most out of every minute of your day. And, if that's your thing, have at it; a simple Google search will yield more Pomodoro options than you can imagine. But the beauty of the Pomodoro Technique is that you don't need anything more than a basic timer to start getting your work done.
Using the Pomodoro Technique
At its essence the Pomodoro Technique works like this:
Remove all distractions
Choose a task
Set a timer
Work until the timer rings
Take a short break
Repeat until your task is complete
Take a long break every four repeats
The actual Pomodoro Technique has some fairly strict rules regarding this schedule and how to manage distractions while you're on a timed task.
Short breaks must be taken and are 5 minutes long
Long breaks are either 15 or 30 minutes long
If anyone interrupts a timed session you must either:
Stop your timer;or
Follow the Pomodoro strategy for gently putting the distractor off until your timed session ends or your task is complete.
My personal style is a little more freeform, so anything this detailed seems a bit over-the-top to me. But what I'm certain of is that when I'm distracted, firing up a timer is the surest way to help me double-down and get the work done.
Mac Pomodoro timers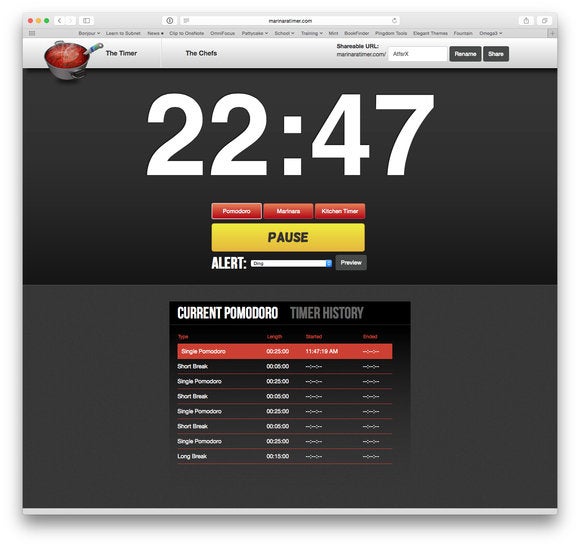 A simple web search will reveal a number of Pomodoro Timers, such as the Web-based Marinara Timer; a free timing tool that offers a pre-configured Pomodoro timer that follows all the Pomodoro rules, a customizable "Marinara" timer that lets you customize your own perfect timer, and a standard kitchen timer. Likewise, search any of Apple's App Stores using the word "Pomodoro" and you'll discover dozens of timing tools designed to work with the Pomodoro Technique, but, of all the timers I've tried, none is as good as publicspace.net's Vitamin-R.
Vitamin-R is available for Mac and iOS and, if you have a Dropbox account, allows you to synchronize log and task data across all your devices. What makes Vitamin-R great is how it conforms to your needs rather than to some strict, predefined Pomodoro structure.
To begin, open the app, provide a brief description of the task at hand, select the apps you want Vitamin-R to quit before you begin your task, set the length of your timeslice, start the timer and begin working.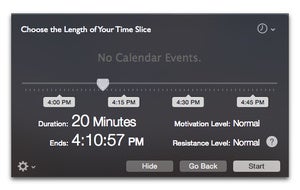 As you work, Vitamin-R will remind you to stay on task with an occasional, gentle watch tick and an even more occasional update on how much time you have left. For me, these reminders work as a gentle prod, pushing me forward to the end of my task. Once a slice is complete, you can provide feedback (or not) and take a break, continue the task at hand, or start something new.
In addition to timing, Vitamin-R also offers a built-in noise machine to help you ignore audible distractions, tools for collecting ideas, and, if you decide to enter notes and other information at the end of each timeslice, will keep stats and help you learn more about how you work best.