Last year, I reviewed Ulysses III for OS X, explaining that it "is much more than just a Markdown editor […] as it includes a good number of organizational features." Since then, The Soulmen, the app's developer, has updated the OS X app to version 2, and introduced an iPad app. The $20 Ulysses for iPad attempts to reproduce the OS X experience—interface and features—on an iPad, and does so quite well.
I prefer using apps that have both iOS and OS X versions: I find it makes my computing experience smoother if I shift between devices. If you feel that way, you know that the iOS version of your favorite app can't be an exact copy of the OS X version, but you want it to be as close as possible. The Soulmen previously released an iPhone app called Daedalus Touch, which offers some compatibility with Ulysses, but does so in a confusing manner. Ulysses for iPad, however, is nearly a mirror image of the OS X app, allowing you to smoothly switch from one to the other.
Like the OS X version, Ulysses for iPad displays Markdown syntax in what some people find a more user-friendly manner, coloring different types of text, and displaying links, images, and footnotes behind tokens. (You may like or dislike this, depending on how you are used to working with Markdown.)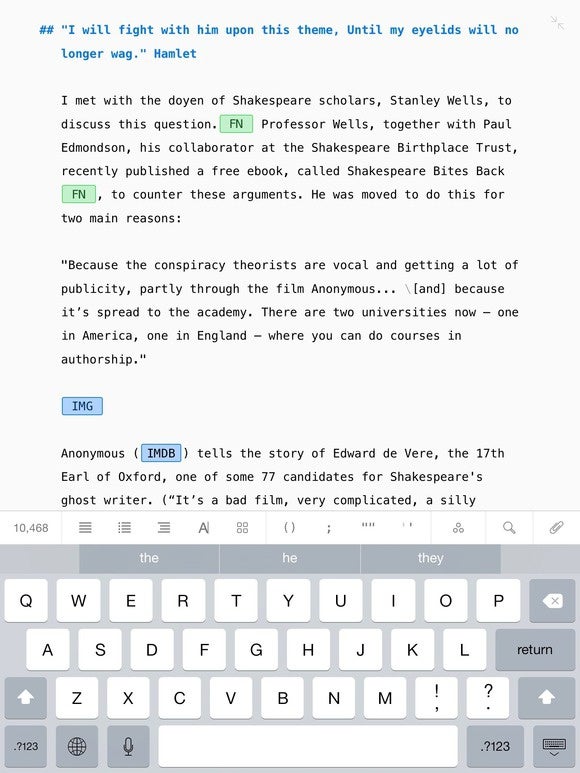 When I say you can switch smoothly, I only mean as far as the interface is concerned. Ulysses syncs your files via iCloud, and you can't just start writing on a Mac and switch to an iPad; you need to wait for iCloud to update your file. This isn't Handoff, where you can truly switch from one document to another across devices (assuming Handoff works with your hardware); this is iCloud's "Will it sync?" syncing, the kind that sometimes takes several minutes or more. Unfortunately, iCloud sync conflicts are common, and there is a complicated procedure to get the apps back in sync. I've lost data too many times with apps that use iCloud to be comfortable with trusting my files to it.
When your files do sync, you'l find that the iPad version of Ulysses is nearly exactly the same as the OS X version. This is no mean feat. Ulysses for iPad starts by reproducing your file organization; at least for files on iCloud (you can store files on your Mac with the OS X version and they won't show up on the iPad). You can create folders—what Ulysses calls Groups—that appear in both versions of the app and organize your files as you want. You may want to keep a library of files accessible, along with documents you're currently writing, and Ulysses lets you do that efficiently.
You can also access "external files" saved on iCloud Drive by other apps, or on Google Drive, Box, and others. But the process isn't as smooth: you cannot create files from Ulysses for iPad on these cloud services, only open files already there. And the app's biggest weakness is that it does not support Dropbox at all, even though the interface confusingly suggests that it does.
As far as entering text is concerned, Ulysses is one of the most efficient text editors I've used for iOS. It offers a useful button bar that gives you quick access to some basic Markdown tags and special characters. There's a counter button at the left of the ribbon, which expands to show words, characters, pages, and more (you can customize which counters to display). Ulysses for iPad also supports TextExpander snippets if you have that app installed. If you use a hardware keyboard with your iPad, you can also use a number of keyboard shortcuts to work more efficiently.
There are far too many features to cover in this review. Ulysses offers themes, tags, lets you make inline comments or notes, and you can share files or open them in other apps on your iPad. You can preview and export files in plain text, HTML, ePub, PDF or RTF (though the built-in preview window doesn't update in real time; you need to refresh that window for changes to be displayed).
Bottom line
Ulysses for iPad is a mature app that you can use on its own as a powerful Markdown or text editor, and it provides a complete writing environment. It's even more powerful if you use Ulysses for OS X. The ability to sync files between the two platforms allows you to write anywhere and stay up to date—when iCloud works. I'd be a lot more positive about this app if it worked with Dropbox, and I would think that, given Dropbox's popularity, a lot of users would prefer storing files there than on iCloud.