I remember spending a lot of time in my early teenage years being disappointed that films, books, music and comedy I'd been told were staggeringly innovative and utterly amazing actually struck me as lame and clichéd when I made time to watch, read and listen to them. Then one day, realization dawned: the only reason they seemed so dull to me was that everything since had copied them.
So it is with the original PowerBook G4. To modern eyes, it might just look like a pretty generic laptop. Put it next to the 2008 15-inch MacBook Pro I'm typing this on, and they look more similar than they look different.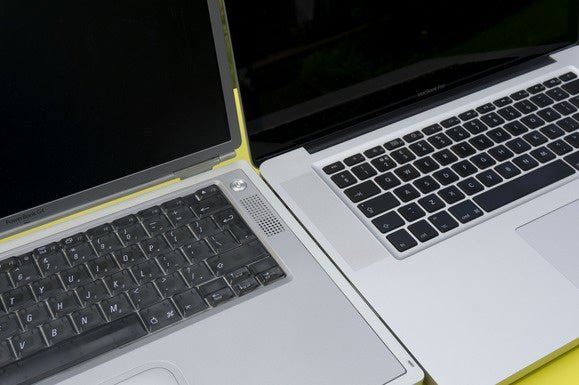 2001's TiBook, however—so nicknamed because its chassis was made from titanium, and the iBook had been introduced a couple of years before—was a radical reinterpretation of what a laptop would look like, which would stick for years to come. (In fact, Apple had pulled off this trick once before, with its original PowerBook introducing the now ubiquitous basic recipe for a laptop—hinged screen occupying the same footprint as the base, keyboard above a centered pointing device, and so on—but arguably this was just as seminal a moment.)
It's really, properly jaw-dropping how advanced this thing was. Even I hadn't quite internalized how ahead of its time the industrial design was until I started taking these photos. For example, here's the screen of my MacBook Pro (left) next to the screen for the PowerBook G4: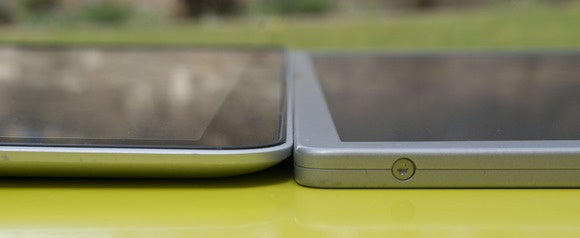 Now, sure, my pre-Retina MacBook Pro is starting to look a bit tubby now, especially next to the Air or the new MacBook, but it's still remarkable to me, given that "old" is usually synonymous with "chunky" when you're talking about computers, that a laptop introduced over 14 years ago still goes toe-to-toe with what is still a pretty current design. Look at that bezel, too. Yeah, it's not edge-to-edge glass as we expect now, but the bezel itself is nevertheless actually slimmer than on my MacBook Pro.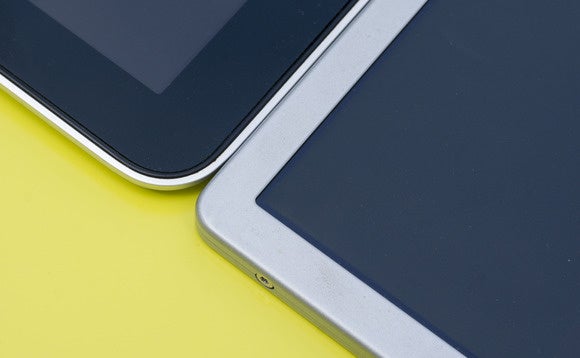 As Steve Jobs said at its introduction, "When you move your cursor up to the edge you're afraid it's gonna fly off!"
To put the impact of the TiBook in historical context, the Mac it replaced was the PowerBook G3 which, while a beautiful and powerful machine in its own way, was an absolute beast in comparison.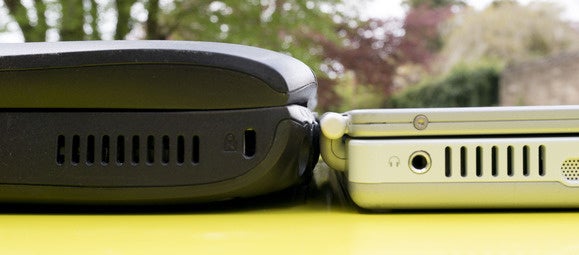 Even if you used to use a PowerBook G3 every day, unless you've held one recently I guarantee you'd be surprised by how damned heavy they are. The 14-inch model I have is 7.8 pounds, and you'd be hard-pressed to be able to grip it in one hand, held flat out like a proffered pizza box. And just look at how tubby it was!
Despite looking unremarkable, even dated, to critical modern eyes, the PowerBook G4 is basically the formula for the classic modern laptop. For one thing, its 1152×768 screen—or "mega-wide display" as Apple described it with its trademark self-effacing diffidence—marked the first time Apple had made a widescreen laptop, and this sense of the TiBook being a template for an entire generation of machine was reinforced in lots of other, smaller ways. For example, when Jobs picked it up during its introduction at Macworld Expo, and even before he talked about it explicitly, the audience realized that the Apple logo was, for the first time, the right way up when the screen was open; he greeted the spontaneous cheers with "You and about a billion other people!"
Mind you, although the PowerBook G4 clearly marked an inflection point in the development of the laptop in general, it still had some features that—sadly—are now old-fashioned. For one thing, the ports are on the back, and while I understand that the hinge design Apple uses now allows its laptops to be slimmer still, I miss the visual cleanliness of the cables being hidden and disappearing off behind my laptop rather than sprouting from the side, as they do now. You might argue that it makes it easier to plug stuff in when you can see the ports at the side rather than fiddling around at the back, but in common with previous generations, Apple thoughtfully labelled the flip-down door that covered them so that you could lean over the PowerBook G4 and see where the relevant plug should go.

And oh, the unalloyed joy of a full-sized video-out port! Originally VGA, by the time Apple got to the model I now own, the PowerBook G4 sported a full DVI-I port.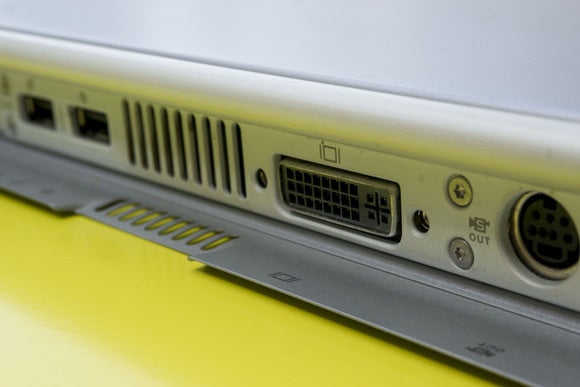 We're so used to buying and carrying around video adapters for our laptops—Mini-VGA, Mini-DVI, Mini DisplayPort, that annoying Micro-DVI port that only the early MacBook Airs had—that we've forgotten how convenient it was just to directly plug in a display.
Though the design still looks fresh and modern, especially if you take your glasses off and squint a bit, in some respects the titanium PowerBook G4 hasn't aged well. Before Apple made its trackpads from glass, it was common for them to get worn and unreliable, especially on machines that were worked hard—as the PowerBook G4s often were. Worse, for all the strength and lightness of titanium, it ain't a pretty metal, so Apple just painted it; this paint was shockingly susceptible to chipping, and even on the one I have, which is in generally pretty decent condition, you can see the wear on the hinges, for example.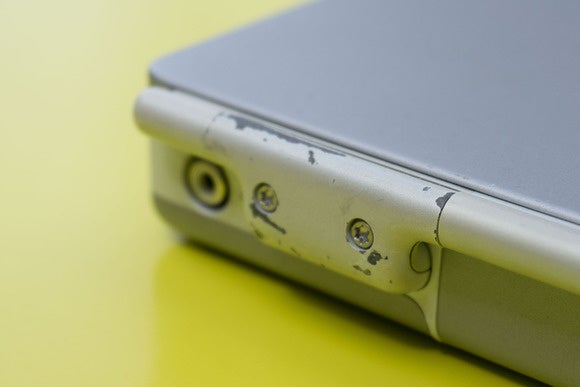 Though it looks inevitable and almost boring now—a testament to how influential its design was—it's hard to overstate just quite how radical the PowerBook G4 looked when it was introduced, nor how much we all desperately wanted one.
I went for an interview at a design agency once; I couldn't tell you what questions they asked or what was in my portfolio, but I could describe to you in minute detail the moment the creative director pulled out his TiBook to show me something. I wanted it more than I wanted the job.