Apple just invited third-party accessory makers to design Apple Watch bands with the launch of its Made for Apple Watch program.
Apple already sells its own interchangeable bands, but the options and price points are limited, and some of the straps only go well with (or are designed just for) specific Apple Watch models. With the watch's release buttons and lugs—the band attachments that Apple will soon open up to accessory makers—Apple Watch owners will be able to swap in bands for every occasion.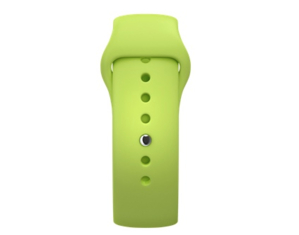 Like the MFi program that iPhone and iPad accessory makers join to get Apple approval for accessories that connect electronically to iPods, iPhones, iPads, and AirPlay, band-makers have to adhere to the guidelines Apple just published for watch bands. One big no-no: Developers can't put magnetic chargers in their accessories.
There are a few quality control requirements: Accessory companies have to put their bands through a 72-hour salt mist test to check for corrosion, test for slide-out force and pull force resistance, and make sure watch wearers can adjust their bands to ensure a snug fit so the heart rate sensor can accurately measure beats. They must also use materials that comply with Apple's environmental standards.
Apple constantly calls Apple Watch its most personal device ever, and bands will become a huge part of that customization. My white Sport band is great for running, but not the best for a night out in Manhattan. I expect designers like Kate Spade, Michael Kors, and Marc Jacobs, who already make iPhone cases, to jump on board with Apple Watch and make the device truly personal.
We've already seen a few early Apple Watch accessories, mainly charging stands from companies that want to be on the frontier alongside a new Apple device.
But I hesitate to shell out money for accessories that don't follow Apple's guidelines because they might not work as promised. Now that Apple has a program for watch accessories, licensed products will come with the assurances that Apple's backing brings.