Small office, large office, home office, school, home user… unless you're in IT it's unlikely you've given much thought to setting up Apple's Server app. In fact, maybe even if you're in IT you haven't given it much thought because, well, why? You're already running Windows servers, right?
With the proliferation of Mac and iOS devices in every corner of your home and office, you may have no idea just how much of your Internet bandwidth is being used to download content from Apple's servers. A caching server can help you make sure all your devices are up to date while leaving your Internet bandwidth almost untouched.
According to Apple, Apple's Caching service, which is a part of Apple's $20 Server app:
…speeds up the download of software distributed by Apple through the Internet. It caches all software updates, App Store purchases, iBook downloads, iTunes U downloads (apps and books purchases only), and Internet Recovery software that local Mac and iOS devices download.
( You'll find a full list of supported content and supported Mac and iOS versions and country restrictions here.)
What this means, practically speaking, is that instead of making all the Mac and iOS devices in your network run out over the Internet to download and update content from Apple's servers, you can host those updates on your servers, which makes for faster updates and less external bandwidth usage.
Think of it this way: It's Monday morning and Apple has released a new OS update that is 500MB in size. If you have 50 Macs and each one of those devices has to connect to Apple's servers over the Internet to download the update, that's 25GB of data downloaded directly from Apple using a connection that is much slower than your private network. If you're using a caching server, 500MB gets downloaded from Apple and the other 24.5GB are downloaded from your server, making the most of your faster network speeds and reducing the amount data downloaded from the Internet.
Here's how it works:
When you install the Server app and turn on the Caching service your server registers with Apple's servers letting them know that your server is available to cache Apple content for all the computers on the networks behind your public Internet address.
When a device on your network requests content from Apple's servers, Apple's servers tell that device to check and see if the registered caching server has that content.
If the server has a copy of the content the caching server delivers it directly to the device.
If the content is not available on your caching server, the caching server requests the content from Apple's servers and as it downloads that content from Apple it simultaneously delivers that content to the device on your network that requested it.
The beauty of the caching service is that it requires very little configuration on your part.
Download and install the Server app on any computer in your network.
Define how much space you want dedicated to cached data. (You need to have a minimum of 25GB of available space on the computer you're using.)
Turn on the caching service.
That's it! There's nothing else you need to configure.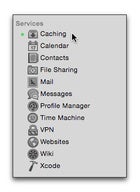 Once you've installed the Server app you'll find the Caching server under the services section in the sidebar of the Server app. (If the service is already running you'll see a small green light next to it.) When you select it you'll see three sections:
Access: Defines which networks you'll be providing updates for. You can leave these settings as they are.
Settings: Tells the Server app where you want the cached files stored and how much space you want to set aside for cached data. The default data location is in /Library/Server/Caching, but you can choose any location on your Mac or another drive that has at least 25 MB of available disk space. You can adjust how much space will be used by dragging the slider to the right or left.
Usage: Provides a visual display of how what kind of data is taking up how much space on your server.
Once you configure your settings, turn the server on and it just works, invisible to everyone on your network.