At a Glance
Expert's Rating
Pros
Gets much closer to objects than your iPhone could alone
Included hoods ensure photos are well lit
Cons
Awkward to carry around
Can't be used with a case
Our Verdict
Olloclip's 3-in-1 macro lens takes exceptional macro shots and can be great to have on hand when you need them.
Olloclip's Macro 3-in-1 Lens is a double-sided add-on for the iPhone 6 that works essentially as three lenses in one, allowing you to shoot images at 7x, 14x, and 21x from your iPhone camera.
The 3-in-1 is a little different than the macro experience you get from Olloclip's 4-in-1 Lens. The 4-in-1 includes a 10x and 15x macro lens as well as fisheye and wide-angle lenses. For your average consumer, that's probably enough. If you're someone like a stamp collector who often taking extremely close macro shots, then the standalone macro lens has probably caught your attention.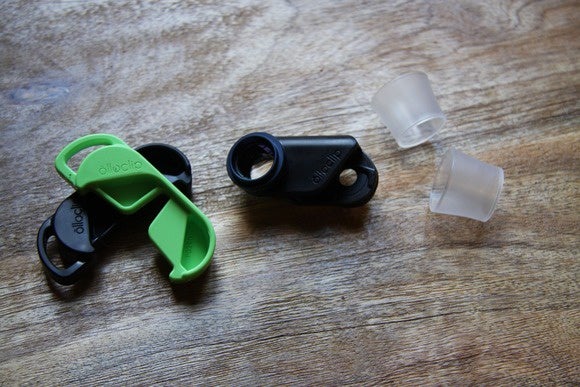 Ready for a really, really close closeup
Taking a great shot means getting very close to your subject, a feat that tends to decrease the amount of light on said subject. Olloclip combats that with a set of lens hoods that are included with the set. With the hoods you're able to get exceptionally close to your subject while still having light filtered in to your subject through the hood. It's a great solution and one that leads to some amazing shots.
The lens hoods work as a fairly good impromptu tripod, as well. In a room with a decent amount of light you can put the lens directly on top of what you're photographing, allowing you to stabilize your phone while taking the picture. The pictures of the Sweet Tarts (below) were done with the hood completely down touching the candy, indoors in a room with average lighting.
After a great deal of use, I saw a tiny bit of distortion in some shots, but not enough that most people will notice. Getting the camera to focus was also a bit difficult at times, especially when trying to take pictures freehanded without using the hood as a stabilizer. You're likely going to want to use a tripod more often than not.
An awkward connection
All of Olloclip's iPhone 6 lenses slide onto the top of the phone. They're easy to take on and off, but fit so snugly that your phone needs to be completely bare. When it comes to your photos, that tight fit is great. I had previously used Moment's iPhone 6 lenses and had to remove Moment's mounting plate from the back of my iPhone (a fairly difficult task) before I could use an Olloclip lens. If you were hoping to do something like use Moment's wide and Olloclip's macro lenses, you're out of luck. The tight fit also means you won't be able to use the lenses with a case unless you opt to buy Olloclip's $29 case made specifically to work with its line of lenses.
Similar to Moment's lenses and other add-on lens options, Olloclip's lens is bulky to carry around. It's something that's great to have on-hand at home or for special occasions, but overall they're just a little too bulky to tote around for everyday use. With all of its iPhone 6 and 6 Plus lenses, Olloclip has opted to include a lanyard to make carrying them around easier. While it's roughly the fashion equivalent of a fanny pack, it does get the job done and makes pulling the lenses out on the fly much easier that if they were stowed away in a pocket or purse. With the macro lens you're not likely to need to take it out on the road very often, but if you do there's a way to transport it.
Bottom line
If you find yourself taking a lot of macro shots then Olloclip's Macro 3-in-1 lens is a no brainer. While you might not want to carry them with you everywhere, the lenses take exceptional macro shots and can be great to have on hand when you need them.