Apple is gearing up to relaunch Beats Music as the streaming service to beat at this year's Worldwide Developers Conference in early June, but the Cupertino company is already taking heat from competing services and the feds over its negotiating tactics with record labels.
Apple is working to secure deals for exclusives from some of the world's most popular artists, like Florence and the Machine, so it can successfully compete with Spotify, the dominant streaming service. But not only does Apple not have those deals locked down yet, the company is now under a Federal Trade Commission investigation for reportedly using iTunes' position as the No. 1 digital music storefront in the world to get more juice out of labels. The Department of Justice is also looking into Apple's tactics, The Verge reported this week.
FTC investigators are approaching label executives to find out what Apple has asked for, according to a Bloomberg report, but execs say Apple hasn't asked them to stop supporting free streaming tiers or to withhold specific songs from ad-supported services.
Apple's efforts to secure exclusives from major artists and to undercut competing services like Spotify and Rdio with an $8-per-month subscription haven't been all that successful. Labels are reportedly uninterested in lowering the going rate of $9.99 for monthly all-you-can-stream services, and the world's biggest musicians are now invested in (and offering exclusive tracks to) Jay-Z's new streaming product Tidal.
The Apple advantage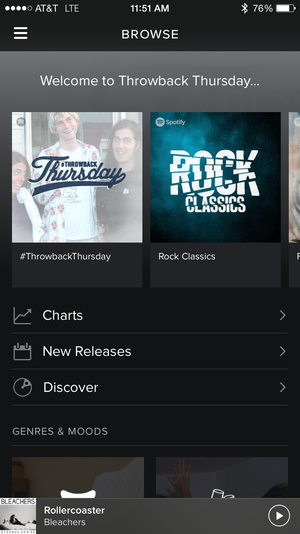 Apple does have one key advantage: Its own streaming service won't face the App Store tax. The company takes a 30 percent cut of all app sales in the App Store, and that includes monthly subscriptions purchased in iTunes. If you subscribe to services like Spotify or Tidal in the App Store, that $9.99 a month turns into $12.99 (which then becomes $14.14 on my credit card statement thanks to sales tax). You can avoid that by subscribing to those services on their websites and not through iTunes, but Apple has the upper hand on App Store pricing.
Not surprisingly, Spotify isn't thrilled about that 30 percent cut and the rumors around Apple trying to persuade record labels to kill free streaming tiers. Unnamed sources told The Verge that Spotify isn't planning to get rid of its ad-supported model any time soon because it brings people into the service and encourages them to upgrade to the premium tier. If record labels withhold music from the free tier, that could hurt Spotify—just 15 million of its 60 million active users pay for the service.
We'll find out more about Spotify's plans at the company's May 20 press conference in New York City. We expect Apple to detail its Beats Music overhaul when WWDC kicks off June 8.