Once upon a time, Bluetooth was a quaint low-speed, low-bandwidth networking technology that appeared to be destined for the obsolescence pile. Several competing standards with broadcast industry support arose to challenge it with lower-power requirements, higher throughput, or both.
Bluetooth took heed of the motto of the Round Table (no, not that round table): "adopt, adapt, improve," and won out by extending what it does and co-opting what others attempted to provide (and failed to do).
But this may be confusing when you're not using a Bluetooth peripheral, like a headset, headphones, or mouse, and wonder why iOS, your Mac, or your Apple Watch is complaining about its absence or not functioning as expected.
Answers to that and other networking questions in this week's Mac 911.
Is that you, Harald?
Reader and colleague Scholle wrote in wondering what had happened with AirDrop between Mavericks and Yosemite: why was Bluetooth suddenly required? Other readers (and your correspondent) regularly see problems with AirDrop, too.
The reason that the iOS and OS X versions of AirDrop lacked compatibility until Yosemite is that Apple used a special Wi-Fi mode in OS X, but opted for a different approach that combined Bluetooth and Wi-Fi in iOS. Yosemite switched to that version, though a backward-compatible option remains.
Bluetooth is used for signaling, or sending information related to forming a connection, passing control data (like performing an action), and the like between the same kind of devices and different ones. The Apple Watch uses Bluetooth 4.0, which has an extremely efficient low-energy mode, to communicate with an iPhone.
That limits the range the watch and an iPhone can be apart, but it also essentially makes the watch's battery life feasible at its current weight. Continuity in OS X and iOS also relies on Bluetooth to send tiny bits of detail. All of these devices switch to Wi-Fi for high-speed bulk data transfer using a Personal Area Networking (PAN) mode that allows an iOS or OS X device to remain connected to the Internet and transfer data with other Apple hardware.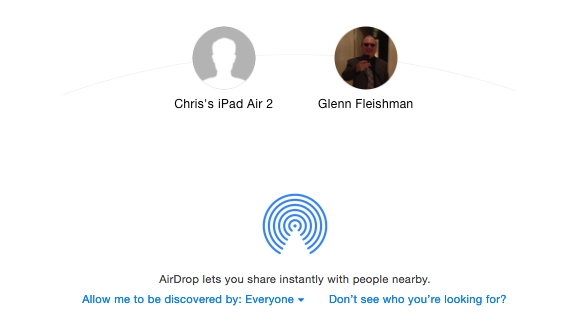 If you're having trouble with getting AirDrop, Continuity features like Handoff, or your Apple Watch to work, you can try toggling Bluetooth and Wi-Fi on and off, and Airplane mode on a Watch or iOS device. In a house, one intervening wall made of signal-blocking material, like plaster over wire or brick, can also block Bluetooth's effectiveness even while Wi-Fi can still blast through it.
Roam if you want to, roam around your house
I'm repeating here in brief some hard-won advice I mentioned in passing a few weeks ago relating to Wi-Fi. Apple's base stations (and all current base stations I'm aware of from other makers) allow roaming by default. Choose a network name from any device, and all base stations with the same parameters and same network name will let you roam about.
What I discovered—and what solved a problem that plagued me for almost two years—is that if you have different security methods that use the same network password, roaming works erratically rather than failing.
Far ago (about five-plus years ago), there were still plenty of bits of hardware and computers that couldn't use the slightly newer WPA2 Personal encryption protocol. Plain old WPA had been designed to be backward compatible with hardware that had shipped, including every computer released by Apple, since 1999. But WPA2 required newer hardware, typically only working on base stations and clients from 2003 and later.
Apple solved this problem in its base stations by offering mixed WPA/WPA2 Personal encryption. Select this, and your newer devices would connect using WPA2, while older ones weren't left out. (If you find that pre-2004 Macs won't join a Wi-Fi network and don't provide an error, that's why: the network is WPA2-only and the Mac doesn't understand why it's being rejected.)
In my case, I had one base station that used an ancient configuration file that I'd kept transitioning over the years as I moved from one model to another of AirPort, even as I added two more base stations in the house connected via ethernet that I configured as passthrough. Macs and iOS devices sometimes lost a connection in one room of the house or strained to reach a base station several rooms away rather than the nearest one!
In helping to troubleshoot a wily Wi-Fi problem weeks ago, I went into the innards of my base station to check my own settings, and, lo, there was terribleness.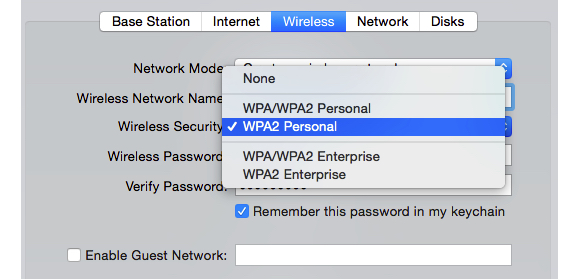 If you launch AirPort Utility, select your base station, and click Edit, and then select the Wireless tab, you can see what security option is set. As you can see in the accompanying figure, while WPA/WPA2 Personal is an option in the Wireless Security menu, choosing it was my downfall because I had just WPA2 Personal enabled on two other base stations.
When I switched that main base station to WPA2 Personal, all my roaming difficulties went away. If you're seeing similar strangeness, check that all your base stations use absolutely identical security settings.
Ask Mac 911
We're always looking for problems to solve! Email us at mac911@macworld.com or tweet them at me (if brief) @glennf. Mac 911 can't provide direct email responses or answers for every question. For that, turn to AppleCare, an Apple Store Genius bar, or the Apple Support Communities.