Apple Pay is one of the best features of the Apple Watch. If Apple Pay itself is convenient, the Apple Watch doubles down on that simplicity. Your credit and debit cards are right there on your wrist, and the entire purchase process is over in seconds.
To set up Apple Pay on your Apple Watch, you'll use the Apple Watch app for iPhone. In the My Watch tab, scroll down to Passbook & Apple Pay. In that section, you can mirror the alerts that show on your iPhone, or choose Custom and elect to have alerts come to your watch or not. But the real reason you're here is to add your credit or debit cards.
Adding cards
Even if you are already using Apple Pay on your iPhone 6 or 6 Plus, you'll need to add your cards again to your Apple Watch. The watch has its own Secure Element to store the device ID needed to create single-use tokens: your actual credit card information isn't stored on the watch or on your iPhone, nor is it passed to the merchant when you make a purchase.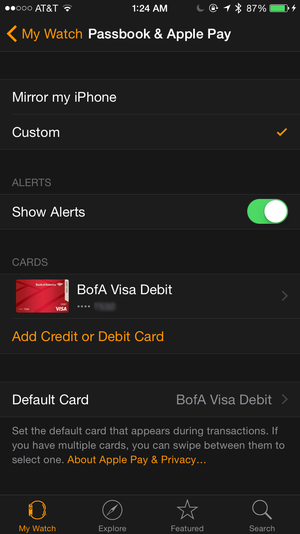 Luckily, setting up your cards is pretty easy. You can use the iPhone's camera to capture the info on the front of the card: account number, cardholder's name, expiration date. You're then asked to verify that it detected the right info, and add the three-digit code on the back of your card.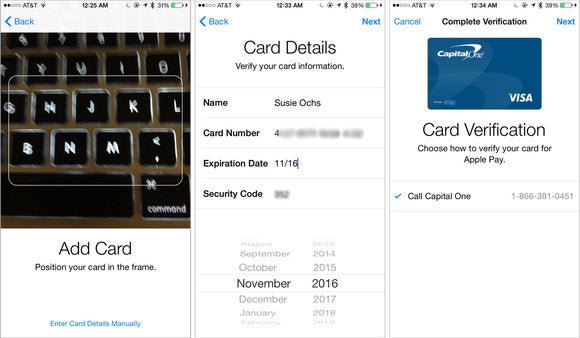 Each credit card company has a different procedure to verify your cards. My Bank of America debit card let me log into my account via their iPhone app, but my Capital One credit card required me to call a toll-free number and have a representative verify my identity. Both procedures were painless, but still a litte annoying since I already did all this when adding these cards to my iPhone.
Using Apple Pay
Once you're set up, you can find your debit/credit cards in the Passbook app on the watch, but it's much faster to use the shortcut. Just double-press the button underneath the Digital Crown, the same button you press once for the Friends ring and Digital Touch feature. Pressing twice will bring up your default Apple Pay card, with your other cards available too if you'd like to select a different one.
Once you pick the card you want to use, you'll just hold your watch close to the contactless payment terminal until you hear a beep and/or feel a vibration. It only takes a moment, but I typically have to turn the watch face toward the payment terminal, almost smooshing them together like they're kissing. So you typically can't see the watch's face while the payment is happening, unlike when using Apple Pay on an iPhone, where the screen is typically facing you.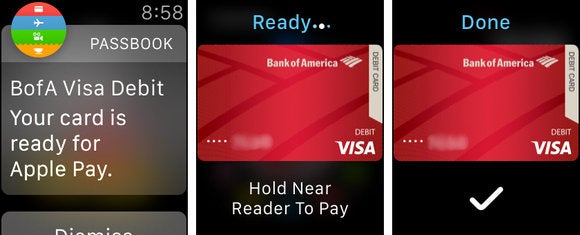 Depending on the retailer, the card you're using, and the value of your purchase, you might need to enter your PIN or provide a signature to complete the transaction.
And don't forget the best part of Apple Pay on the Apple Watch: You don't need the iPhone present to use it. You could leave your phone at home, go for a run using the Workout app on your watch, and then stop at Whole Foods for a smoothie on your way home.
Your Apple Watch locks with a passcode as soon as you take it off, so if you were to ever lose it, or it's somehow stolen, whoever gets it can't use Apple Pay without knowing your watch's passcode. (And you can disable the cards using the Apple Watch app on your iPhone.) There's a setting on the watch itself to all you to unlock the watch by unlocking your iPhone, so be sure to lock your iPhone with a passcode if you're going to leave that on—just in case you lose both at once!
I've gotten just as much attention using Apple Pay on my watch as I did using my iPhone when Apple Pay was brand-new, but I'm sure that will die down once the Apple Watch isn't quite so novel. Using it hasn't been awkward or weird, just cashiers asking, "Is that the Apple Watch?" By the time I smile and say yes, the transaction is over, and I'm on my way.
For an up-to-date list of which banks and retailers support Apple Pay, check out our Apple Pay guide. I've used it at Walgreen's, Subway, McDonalds, Panera, and even the soda machine in our office—buying something with a flick of my wrist feels futuristic every time, and I'm hooked.