Cosmos Rings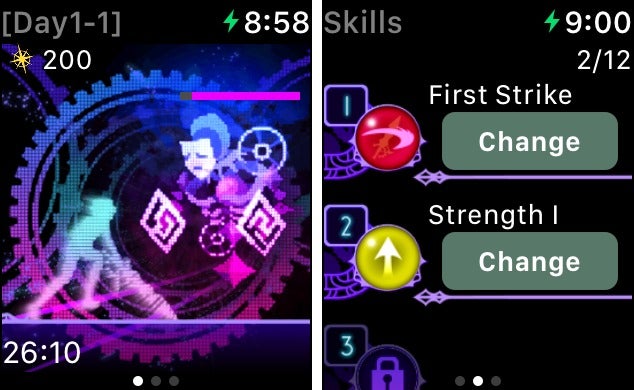 Square Enix is the company behind expansive, massively popular RPGs like Final Fantasy and Dragon Quest, but Cosmos Rings ($9) is something different: It manages to feel large and engrossing while sticking to a fairly simplistic gameplay loop. It's a streamlined combat game in which you'll guide the God of Time through battles against neon monsters, right on your wrist.
You'll ultimately perish, but then you're reborn stronger and more capable than ever, letting you push farther and farther with each new attempt. Cosmos Rings can play itself for the most part, which means progress is made even when you don't pay attention, but you'll do even better when you're tapping to swing your sword. It's certainly pricey at $9, but it's also one of the most engrossing games you'll find on the Apple Watch.
Pocket Bandit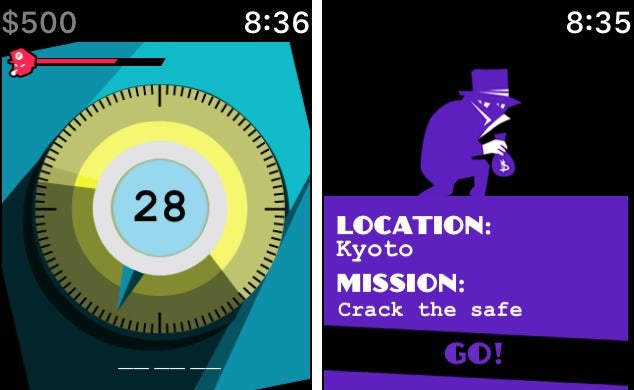 While it's true that most successful Apple Watch games focus on how you'll wear the device and when you'll want to play, the truly memorable ones also highlight the hardware's unique capabilities. And that's where Pocket Bandit ($1) shines. It's not the most complex or expansive Apple Watch game at all, but it's such a smart use of the device's most distinctive feature.
In short, Pocket Bandit transforms the Watch's Digital Crown into the dial of a combination safe. You'll need to open up each safe by rotating the dial back and forth until the Watch vibrates, signaling the correct number to enter—and you'll do so to bust open more than 100 safes. It's pretty lightweight overall, but it feels really fresh and original.
Rules!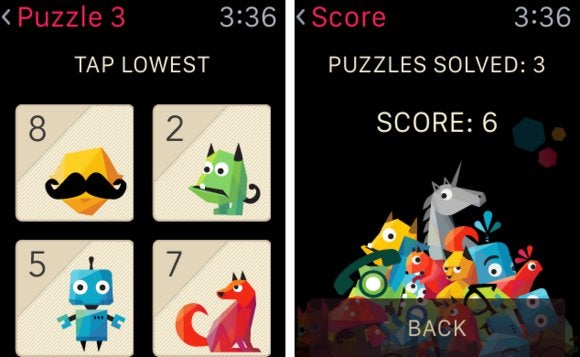 Rules! ($3) enjoyed a big opening push from Apple when the Watch released, and there's a very good reason for that: What was already a charming and seriously brainy iPhone sorting game is similarly sharp on your wrist.
Granted, it's not quite as smart in its smaller form, as the condensed daily challenges you'll face now use a two-by-two grid (four cards) instead of three-by-three (nine cards). So when asked to remember multiple waves of sorting rules—in ascending order, certain color cards only, only cards with characters facing right, and so on and so forth—it's a simpler task. Still, this is a nice little brainteaser to have on your wrist and tap into each day.
Letter Zap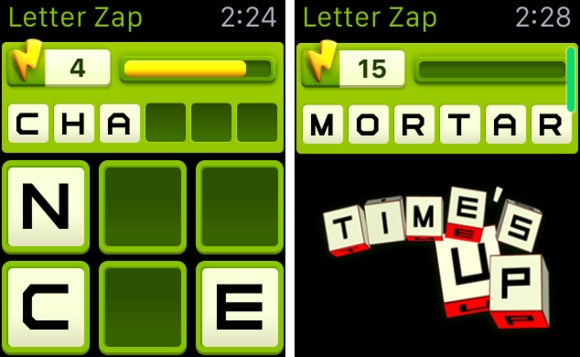 True, Letter Zap ($3) doesn't feel remarkably original as a game concept, but this word-building game is an ideal fit for the tiny touchscreen of the Apple Watch. You're presented with three to six letters and tasked with discerning a word from the jumble. Tap in the correct answer before time runs out and you'll have another to solve until you're properly stumped.
It's simple and straightforward, and you can play an entire game within a couple minutes—plus you can look away and stop playing at any point and have the game remain intact for whenever you're using your Watch again. It might be less polished and attractive than the great Four Letters on iPhone, but it does the trick on Apple Watch.
Lifeline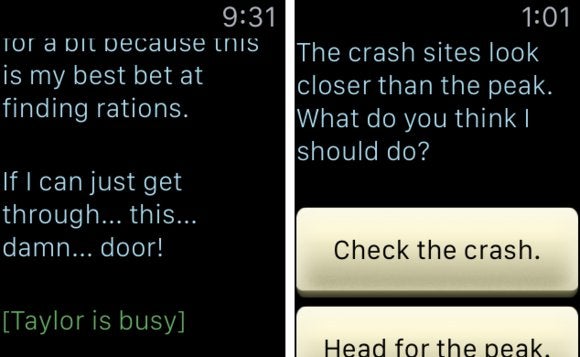 Eager to play a game that really feels like it's designed for the Apple Watch? Look no further than Lifeline ($2). It's a narrative adventure in which you'll correspond with a person whose ship has crash-landed on an alien moon—and his messages are only coming to you. The unique hook here is that his words come through in real-time throughout the day.
So if he has a two-hour hike to explore a far-off base, the game takes a break and you can't do anything in the meantime. At various points during the day, you'll get a buzz on your watch and check in, read the latest notes, and choose from branching options that can alter the narrative. This text-only affair is a great fit for the Watch, and has really set the adventure template for wearable games.
KOMRAD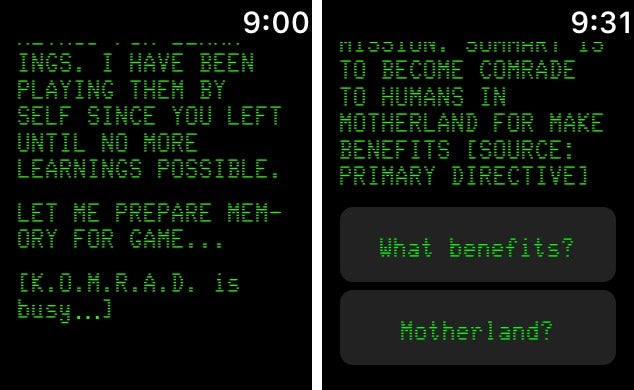 KOMRAD ($1) owes an obvious debt of influence to Lifeline, as it lifts that game's Apple Watch-perfect interactive adventure approach. You'll still interact with a personality on the other end of the line, answering questions and making decisions to both push the narrative ahead and shape its outcome along the way.
In this case, though, you're talking to a Soviet A.I. that has been alone with its own techno-thoughts for 30 years, and you're trying to manipulate it to give you secret nuclear access codes. It's a clever premise that extends into the dialogue, with its broken, robotic English and the roadblocks it puts in your path. Even the green-screen aesthetic might remind you of your first Apple computer.
Elevate—Brain Training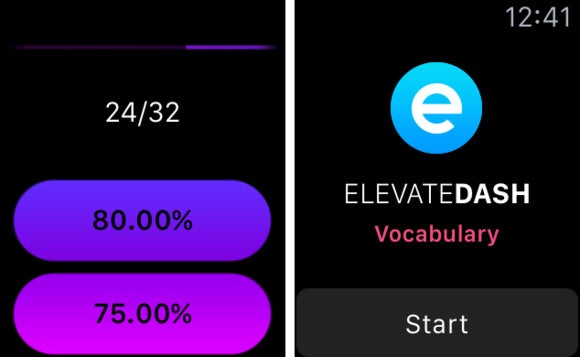 Elevate (free) might be listed in the App Store under Education, but Apple's pick for 2014's best overall iPhone app can't help but feel like a game above all—especially on the Watch, with rapid-fire daily challenges that task you with solving various math and vocabulary questions within mere moments.
The wrist-held Dash modes test your ability to quickly suss out the correct percentage of a number, associate similar words, or choose the actual spelling of a term. Each test has just three questions, and at the end, it rewards you with bonus points for your EPQ ranking in the phone version of the app. So not only does it benefit your brain, but also the number that the app assigns to it.
Trivia Crack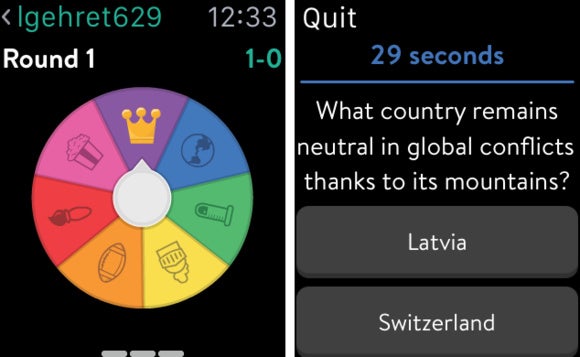 The massively popular free-to-play trivia favorite has made its way to Apple Watch as well, and it's a really capable version of the iPhone game. Unlike the companion experiences seen with a lot of other Watch games, you can play entire games from the smaller screen, including spinning the wheel and answering questions.
You'll just need to initiate each game from your phone, but after that's done, you can play the whole thing on either screen. Trivia Crack (free) comes off like a streamlined Trivial Pursuit, with similar categories and multiple-choice questions. The freemium elements sadly give it a pay-to-win reputation, but it's still a very fun offering.
Letterpad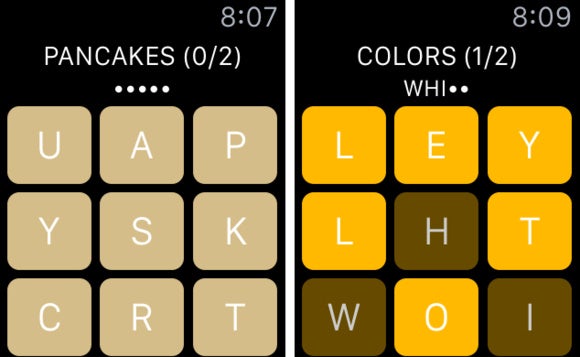 Here's a word game that lets you take your time responding, but it also tests your word association skills. Letterpad (free) fills the screen with a grid of nine letters and tasks you with discovering words within the mess. But it's not just any words you need: They're complementary ones that correspond to a clue.
So the clue might be colors, tennis, or the grocery store, and you'll have to discover which applicable words you can spell with the provided letters. It's not a rapid-fire affair like Letter Zap, but there's a bit more to it—and the Apple Watch version replicates what you'll see on the phone, so you can play wherever you'd like.
Runeblade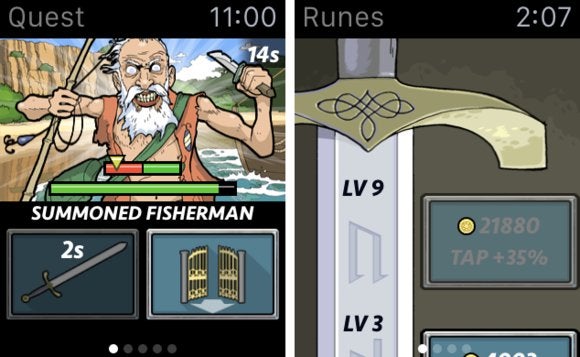 Role-playing games are traditionally epic, sprawling affairs. By contrast, Runeblade (free) has you play for a few seconds at a time, and lets you tap a button to furiously slash away at evil fantasy creatures. That's it, mostly, at least in the moment-to-moment action. It's about as streamlined as an adventure game could possibly be, making it a fair fit for the Apple Watch.
Granted, the action is so simple that you might lose interest, but the depth comes from everything around the combat, whether it's building your skills over time, enhancing your armored heroine, or enjoying the story segments on your phone. And the artwork is delightful, too.
Tiny Armies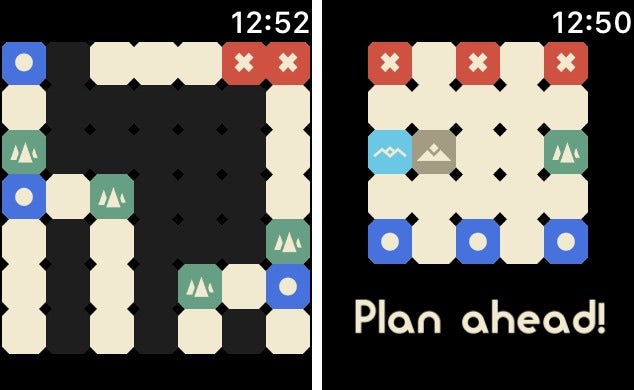 Strategy games might seem best suited for larger-screened devices, but Tiny Armies ($1) proves that you can deliver a compelling tactical experience with minimal flair. It's a turn-based game that finds you trying to crush an A.I. opponent by moving your units around the screen. Swiping in any direction sends your entire squad, so you'll need to plot maneuvers carefully.
While the simple grids might look sparse, they're actually populated with hidden mountain, lake, and forest tiles—not to mention the enemy units. Getting around the obstacles to smash your foes and secure victory requires some careful thought, but the game is so streamlined that it even works well right on your wrist.
Twisty Color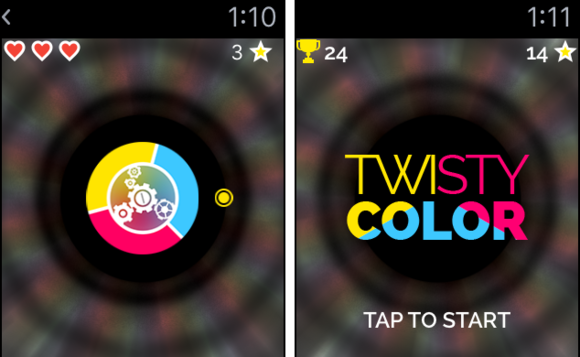 The watchOS 2.0 update made it possible for developers to tap into other functions of the watch, including using the Digital Crown for input, and that has allowed more and more game types to reach the Apple Watch. Twisty Color ($1) may not be complex or demanding, but it does a good job of delivering an enjoyable, Crown-centric experience.
Pink, blue, and yellow balls come floating in from all angles, and your task is to turn the Digital Crown to ensure each ball lands in the correct zone. It's an endless high-score game that gives you just three lives to spare, so you'll have to keep rotating the wheel to keep up with the balls. It feels like playing an old-school arcade game, and the simplicity is ideal for the Apple Watch.
LCD Games: Alien Invasion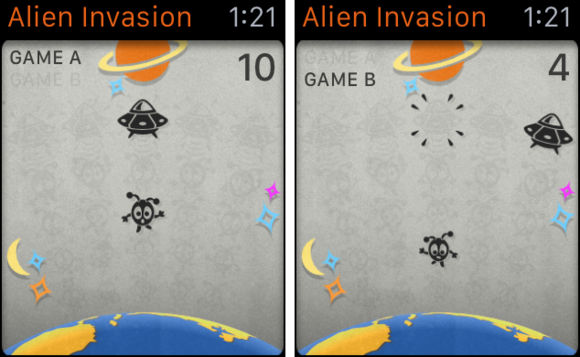 Remember what we just wrote about arcade-style simplicity being key for the Apple Watch? That's on display again with LCD Games: Alien Invasion ($3), which pays homage to the simple handheld games popularized by Tiger and Nintendo decades back. It even looks the part, with the little transparent aliens and ships seen in the background in all the inactive spaces.
The goal is straightforward: Turn the Digital Crown to move your little UFO from left to right, trying to recover the aliens leaving Earth after a botched invasion attempt. Missing one means it's game over, so precision is key—and in the alternate game mode, so too is speed. Retro cool and endless high-score action make this a fun pick.
Bubblegum Hero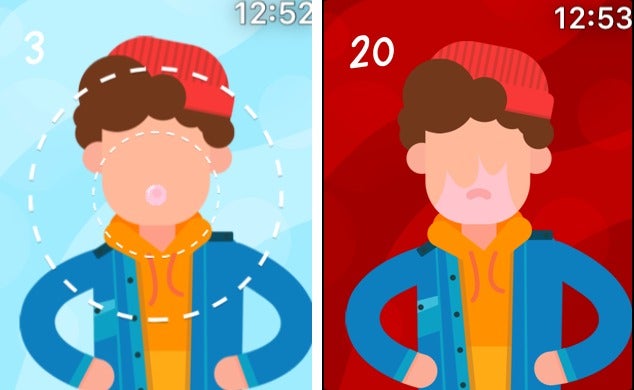 Here's another example of how simplicity prevails with Apple Watch games. Bubblegum Hero (Free) is about as straightforward as can be: just gently hold a finger on the small screen to start blowing a bubble. Once it has grown enough to fit within the two circles on the screen, release and you'll score a point. Blow for too long and the gum will explode all over your face.
What makes things challenging (and fun) is that the two circles are continuously expanding and contracting, which constantly changes your target size. Your goal is to notch as many perfect gum bubbles as you can without making a mess. There's not much to it, but there doesn't have to be: Bubblegum Hero is perfectly suited to kill a minute or two here and there.
Brainess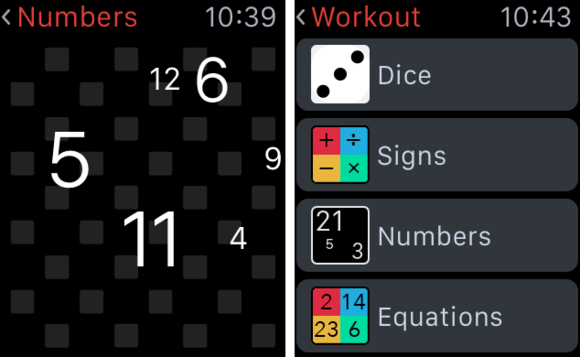 Elevate
on the Watch is essentially a small companion for the larger iPhone app, but with
Brainess
($1), you get a more robust wearable play experience with even more games to enjoy.
Brainess
claims to be a brain trainer, but really it acts more like a brain teaser at times, as when it challenges you to tap the largest number on the screen even as others throw you off with larger
font sizes
.
Or you might need to tap the color a word is written in, even if the word is "green" but the text is colored blue. Other games highlight math, memory games, and fast-paced counting affairs, and they're all quick and easily enjoyed on your Watch. Whether Brainess actually trains your brain is debatable, but at least the games are amusing.