These days, keeping up with games can be a full-time job. So how do you separate the signal from the noise, the wheat from the chaff, the Temple Runs from the Temple Jumps? Allow us to help by regularly selecting a game You Should Play.
Telltale Games has had immense success of late turning pop culture smashes into engaging, well-written adventure games, consistently bucking the trend of poor licensed games. The Walking Dead remains its standout smash, using the comic series to spin out a grim, episodic tale in which even seemingly small decisions affect the story ahead. And using the same template, The Wolf Among Us (based on comic classic, Fables) and the current Game of Thrones series have won praise.
Tales from the Borderlands is something different, however: An attempt to turn a very popular game into totally different one. And it's a less obvious candidate for an adventure game series than a comic book or sprawling novel series. Borderlands has a humorous edge and some narrative elements, but it's primarily a game about shooting monsters in the face with absurdly powerful firearms—and then using the loot and experience to become even more destructive.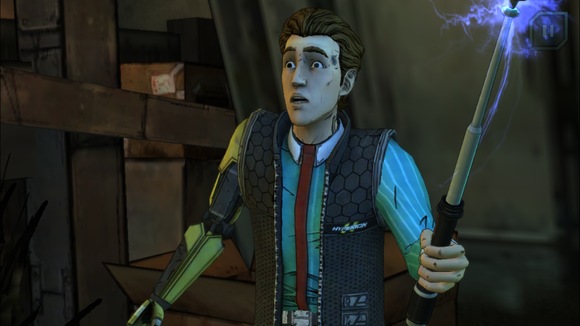 But I'll happily give credit where it's due: Tales from the Borderlands totally works, telling a hilarious story about questionable people doing questionable things to each other, and building an entertaining and even occasionally intense quest around it. And best of all, you don't have to be a huge fan of the shooters to enjoy this tap-and-swipe centric affair, thanks to the great writing and engaging characters.
Two of the five planned episodes are out now, and it's off to a rousing start thus far. Unsure if this odd spinoff series is worth the trip to Pandora? Here are three reasons why Tales from the Borderlands is a great little graphic adventure for your iPhone or iPad ( or Mac, even).
It's your tale: Despite the unique source material, Tales from the Borderlands doesn't break from the design of the aforementioned Telltale quests. It's inspired by classic point-and-click adventures, but puts more of its focus on conversational choices, which add up over the course of the story. Depending on the tone of your responses, how you treat people around you, and how you respond to potential life-or-death situations, the narrative path could change dramatically by the end of the five-part season.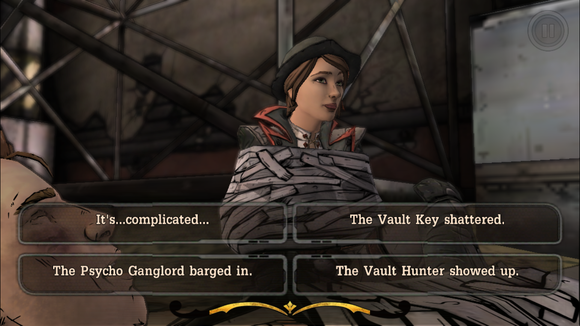 Granted, the comedic tone means the stakes seem a little lighter here than in, say, The Walking Dead, but the knowledge that your decisions matter gives the game a little extra weight. And occasional tap-and-swipe action moments add some quick-reflex survival segments into the fray, making each two to three hour episode feel nicely varied and a perfectly compact fit for the iPhone or iPad.
Jerks and jokes: Tales from the Borderlands has dual leads, and neither is a wholly likeable person. Rhys is a self-serving middle manager for the evil Hyperion corporation, and right when he thinks he's finally being promoted to a position of power, he's usurped—so he concocts a scheme to get back at his rival. That's how he crosses paths on planet Pandora with Fiona, a con artist who's working with her sister and mentor to sell a fake Vault Key for many millions of dollars.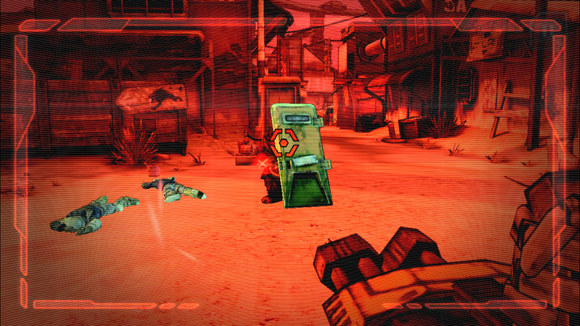 You might experience a situation from both of their perspectives, separately, to not only see how they got into a mess, but how each twists and contorts the truth. Having a couple of unreliable narrators adds a fun hook, and paired with deliciously sarcastic dialogue and great performances from the likes of Troy Baker, Laura Bailey, and Chris Hardwick, the story really stands out.
No barrier to entry: Being part of an existing franchise—not to mention one as intensely, gloriously violent as Borderlands—might scare some potential players away, but it really shouldn't: Tales is strong and cohesive (so far, at least) on its own merits. You'll recognize characters, settings, and themes if you've played the shooters, but all of the leads are unique to the game, and it works as a standalone story within that universe. And it's a fun, silly universe, at that.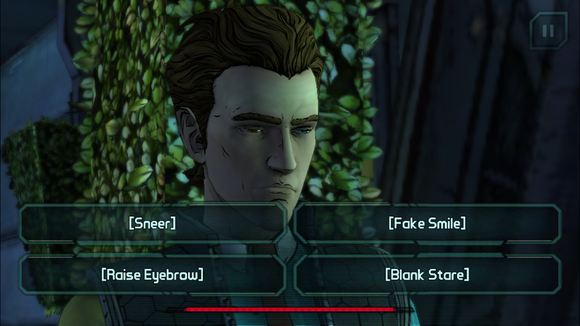 Telltale has a track record of creating totally accessible games within existing, fan-favorite franchises: I love what I've played of The Wolf Among Us, after all, despite having no experience with Fables. So if you enjoy rich characters, snarky dialogue, and a game that feels a bit like an interactive comic, you may dig Tales from the Borderlands.
Developer: Telltale Games Platform: iOS (Universal) Price: $5 per episode