The single-port MacBook provoked fear and loathing ahead of shipment. Apple had lost its mind. It was shipping a chiclet keyboard. One port? A new standard? What in goodness' name had gotten into Cupertino's water supply? (No word on whether Apple is pumping its own water for its new headquarters.)
I bought a MacBook because I was ready to take the challenge of eating someone else's dog food, in the industry's parlance. As a long-time Mac user and tech reviewer, I've owned and used dozens of Mac models, some of them severely compromised from the get-go and others perfect delights across years of use. My favorite before the 2011 MacBook Air that the new MacBook replaced was a PowerBook Duo 210, about which colleague Christopher recently penned an encomium.
Given that USB-C is ostensibly the wave of the future and I was increasingly frustrated at the limits of an old laptop while trying to work with newer OS X and iOS features, the MacBook seemed the way to go. I wanted Retina, a roughly 13-inch screen, and 8GB of RAM. I pressed the purchase button a few minutes after it went on sale—before buying my Apple Watch, even!
And I can report weeks into use people's strongest concerns haven't been a problem.
Clicky not clacky
Everyone who asks me about the MacBook wonders if the keyboard is acceptable. I've used hundreds of different keyboards in my life, from manual and electric typewriters to specialized typesetting gear to endless laptop and peripheral ones. I've now typed some tens of thousands of words on the MacBook's keyboard and it's fine.
It's a darned sight better than most laptop keyboards of more than a decade ago. The low profile and short key travel distance takes some getting used to. As others have commented, it's a closer sensation to typing on a glass with some feedback than it is to typing on most laptop and connected keyboards.
But it's a relatively decent experience when you get used to what is certainly a unique feel. I felt some hand and wrist overuse in my first days, as it requires more restraint to type. As I've gotten accustomed to it, my accuracy and fluency has improved and the strain has gone away. On a typing-speed test site, I perform as well with the new keyboard as with my typical ones.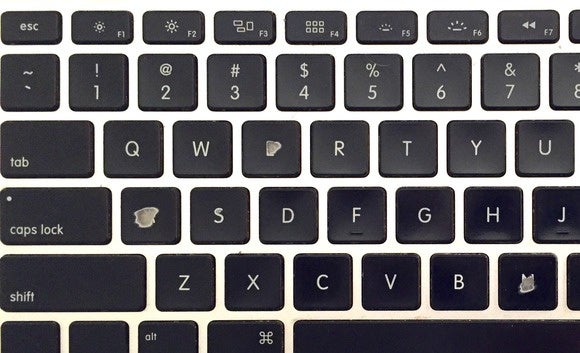 I can only hope the MacBook's keyboard has more lasting power than the MacBook Air. In four years of use, I wore down the opaque coating on the most-used keys of my Air, and I hope the manufacturing techniques have improved for more durability.
The haptic touchpad is so eerily perfect that I've never noticed that I'm not performing a real click. I haven't yet found a use for Force Touch, although I expect as developers take advantage of the feature it will be more naturally incorporated into apps I already use.
I expect that if it's feasible financially and from an engineering standpoint, a future MacBook keyboard will be molded in a single piece and use haptic motors under each key to provide the sense of typing. It's a natural evolution, will allow longer wear, and reduces the intrusion of external dust and grit.
The screen performs exceptionally well for being interpolated, just like the iPhone 6 Plus. The screen pitch is high enough at 226 pixels per inch with the typical distance one's eyes are from the display that the default interpolated resolution of 1280×800. I tried both of the other options (1024×760 and 1440×900), but the former offers too little screen territory and the latter doesn't provide a benefit by everything being tinier.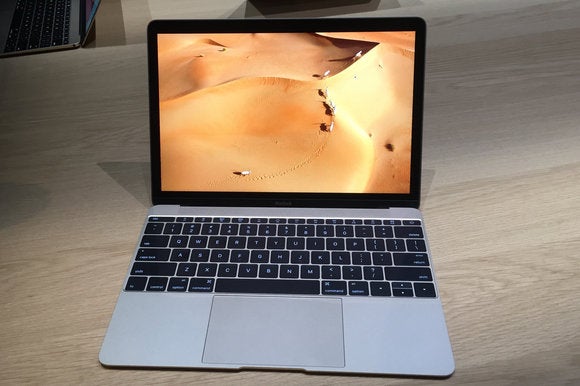 The absolute dimensions of the MacBook's 12-inch screen offer 80 percent of the area of the 13.3-inch MacBook, but the brightness and clarity doesn't make me feel as if I'm looking at a smaller screen.
I moved from a 4GB RAM, 256GB SSD 2011 MacBook Air with a 1.7GHz Core i5 processor to an 8GB/512GB MacBook with a 1.2GHz Core M that can burst to 2.9GHz. There's also a bump in graphics and some other specs, such as 802.11ac Wi-Fi networking. The cost in current dollars is slightly less for the MacBook in 2015 than the Air in 2011.
While current Air models score better on all performance measures and cost less than the 2015 MacBook, they also lack the Retina screen, which was a key factor for me. The performance leap for effectively the same money four years apart, factoring in the extra RAM, is noticeable in everything I do, which includes editing audio in Adobe Audition and currently laying out a 2,000-page book in Adobe InDesign.
About that port
I really was worried about the port. Concerned I yank my computer off a table. Concerned that with Apple having kept weight low and a small form factor rather than increasing typical battery life that I'd be unable to charge or use peripherals easily. Concerned that I'd have a tangle of adapters and cables.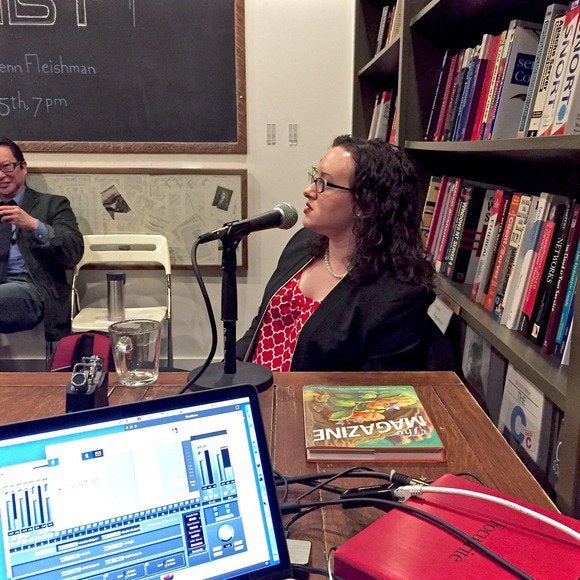 In practice, it hasn't been an issue, in part because I've had a pile of USB-C adapters and cables to test that have let me find the right mix of what to use. This includes Apple's USB-C Digital AV Multiport Adapter. That hurking add-on costs $79, and includes an HDMI port, a 5Gbps USB 3 Type A jack, and pass-through charging via USB-C. While noted as backordered four to six weeks, I've heard that some people have already received them. (Apple sent us units for testing.)
I've performed system migration through an external USB drive; run a live recording session with a USB-based pre-amp while connected to gigabit ethernet; and charged through a USB 2 connection, albeit very slowly.
For a user who wants to be prepared for everything, I'd recommend this travel kit:
The powered USB 3.0 hub turns out to be more critical than I'd realized, as via the Multiport adapter and Type A adapter, you cannot pull enough power for some bus-powered drives. However, a powered hub alleviates that problem.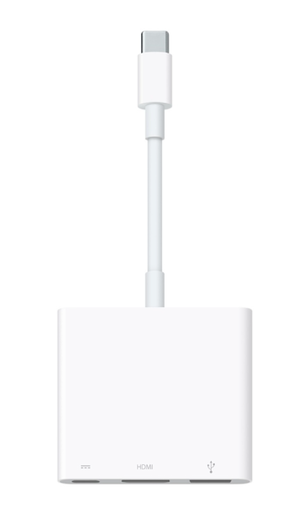 And complicated setups seem to work just fine. In my live recording session, I use the Multiport adapter with the USB 3.0 hub and had power plugged in to the USB-C port. Into the hub I connected a Focusrite Scarlett preamp and a Cable Matters gigabit ethernet to USB 3.0 adapter. Everything worked perfectly: no glitches and no USB power warnings.
But don't mistake this for thinking you need an adapter all the time. When I have a specific specialized task at hand, like cloning the drive for backup, out comes the behemoth multiport doohickey, or when I want to work at my standing desk with a two-monitor setup. The vast majority of the time, I'm using the MacBook with just its charging cable or free-ranging.
And despite the lack of a MagSafe connector, I haven't sent my Mac flying. In practice, it's been the case the power adapter comes free of an AC plug before the computer skitters or its USB-C connector flies loose.
On the road again
I haven't yet taken the MacBook on a flight, but I'm expecting that to be great because my 13-inch MacBook Air was a tight fit in contemporary coach seating. The 2015 MacBook at 11.04 by 7.74 inches is only a quarter-inch deeper than the 11-inch MacBook Air (11.8 by 7.56 inches). The new hinge design helps, too.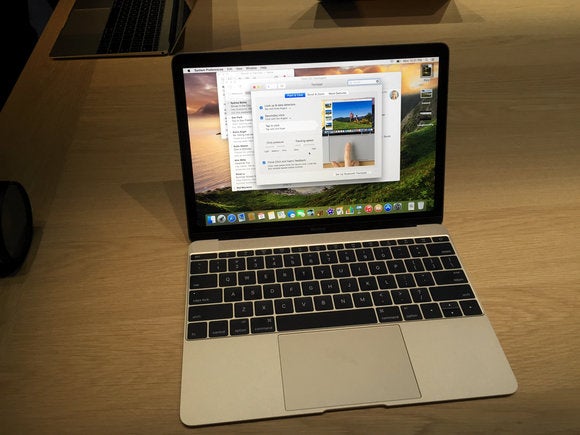 I still recommend highly that anyone with typing trepidations spend time at an Apple Store or, if you make a purchase, be sure you're ready to put your fingers to work and made a decision within the two-week window of time to return it without a fee.
I'm more pleased with the MacBook than I expected, which is how technology should delight you, especially when you've paid a premium for fiddly bits like a Retina screen and low weight. It's no Duo 210—what computer could be?—but as more USB-C options appear, it might take the number two spot in my all-time laptop faves list.