Free-to-play games often look appealing, but it's difficult to know at a glance whether the business model is insidious and fun ruining, or reasonable and worth pumping a few bucks into. With Freemium Field Test, we'll take a recent free-to-play iOS game, put it through its paces, and let you know if it's really worth your time (and money).
The arrival of a brand new Mortal Kombat game on iOS is a big deal, especially since the only previous release was a butchered port of the years-old Ultimate Mortal Kombat 3. Instead, Mortal Kombat X hit the App Store in April at the same time as the acclaimed console and PC game, with similarly sharp graphics, plenty of intense fighting action, and a heaping helping of blood and gore.
Touch devices might be relatively uncharted terrain for Mortal Kombat, but it's actually business as usual for series developer NetherRealm Games. The studio struck it big with the iOS version of Injustice: Gods Among Us, a DC Comics fighter based on the Mortal Kombat engine, by turning it into a free-to-play tag-team affair with card-collecting elements. And earlier this year, it repeated that design for WWE Immortals, a very similar experience with pro wrestlers turned into fantasy heroes.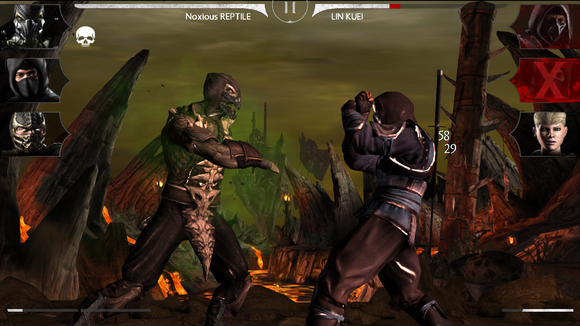 The third time's the charm with Mortal Kombat X on iPhone and iPad, or at least you'd expect it to be. Although it's the most attractive of the bunch, the mobile version further simplifies the streamlined fighting formula to the point of tedium. The free-to-play model is reasonable, but the gameplay itself is less likely to hold your attention.
The pitch
Like those aforementioned mobile fighters, Mortal Kombat X has you build a team of three fighters that can be swapped at will during fights. You'll see familiar heavy hitters like Scorpion, Sonya Blade, Sub-Zero, and Johnny Cage—but also newcomers from the console game, such as Kotal Kahn and Cassie Cage (Johnny and Sonya's daughter). However, the game also adds in some generic fighters, seemingly to pad out the card selection while making better-known fighters harder to obtain.
Mortal Kombat X doesn't bother with virtual buttons or complex move sets, thankfully—that rarely makes much sense for a touch device. However, whereas Injustice and WWE Immortals used taps for basic attacks and left and right swipes for heavier assaults, Mortal Kombat X is primarily focused on taps. You'll still be prompted to swipe in a certain direction to finish off combo moves, but besides blocking and hitting a button for a special move, it's just a constant flurry of taps.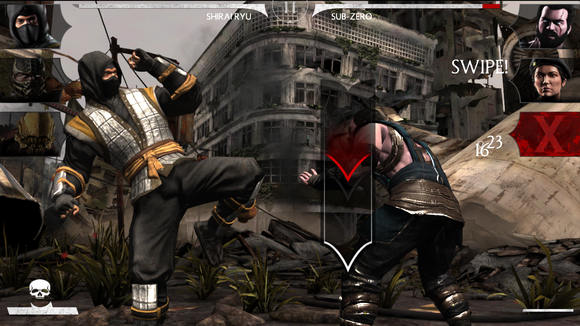 I understand playing to the strengths of the platform, but the combat here is over-streamlined to a fault. After a few fights, I was bored. After dozens of fights, I was beyond ready to move on. The recent Marvel Contest of Champions takes a similar approach to fighting design, but at least offers some variance in attacks and lets you swipe to dash left or right. It's funny: Mortal Kombat on consoles has become a more technical fighter in recent years, making it a tournament favorite, but the iOS version instead aims to be as brainlessly accessible as possible.
At least it looks like the real thing. Mortal Kombat X may not be as richly presented as on $400 game consoles, but the characters are impressively rendered and everything moves fluidly. However, it's a Mortal Kombat game that's ultimately more fun to watch than play, as the interactions prove tedious before long—but seeing more and more familiar fighters and fatalities stays appealing. There's a serious grind to it, however, unless you plan to spend money.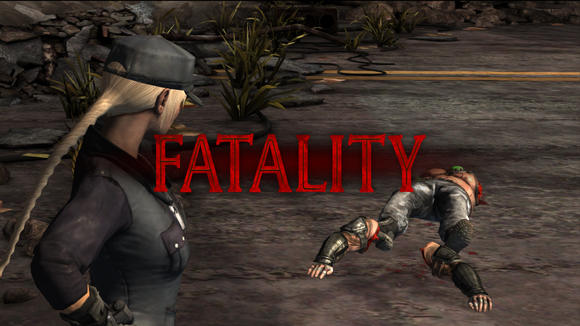 The catch
No surprise here: The temptation to spend money is ever-present in Mortal Kombat X. It's precisely why you earn fighters by buying card packs with slowly-accrued in-game funds rather than having a wide selection available from the outset. Unlocking the most interesting and most powerful fighters takes a long time, not to mention a whole ton of repetitive tapping—or you can spend cash and make it happen sooner.
Thankfully, the game is super forgiving when it comes to its energy system, which makes a very feeble attempt to keep you from logging lengthy play sessions. Each fighter's energy meter diminishes a couple of notches per battle, but leveling up your player profile—which happens very frequently early on—refills everyone at once. And if they do tap out, you can always use a team of other fighters instead, or just use a single earned soul token to recharge each combatant's energy. It wasn't even close to being a real impediment during my time playing.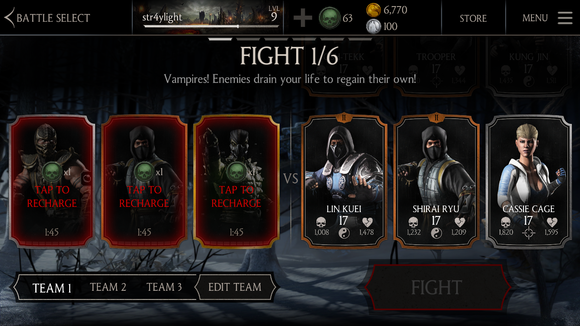 Instead, accessing the game's best content—the highest-rated and best-known series fighters—requires probably dozens or even hundreds of hours of slavish play, or otherwise spending as much as $20-plus on souls for a single fighter card. Will the Grandmaster Sub-Zero or Inferno Scorpion cards help you dominate the game? Probably. But that's a whole lot to ask for one fighter, especially in a game that doesn't significantly differentiate fighting styles or require much in the way of skill.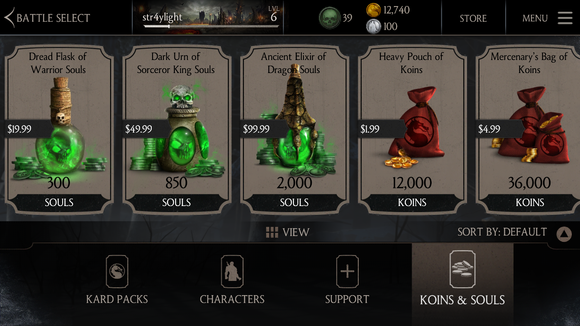 I ended up spending $10 to buy enough souls to purchase a Kombat Pack, which granted me one gold-level character (Reptile), plus a couple of support cards used to enhance my fighters. Reptile proved a helpful ally, with a poison-spewing attack that inflicted huge damage upon foes, but paying for an advantage didn't suddenly make the fighting action any more interesting. It's the same game either way—you just decide whether you want new and better characters to come quickly or slowly.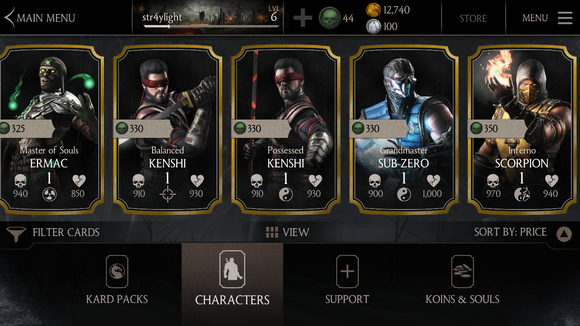 The verdict
It's a shame that Mortal Kombat X isn't the same kind of powerhouse fighter on iOS that it is on consoles and computers. That's not hugely shocking, as the fighting genre isn't really ideal for touch devices, but we've seen better examples than this. Mortal Kombat X just feels too dumbed-down to compete.
And yet there's an allure to it, due to the great franchise and presentation, not to mention the addictive hook of card collecting elements. It's not enough to overcome the bland fighting, especially when evoking the name of a much better console game, but I imagine some players will be happily hooked for the occasional mindless tap-a-thon.