Major improvements to FileMaker's infrastructure in its last two releases (versions 12 and 13) required a new file format (.fmp12) and sent a lot of developers back to school. FileMaker 14 maintains the existing file format and solidifies some of these earlier advancements (especially in WebDirect) but also keeps the pressure on developers by introducing powerful innovations that affect the design of databases for FileMaker Pro, FileMaker Go, and web browsers.
FileMaker Pro: Layout design
Since the news for solution developers applies equally to FileMaker Pro 14 and FileMaker Pro 14 Advanced, I refer to both when I say "FileMaker Pro." (These products have the same core feature set, but I do offer an overview of the differences.) Whichever tool you use, it's easier than ever before to create consistent and attractive layouts for your users to work in, whatever platform they're on.
FileMaker Pro 14 introduces the first change in ages to the basic part structure of layouts: a new part for navigation elements. Navigation parts can be placed at the top and/or at the bottom of a layout, and at first glance, look like the old header and footer layout parts. But unlike headers and footers, navigation parts don't scroll out of view and they aren't affected when users zoom in or out. I expect that FileMaker 14 developers will soon start using the navigation part for UI widgets like buttons, and will leave headers and footers for printed reports.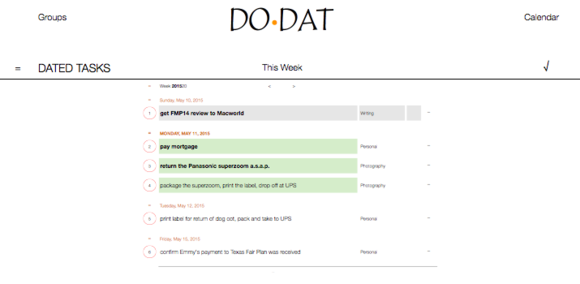 FileMaker 14 innovates in another surprising area: buttons. For starters, you can now format buttons to display text only, or text with an icon, or if you're the silent type, an icon without text. FileMaker Pro 14 provides a generous assortment of ready-made buttons for your use, but you can create your own if you like and add them to the assortment.
A more significant new feature is a new layout object called a button bar. It's always been possible to drop multiple buttons on a layout, then copy and paste them on another layout. Invariably, however, you'd spend a lot of time fiddling with the placement of individual buttons. The new button bar object eliminates most of the busy work, because the buttons in a button bar are defined as a set from the get-go.

Equally—if not more important—the button bar eliminates an old headache for developers and users alike. Developers of large solutions often want their buttons to have calculated or dynamic labels. There are many reasons why this matters, but one reason is that it makes it possible to change a button's label simply by modifying the calculated result; if you couldn't do that, you've have to edit each instance of the button on possibly scores of layouts, one button at a time. The old way to get dynamically labeled buttons involved defining fields in a utility table, placing the fields on layouts and turning them into de facto buttons by attaching actions to them. This works okay but has an undesirable side-effect: when users are shown a dialog that lists the fields on the current layout—for example, the sort dialog—the fields used as objects will be listed, too, even though they are not data fields at all. The presence of those user-interface elements in the dialogs inevitably confuses users. If you use button bars in FileMaker Pro 14, sort and export dialogs will display only data fields to users. This is a great example of how a rather technical new feature, put to use properly by a developer, ultimately makes life easier for end-users.
There are other improvements in the design tools, including some modest improvements to the handling of custom styles, but I do want to mention the new placeholder label. This lets you display the field label right inside the field, which, at least in some circumstances, can make for much cleaner data-entry interfaces.
FileMaker Pro: Scripting and calculations
For advanced developers, the most welcomed change in FileMaker Pro is likely to be the redesigned and renamed "script workplace"—in particular, the ability to enter scripts almost entirely from the keyboard. Those of you who don't spend hours every day scripting will be happy to know that you can continue to build scripts by pulling steps from the script step library. But developers who daydream in code will be delighted that they can now create a new script and simply start typing. You can add script parameters from the keyboard, too, and even edit calc formulas inline; and when the calc formula is a little too long to edit inline, you can switch to the more spacious old-fashioned calculation editor. This change doesn't make a whit of difference to end users, but FileMaker adepts are going to love it.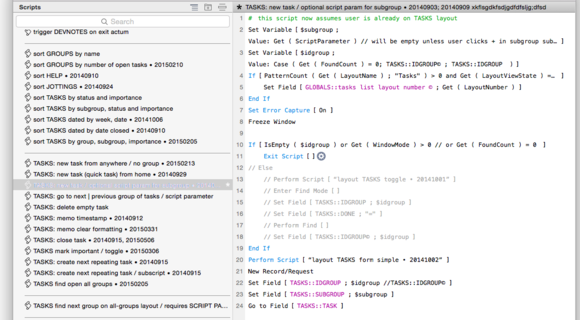 The script workplace lets you keep multiple scripts open for editing at the same time, which can be useful. It also now shows the listing of existing scripts and the list of script steps in panes on the left and right sides of the editing area that can be shown or hidden, as you like. If you have all the script steps in your head and can type well, you can just hide the script steps pane and forget about it. One quibble: I wish the list of existing scripts could be made wider, because it's not wide enough to display long script names.
At about this point you're probably getting nervous that I'm going to blab on about the ability to run FileMaker Pro in 32-bit or 64-bit, how cool it is that we can use "√" in checkboxes now as well as "x", and excellent new functions like Get(Directory), but I shall forbear. There are too many improvements to talk about them all. FileMaker's website has a complete list of new features.
FileMaker Server
FileMaker Server provides the muscle of the FileMaker platform. But because it's on another computer in another room, sometimes in another city or state, most users don't think about Server until something goes wrong. Which it seldom does. So Server doesn't get much respect. But FileMaker Pro without FileMaker Server is like an iPhone without cell service.
There are only a couple of new "features" in FileMaker Server 14. The main one is support for a standby server. The standby server mirrors the primary server in real time; if the primary server goes down, the standby server can be pressed into action immediately by the admin from the server machine's command line.
FileMaker Pro users will be grateful that FileMaker Server 14 now restores dropped connections in FileMaker Pro as effectively as it has been restoring dropped connections in FileMaker Go. FileMaker Server 14 also now help users and admins remember to give hosted databases strong passwords. In the past, all too often, forgetful users upload databases to the server without changing the default credentials.
And thanks to improvements in the WebDirect engine that is part of FileMaker Server, users accessing a FileMaker 14 database in web browsers should see a substantial increase in the speed with which data is returned and pages are rendered.
No Pro? No problem!
The typical way to access and use a FileMaker Pro database has always been to open it in a copy of FileMaker Pro. But with the release of FileMaker Go a couple versions back and of WebDirect in FileMaker 13, there are now two effective ways to get to your databases that don't involve using FileMaker Pro.
FileMaker Go, which runs on your iOS device, is now a robust and mature app, and the design improvements in FileMaker Pro 14 described earlier (navigation layout parts, button improvements) allow you to make really idiomatic iOS apps. Easier to get to than it used to be and with a light, clean look that harmonizes with iOS 8, the FileMaker Go 14 menu—under the FileMaker folder icon in Go—is now so useful I may rely on it for actions I used to make special buttons for.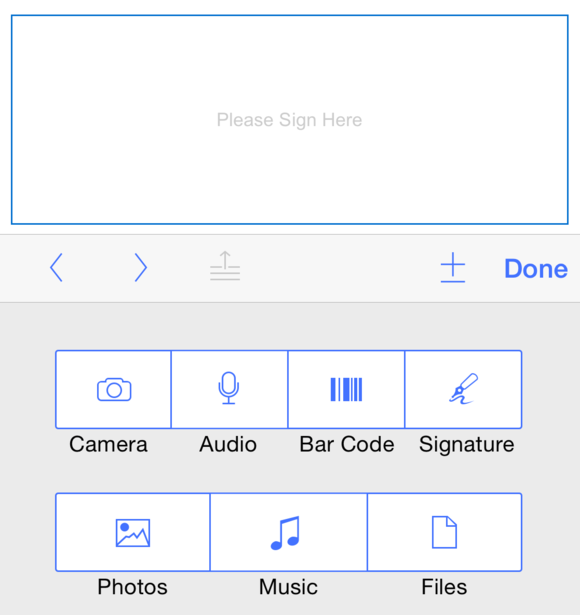 The neatest improvements in FileMaker Go 14 have to do with container fields. Container fields in FileMaker are used to store files of just about any sort: photos, movies, pdfs. FileMaker Go 14 has a vastly improved data-entry interface for container fields. Just tap on an empty field (like "Please Sign here" in the screen shot) and a button menu with your options appears. If you click Signature, a signature screen appears and you can sign right on your iPhone or iPad. Click Done and the signature is saved to the container field. If the field already has data in it, a different set of menu buttons will appear depending on the type of data in the field. For example, if the field contains a movie, you'll see controls for playing the video. And movies can now be played either inline or full-screen, as you like.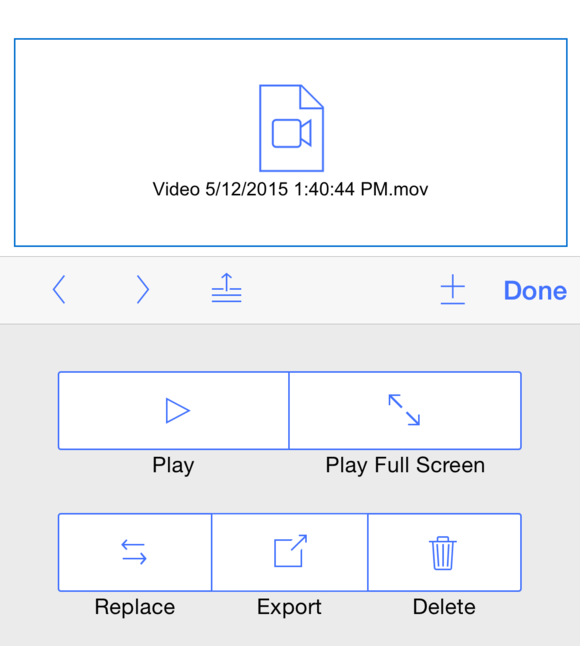 The other way to get to a FileMaker database without using FileMaker Pro is to open the database in your web browser. This I have been able to use and test fairly extensively. Introduced in FileMaker 13 and improved in FileMaker 14, this capability draws on a technology called WebDirect built into FileMaker Server. When everything works as you hope, the database in your web browser looks almost indistinguishable from the database accessed in FileMaker Pro, and works almost exactly the same way.
I mentioned earlier the improved performance of databases accessed via WebDirect. WebDirect now serves databases up quite nicely to the latest tablet browsers; it even worked well in my iPhone 6, although there's no official support for mobile phone browsers at this time. WebDirect in FileMaker 14 also provides more attractive and more efficient toolbars and menus inside your browser window.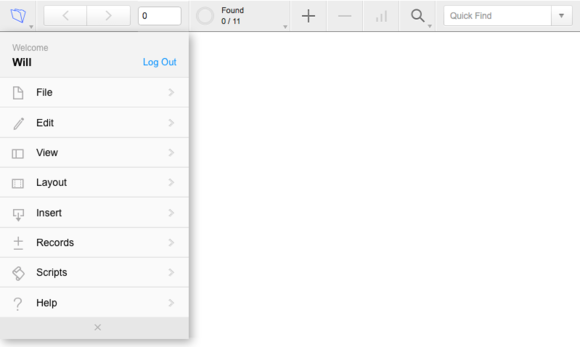 FileMaker Go is a brilliant and inexpensive client for FileMaker databases. Its limitation is that it runs only on the iPhone and iPad. WebDirect makes it possible to access a database on a computer as well as a tablet, but it has limitations, too. It's great for browsing and editing data but it can't print reports. There's always something to hope for in the next version.
Backwards compatibility
FileMaker Pro creates files with the same .fmp12 file format introduced a little over three years ago in FileMaker Pro 12. So if you have an office with multiple FileMaker Pro users, it's okay for some of them to be using FileMaker Pro 13 (or even 12) while you mix in a few new copies of FileMaker Pro 14.
But keep in mind that, if you start using FileMaker Pro 14 to create new databases and in those new databases you use features that are new in 14, those features won't be available to any users in your workgroup still using FileMaker 12 and 13 (Pro and Go). Sometimes this isn't a serious problem. For example, if you create buttons with icons and labels in FileMaker Pro 14, FileMaker 13 users will see buttons with labels but no icons, which shouldn't be a big problem. At other times, a new feature in FileMaker 14 will break the solution in an earlier version of FileMaker. Button bars simply disappear in FileMaker Pro 12 and 13, while navigation layout parts get displayed as an area of the screen with a big red "X" through it. This is the price of progress.
I suggest that you don't start using button bars or navigation layout parts until you know your users will all have FileMaker 14. And if you really want to dive into the new layout features (or take advantage of new calculation functions, etc.), it's a smart idea to write a startup script that checks to confirm that the user has FileMaker Pro 14.
Bottom line
If you're new to the Mac database world, by all means, step right up to FileMaker 14. There's more power and potential in 14 than in any previous version, yet it's as user-friendly as ever. If you're already an experienced FileMaker developer, I expect you'll want to upgrade as soon as you can, if only so you can start typing in scripts. Network admins, especially those with responsibility for mission-critical databases accessed by large numbers of users, may jump at the new standby server feature in FileMaker Server 14. If you're one of FileMaker's volume licensing customers, check with your FileMaker customer rep, because you may be able to upgrade at no additional cost. Finally, everybody should upgrade to FileMaker Go 14—it's free.
The release of the FileMaker 14 family of products coincides with the 30th anniversary of the debut of its namesake product, the original FileMaker, in 1985. Back then, FileMaker was just a single-user flat-file database for the Mac with a novel graphical user interface. Now it's a whole family of products that integrate with one another, with other data sources (through its support for ODBC/JDBC and PHP) and the Internet (via WebDirect). It's 30 years old, but the most impressive thing about FileMaker isn't that it's still around, it's that it keeps getting stronger with each release.