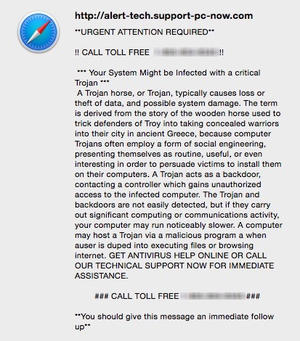 You've got a Mac and, from what you've heard, there's no evil that can touch you.
No viruses.
A Mac App Store with guaranteed clean applications.
No worries whatsoever.
And then…your favorite web browser suddenly seems to have a mind of its own; taking you places you have no interest in going and warning you of evils on your Mac that don't actually exist.
Over the last several months I've had several people report that their computers have been hijacked. This hijacking takes a variety of forms, but most often it's an inescapable barrage of ads or warnings of impending doom. In many cases these result in pop-up windows loading that can't be closed or navigated past. The screen shot in the upper right and the one below were taken from a client's computer in such a state: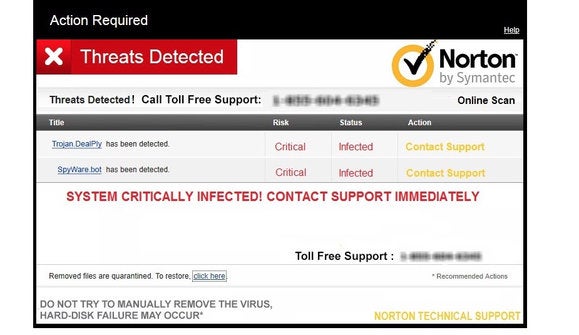 This kind of browser hijacking attempts to create fear about an existing or impending problem on your computer and then offers a solution that consists of calling a toll-free number to get that problem resolved. At worst this is a phishing attempt or ransomware and at best it's an attempt to sell you software of dubious value that is supposed to "remove" the software causing the problem. In every case it's a pain in the arse.
(For an in-depth look at how these scams work, check out Lenny Zeltser's excellent Conversation With a Tech Support Scammer, which includes audio of conversations he had with "tech support" when calling one of these toll free numbers.)
Avoiding adware and malware is pretty simple:
Make sure your Mac's Security & Privacy settings (System Preferences > Security & Privacy) are set to Allow apps downloaded from the Mac App Store or the Mac App Store and identified developers. Anywhere should NOT be selected.

To help avoid the installation of some adware and malware, make sure your security settings are anything but "Anywhere."

Don't install software when you're unsure of its origin. I know this seems obvious but, when you see a warning about software downloaded from the Internet, don't open it unless you know what it is.

If you see a message stating that something you're opening was downloaded from the Internet and you're not certain you've intentionally downloaded it, click Show Web Page before you open it.

Avoid sketchy sites for downloading software.

App developer's site? Check!
Mac App Store? Check!
Softonic? Download.com? Fred's Undeniably Adware Free File Downloads? Nope, nope, nope!

Avoid other equally sketchy sites, such as torrent hosting services and… oh… you know you know what I'm talking about…
Adware Medic
If you find that your Mac has been hijacked by Adware, not to worry, we've got a fix for you. The Safe Mac's Adware Medic. (The Safe Mac also has an excellent website and Twitter feed if you want the latest, up-to-date info on Mac Adware, Malware, and security concerns.)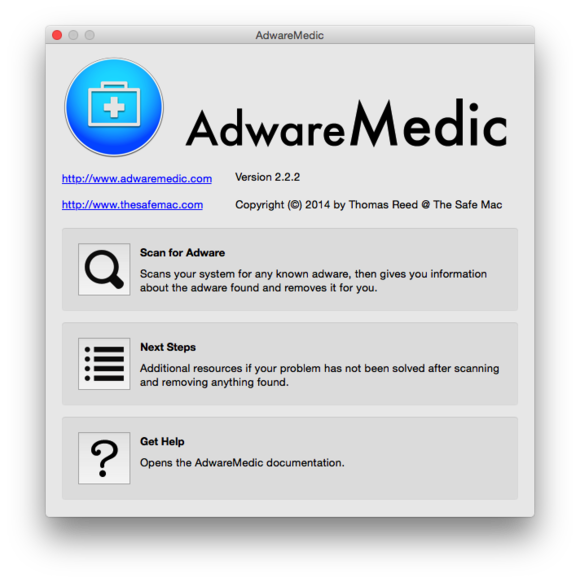 Using the app is as simple as it gets.
Download Adware Medic.
Open the Adware Medic disk image and drag the app to your Applications folder. Then Open Adware Medic. You should see a message stating that this is an app you've just downloaded from the Internet. Go ahead and click Open if it appears, but if you don't see the message, head on over to System Preferences, open Security & Privacy and change the setting to "Mac App Store and identified developers."
Adware Medic is Donationware, which, as the donationware window states, makes the app free for as long as you want it to be. But if it solves your Adware issues, send some cash their way. Seriously!
Click the "Scan for Adware" button.
Follow any further instructions you see after the scan is complete.
Adware Medic can usually remove adware without requiring a restart of your Mac, but in some cases a restart will be required to fully remove any adware that was installed.
If Adware Medic doesn't resolve everything that ails your Mac, you can take additional steps to resolve these issues. In many cases these fixes may be as simple as avoiding certain websites, changing your broswer's home page and search settings, or looking at removing browser extensions you may have installed.