Third-party running apps are at a disadvantage on the Apple Watch. They don't have access to the watch's sensors, which means they can't accurately measure the intensity of your workout and calculate how many calories you burned. They also require some initial setup on your iPhone to make sure they're tracking the information you want on your wrist, whereas the watch's native Workout app just, well, works. The nail in the coffin: You can't use them when you leave your phone behind.
For those reasons alone, Workout wins on its home turf. But there's nothing stopping you from running with Workout and a third-party app simultaneously, if you want the benefits of both (or just want to compare numbers). And if you're already a long-time user of one of the four most popular running apps in the App Store, a watch version offers a shortcut so you can hit the pavement without futzing with your phone.
I took Runtastic, RunKeeper, Nike+ Running, and MapMyRun for a few 3-mile outdoor runs to see how they stack up to the watch's built-in fitness tracker.
Putting running apps through their paces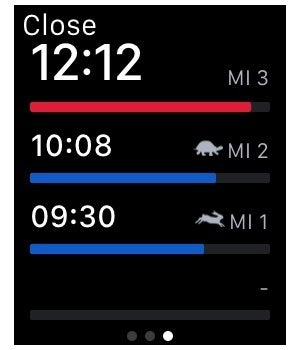 A watch fitness app is useless if it isn't easy to figure out while running. If the information I need isn't immediately obvious to me when I'm in mid-stride, then it does me no good. All of the apps I tested made it super simple to start a run, but they differed in the features and stats available at a glance during my workout.
Runtastic is easily the best running app on the watch because it's as easy to use as Workout but has a few extra features, including control of my music (when paired with Bluetooth headphones) and the screen I kept returning to: pace per mile. That glance also offered a comparison to previous miles, so I could tell I was slowing down in mile 3 compared to mile 1. It inspired me to pick up the pace.
Runtastic uses Force Touch to let you pause or end your workout, like the native Workout app does. After you save your workout data, Runtastic has a couple of useful options to grade your post-exercise mood with an emoji and select the kind of terrain you were running on for future reference and comparison. The app's lone downside was voice coaching—it's a premium feature, but I didn't realize that until halfway through my run, when the app verbally nudged me to upgrade. It's not exactly what I want to hear when I'm hustling up a hill.
I also liked MapMyRun, but for some reason I couldn't get the app to stay open when I raised my wrist to glance at my pace. It would default to the home screen, which hasn't happened with any other app I've used. It was also a little too basic, like RunKeeper, with just one screen showing you time elapsed, mileage, and pace per mile—no other options. RunKeeper's watch app gets a little more complex if you choose a training plan workout on the iPhone app, so you know when to adjust your pace to stay on track, which is a great feature I plan to spend more time with.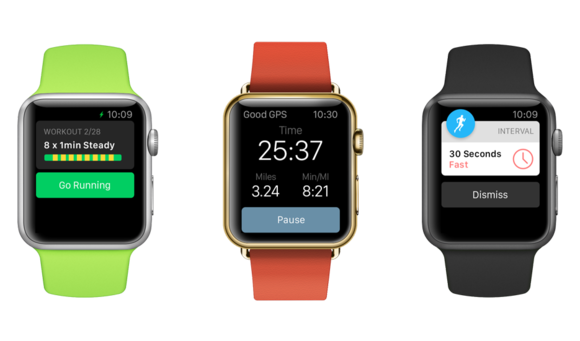 Nike+ Running is almost as fully featured as Runtastic, but requires a lot of tweaks on your iPhone to get it set up just right. You can listen to music in the app, but you have to preload that playlist in the iPhone app. I also had to use my phone to customize the voice coaching triggers after I realized the app would verbally pause and resume my run (and interrupt my music) when I had to stop at stoplights. (That was a long and awful three miles.) The app has some cool features, like a leaderboard to compare stats with friends and a map view of your route, though retrieving a map on the watch is usually more trouble than it's worth.
Something to note: Three of the running apps I tested estimated that I burned more calories and ran farther than the watch calculated, which is puzzling. I trust the watch's calorie burn estimate due to the heart rate sensor, but Workout relies on the iPhone's GPS to measure distance, just like third-party apps do. Three of the four running apps matched each other's calories and mileage, roughly, but not the watch's. Runtastic matched the watch's mileage but overestimated my calorie burn, because it lacks heart rate sensor access. Both Runtastic and the watch came closest to the Google Maps approximation of my route, though I'm still not sure why.
Why Workout wins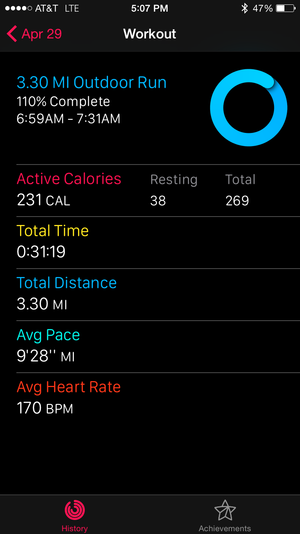 You don't have to play with any settings to get the tracking you want with Workout. But it doesn't have GPS and the Activity app doesn't map out those inspiring post-run visualizations of your route, like other apps do. A GPS-equipped Apple Watch would be incredibly useful, and I'm hopeful we'll see that someday. Android Wear also launched without hardware support for GPS but added it later, so it's possible Apple will bake GPS into Apple Watch 2.0.
There are other downsides: The device doesn't offer voice coaching, if that's a must-have feature for you (come on, Siri, you can do it!). Workout also lacks a corresponding iPhone app to examine fun stats like what your pace was in mile 2 versus mile 3, like Runtastic does. The Activity app does store some Workout data, but doesn't break it down quite like dedicated running apps do. Those are trade-offs to consider if they push you to run faster or longer.
For now, Workout wins, but if you're a long-time user of Runtastic, RunKeeper, MapMyRun, or Nike+ Running, having easy access to those apps on your wrist is a big bonus. And why not stick with what works? No matter which app you use, the watch counts those stats toward your Move and Exercise goals, which is all that really matters.