Move over, Space Camp: Coding is quickly growing as a popular activity for kids, and not just for those who dream of being programmers when they grow up. The logical thinking required to code can help kids succeed in school and other day-to-day activities—it's no wonder why big companies are getting behind the effort to help students learn the needed critical thinking skills.
If you want to help them get started, there are a number of visual, kid-friendly apps that teach users how to build games and code other simple activities on their own.
It won't be long until your daughter learns JavaScript or your son starts debugging all the devices in the house. But don't rule out the fact that you may pick up some things along the way—all of these apps do a great job at introducing you to the problem-solving type of thinking required for good programming. Sure, most of them feature cartoony characters, but the principles underlying it apply to all.
Hopscotch schools you in the basics
If you want to pick one app to start with, go with Hopscotch (free). It turns you (and your kid!) into a game creator with simple-to-learn tools.
Hopscotch walks you through a visual tool for making games—you can even make a Flappy Bird clone. There are a lot of good, tutorial videos that explain how you connect the pieces together, which correspond to actions within the game.
You can then try out your creation after adding in some commands of your own.
Hopscotch also has a smart method of integrating social aspects into its apps without sharing your child's personal info—something that, hopefully, will make parents feel more comfortable. You can view a stream of other games created by the community, but you don't have to create a specific account with email or other information to check it out.
Tynker helps kids solve the puzzle
Tynker (free) turns things up a notch, with a visual programming method that is capable of creating some impressive games and tools.
There's a free app that you can grab to try it out on your own, but Tynker also has bigger ambitions with a separate edition specifically for schools that use it for teaching programming strategies to their students.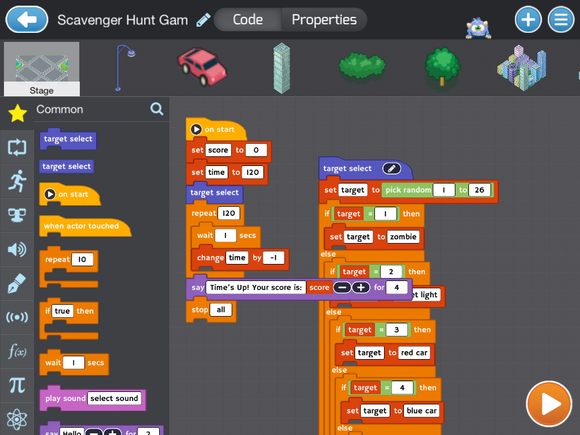 Tynker includes a game called Codey's Quest, which uses various programming puzzles that you must solve in order to lead the wayward one home.
Tynker is also available on the web and for Android devices, so if you sign up with an account your child can access his or her project from multiple devices. It's grown to become a popular platform, so it's worth checking out eventually even if you hit some of the other options first.
Move the Turtle teaches you through play
Move the Turtle ($3) is a good choice if you would rather introduce coding concepts in a more linear format. This app adapts a "learn as you go" strategy, where your child will give programming-style instructions to a turtle through a series of challenges.
Like most iOS games, it moves you along through a variety of levels, elevating the challenge as it goes on. In this case, that means introducing more programming commands at each level, so after a while you'll have a solid understanding of how to issue commands to your turtle by dragging and dropping the various tasks into place.
Program your way through Cargo-Bot
Cargo-Bot (free) is another pick that infuses programming instruction in the form of a game. You'll control a robotic arm and command it to move boxes into predetermined areas.
Once you've mastered how this works, you'll find a lot of logical challenges await in the more difficult levels. One perk is that you don't have to go sequentially through the game—if you're ready for a more difficult level, you can jump into it right away.
Cargo-Bot is also a good showcase for the type of games that one can make on an iPad, as it was coded entirely with Codea, a touch-based coding application.
Daisy the Dinosaur sucks you in with cuteness
A cute dinosaur is always an inviting way to suck you into something. Daisy the Dinosaur (free) introduces you to such a creature, which can be commanded with visual programming commands. This app was created by the team behind Hopscotch, so you know it's a good one.
There's a free play mode, which you can use to just tinker around and get familiar with everything that you can command the dino to do. You'll learn more, however, if you work your way through the challenge mode, which starts with a step-by-step tutorial before unleashing you into more challenging adventures.
Daisy the Dinosaur is a good option if you want something simple with clear, guided practice for a first go-around at programming.
iOS coding is just getting started
These apps, along with the work of tools like Codea, demonstrate that iOS is gaining traction as a platform for helping kids learn computer science principles. The popularity of the iPad in education and kids' familiarity with its capabilities and gaming selection mean it has a lot of potential for shaping how they interact with computer science and learning to code.