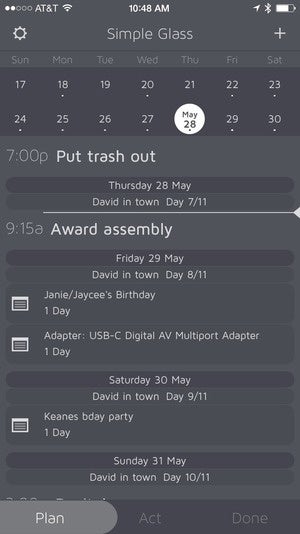 Countless apps fill the App Store, each one promising to help keep you organized and on task by applying the same basic method, but with a slight twist.
Recently highlighted by Apple as best new app in the iTunes Store, Glass Planner is the latest entry into this already crowded space. Only the team behind Glass Planner are proud of the approach it takes when helping you get things done.
That approach is composed of three different parts.
Plan, Act, Done
At the bottom of the app you'll find three different tabs, each representing a different step in the process of getting things done.
Naturally, the first step in using any task managing app is planning. The Plan tab will show you a broad view of your schedule, complete with a list and a calendar view.
Act is where you go when you want to view your immediate schedule, and mark tasks off as complete or reschedule appointments.
The Plan and Act tabs also allow you to create new calendar appointments, tasks, or calendar notes. The first two items are familiar to nearly everyone, while the latter is simply a different name for an all-day calendar entry.
The Done tab is nothing more than a list of recently completed appointments and tasks.
Interactions within the app consist of dragging and dropping for rearranging tasks and swiping to reveal further actions. It's reminiscent of Clear, another task management app, complete with fun sound effects.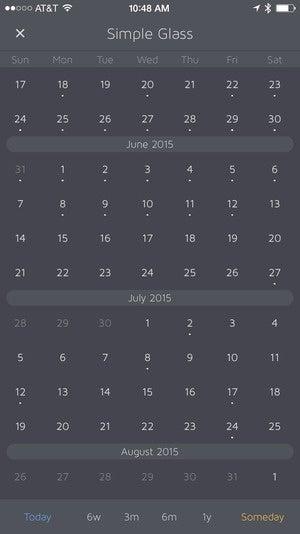 I would like to see Glass Planner add a natural language entry method. Meaning, entering "remind me tomorrow at 4 to pick up food" would result in a new task being created without any further interaction. Whereas entering "pick up food tomorrow at 4" would translate into a calendar entry.
As it is now, entering anything with a set due date and time requires a fair amount of tapping and selecting various details.
A single view to keep you motivated
Where the developers feel Glass Planner sets itself apart from the rest of the pack is that it compiles all of your calendar entries and tasks into one list, with one view. Instead of bouncing between a view of appointments in your calendar, and then another view for tasks.
I happen to rather like this approach. I have a hard enough time remembering to enter tasks in a to-do list, and the last thing I want to do is hunt and peck around multiple apps or screens to view entries.
In short, Glass Planner does a good job at presenting the information I need, when I need it.
Lack of iPad app hurts
When an app takes a different approach to a common action, as Glass Planner does with task management, it's imperative a user have access to the service across multiple devices.
Granted, the app creates an iCloud calendar of its own, making it possible to view content on your other Apple devices, but the lack of the same—unique—management tools hurts the overall experience.
Too many tutorials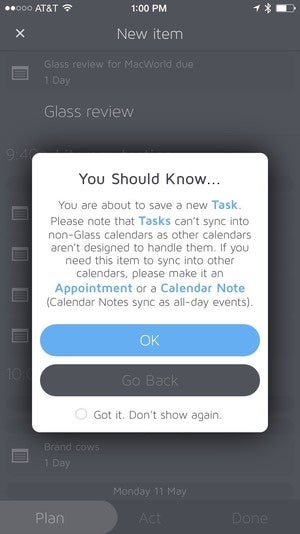 The first time I launched Glass Planner, I was greeted with a welcome video. This is fairly standard for apps, so I watched it and came away with a basic understanding of what to expect from the app.
Then as I began to tap my way through each screen, going from Plan to Act to Done, and back again, I was greeted with a pop-up tutorial. Tap on a button to create a calendar entry, yet another pop-up is presented. Want to create a task? You guessed it, another tutorial is presented.
I understand wanting to help users learn an app, but hand-holding through every single screen isn't necessary. In fact, it's a quick way of scaring off users altogether.
Bottom line
Glass Planner has the basic foundation of a solid task management app, but it's currently lacking features like an iPad app (and going one step further, a Mac counterpart), along with natural language input to speed up the process of entering appointments and tasks.
The tutorials left me with the impression of the app being harder to use than it actually is. When it comes down to it, there's nothing radical enough about Glass Planner to justify the prompts.
If you're someone who relies solely on your iPhone to stay on task, Glass Planner is worth a fair shot. But someone who uses multiple devices for planning, you might want to hold off until the iPad app is released later this summer.