Nope, you don't have to settle for plain text when you're composing Mail messages on your iOS device, nor must you archive your Gmail messages when you'd really rather trash 'em.
Not only that, you can also see more of your messages from Mail's inbox view, zip directly to your draft messages, manage mail recipients with your fingertip, and get special alerts whenever, say, your boss sends you a mission-critical email.
Read on for eight iOS Mail features you may not have known you had, starting with…
Bold, italicize, or underline words
If you're partial to punching up your messages with italics or accentuating your bon mots with bold and underlining, you're in luck.
Turns out there's a way to bold, italicize, and underline words in your Mail messages, even if it's not immediately obvious how.
Just select the text you want to format (tap and hold until the black pop-up bubble appears, tap Select, then hold and drag the little blue handles), tap the arrow on the right end of the pop-up bubble to see more options, then tap the "BIU" button. Then pick an option—bold, italics, or underline—and the font change will be applied to the selected text.
Change the "Archive" button to "Trash"
If you're using your iPhone's or iPad's Mail app to send messages through your Gmail account, you probably noticed that there's no "Trash" option when you right-swipe messages in your inbox; instead, there's a blue "Archive" button.
That's the default behavior when you're dealing with Gmail accounts in the iOS Mail app, but never fear. There's still a way to swipe Gmail messages into the trash from your iPhone.
Tap Settings, "Mail, Contacts, Calendars," tap the name of your Gmail account, tap Account, then Advanced. See the "Move discarded messages into" heading? Toggle the setting to "Deleted Mailbox" rather than "Archive Mailbox."
Now, go back to your Gmail inbox in Mail and right-swipe a message; when you do, you'll see a red Trash button instead of the Archive button.
Drag addresses between fields
You're replying to an email thread when you notice that some recipients in the Cc field should really be Bcc'd. Sure, you could delete their addresses from the Cc line and re-tap them into the Bcc field, but…ugh. Luckily, there's an easier way.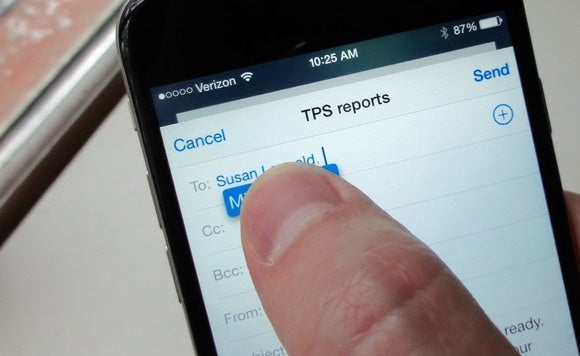 The trick: tap and hold an address, then simply drag it into the To, Cc, or Bcc field.
Bonus tip: While you're at it, you can quickly change the email account you're sending the message from (assuming you're using multiple email accounts on your iPhone or iPad). Tap the "From" field, then pick a new account from the list.
Change the length of previews
By default, you only see a couple of lines of body text for each message in your Mail inbox. If you like, you can see more—or less, for that matter.
Tap Settings, "Mail, Contacts, Calendars," tap Preview (under the "Mail" heading), then choose an option—anything from five lines to none.
Unthread the messages in your inbox
Organizing your mail messages by thread makes for a great way to tidy up your inbox and keep the flow of a conversation straight. But the threaded message view also makes it a bit too easy to lose an important message in the shuffle.
If you'd rather keep all your incoming Mail messages in a long, easy-to-scan list, give this setting a try.
Tap Settings, "Mail, Contacts, Calendars," scroll to the "Mail" heading, then flip off the "Organize by Thread" switch.
Dictate your Mail messages
If you're behind the wheel or otherwise have your hands tied, you can still compose and send Mail messages from your iPhone or iPad. How? Just ask Siri.
Press and hold the Home key to launch Siri (or, if you're using your headset, press and hold the center button on the in-line remote), then say something like "Compose an email to Michael Scott" (or just "to my boss," if you've taught Siri your relationship to your contacts).
Siri will step you through the process of composing a Mail message, everything from verifying the right email address (if a contact has multiple addresses listed in their contact card) to writing a subject line and dictating the body of the message.
Once the message is all set, Siri can send it out herself once you give her the go-ahead.
Jump directly to your drafts
If you've ever saved an unfinished message as a draft in the iOS Mail app, you'll know what a pain it is to dig it back up. You need to back out of the universal All Inboxes screen, select an account, then tap the Drafts folder—and if you choose the wrong account, you'll have to back up and try again.
Instead of poking around the folders of your various mail accounts, try this: tap and hold the Compose button (the square with the little pencil in the bottom corner of the screen).
When you do, a list of all your draft message across all your Mail accounts will appear.
Get an alert when your VIPs send you a message
You'll never miss a mail message from a bestie, loved one, or an office big-wig once you've elevating them to "VIP" status.
After you've marked a contact as a VIP in iOS, you can get a custom notification whenever that person sends you a mail message—anything from a special ringtone to an on-screen alert that must be manually dismissed.
Just launch the Mail app, back up to the main Mailboxes screen, tap the little "i" button next to VIP, then tap "Add VIP" to start adding very important contacts to the list.
Once you're done adding contacts, tap the VIP Alerts button to create a custom notification; for example, you can set VIP alerts to appear on your iPhone's or iPad's lock screen, while mail alerts for everyone else only appear when you unlock your device.
Bonus tip: You can also set up custom alerts whenever someone replies to an important email thread. Just right-swipe the message, tap More, then tap Notify Me. You can also tap the little bell icon next to the subject of a message you're replying to.