Less than a month after Apple Watch began shipping, Apple is already prepping future versions of Watch OS. According to a Monday report from 9to5Mac, Apple has a ton of ideas for its most personal device, but some of them might require updated hardware.
We'll have to wait for the annual Worldwide Developers Conference in just a few weeks to see exactly what Apple has in store for the first big watch update, but here are the rumored features we're most excited to see.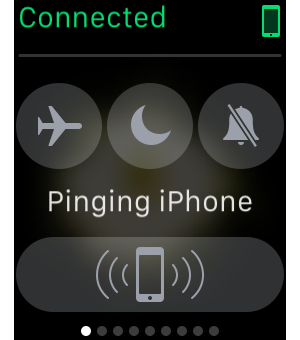 Lost and found: One of the little features Macworld staffers love about the Apple Watch is the ability to ping our iPhones when they're close enough to have a connection to the watch but buried under a pile of something or other. It makes sense that one of Apple's top priorities for future watches includes Find My Watch for easy location-tracking if your device goes missing, plus the ability to remotely wipe the watch if it's stolen. That feature will go a long way toward improving watch security.
Find My Watch will work using what 9to5Mac's sources call "smart leashing" to wirelessly determine where the watch is in relation to the iPhone. The feature will work both ways, notifying you with a tap on the wrist if you have your watch but your iPhone is out of range. The watch currently shows you but doesn't tap you if your phone is no longer close by. This one might be the toughest feature to accomplish because it could require a new chip, so it might have to wait for next-gen hardware.
Skip a beat: Apple reportedly wants to add a feature that would tell you when your heartbeat has become irregular, but the company is concerned over possible liability issues (or government). The company also plans to add blood pressure monitoring and sleep-tracking in the next update. A future generation of Apple Watches could include blood sugar and glucose-tracking sensors for better diabetes management.
It's complicated: While some of Apple's ideas for the watch might be a little too ambitious to manage in the first major watch update, the company's plan to open up watch face Complications to third-party developers is on the horizon. Complications are the details on select watch faces, like an alarm, the Activity ring, and calendar events. 9to5Mac reports that Apple is specifically working to allow Twitter Complications that would add unread tweets and recent Twitter mentions to your watch face. Eventually developers will be able to build native watch apps, but that might have to wait for a future update.
Apple TV update on the way
Rumors about a major Apple TV upgrade pop up every so often, but it seems like new hardware might actually be on the way this time. The overhauled set-top box will include a revamped remote control, as reported earlier, but will also include deep integration with the Apple Watch. 9to5Mac notes that the new hardware will be slimmer than the current version, and support an upcoming streaming TV service that might free the box from cable altogether.
Aside from a brand new look, Apple TV will also finally work with Siri and support third-party apps with an SDK called TVKit, if rumors prove true. (And we sure hope they do.)
We expect to see the first big Apple Watch update at WWDC in early June. Apple TV might also having a starring role at the upcoming developers conference, but at this point, we'll believe it when we see it.