At a Glance
Expert's Rating
Our Verdict
Now that there's a new ultra portable laptop in town in the form of the 12-inch MacBook, what's the deal with the MacBook Air? It's still an active part of Apple's lineup, and in case you missed it, was updated on the day the 12-inch MacBook was announced.
The 13-inch MacBook Air changes are relatively minor, but its standing in Apple's lineup is what changed the most. While the MacBook Air is still an ultra portable laptop, there's a newfound emphasis on its value—the four recently refreshed models make up the affordable end of Apple's laptop lineup.
What's new with the 13-inch MacBook Air
The major update to the MacBook Air is a straightforward CPU and graphics upgrade. Both the 11-inch and 13-inch models sport a dual-core 1.6GHz Core i5 Broadwell processor that supports Turbo Boost up to 2.7GHz and 3MB of shared L3 cache. This replaces a dual-core 1.4GHz Core i5 Haswell processor in last year's model. The new graphics is an integrated Intel HD Graphics 6000 chip, which replaces the Intel HD Graphics 5000.
The Thunderbolt implementation has been upgraded to Thunderbolt 2. And the 13-inch MacBook Air also has faster flash storage—Apple says it's two times faster than before.
Quick reference chart: Apple's current Mac laptop lineup
That's about it for the upgrades. There's no Retina display; it's the same display found in previous models. The trackpad isn't a Force Touch trackpad; it's the old Multi-Touch model with which you're probably familiar. Compared to the Force Touch trackpad, the MacBook's Air's Multi-Touch trackpad is much louder when you press to click, and the clicking feeling is much more pronounced. The keyboard is the same, it's not the new butterfly keyboard in the MacBook. (For me, that's a good thing. I'm not a fan of the MacBook's keyboard.) And there's still the standard 4GB of memory, though you can upgrade to 8GB for an additional $100.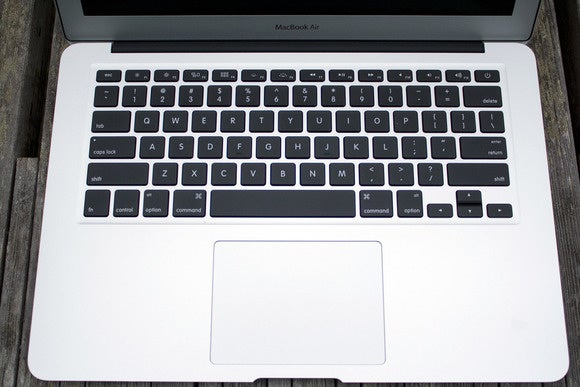 Performance
The speed boost over last year's 1.4GHz Core i5 Haswell MacBook Air is modest. In Geekbench 3 tests, the new 1.6GHz Core i5 Broadwell 13-inch MacBook Pro was 10 percent faster in multi-core tests, and about 8 percent faster in single core tests.
The improvement is, of course, much more noticeable when you compare the new MacBook Air to the 2014 and 2013 models—the speeds are 10 to 15 percent faster.
Compared to the new 1.1GHz MacBook, the MacBook Air has a distinct performance advantage. The MacBook Air was 28 percent faster in multi-core tests, and 22 percent faster in single core tests.
When it comes to graphics performance, the new MacBook Air takes a big leap over the new MacBook and last year's MacBook Air in the Cinebench OpenGL test, posting a 29 percent improvement over both computers. The new MacBook Air still lags behind the new 13-inch Retina MacBook Pro, but not by much: about four frames per second.
To gauge the speed of the 13-inch MacBook Air's new flash storage implementation, I used Black Magic's Disk Speed Test. The 2014 MacBook Air with 256GB of flash storage had average write speeds of 520 MBps and average read speeds of 676 MBps. The new MacBook Air was impressive, posting a write average of 619.7 MBps and a read average of 1318.4 MBps.
To see Geekbench 3 and Cinebench performance charts, click here. The results also include older model Retina MacBook Pros for your reference.
Battery tests with the new MacBook Air, new 13-inch Retina MacBook Pro, and the new MacBook are in the works. The results will be posted in a separate article.
A new perspective
When Apple first unveiled the MacBook Air in 2008, it made what-was-then considered severe compromises in order to achieve a small and lightweight form preferred by mobile users. But just when you think you can't make a laptop even smaller and lighter—and make more compromises—Apple releases the MacBook.
Instead of thinking of the MacBook air primarily as an ultra portable laptop, perhaps the MacBook Air is better defined first as the lower pricing tier of Apple's laptop line. The 11-inch models are $899 and $1099, and the 13-inch models are $999 and $1199. They're priced below all the other laptops, except for the $1099 non-Retina MacBook Pro. They don't have the same number of features as the MacBook Pro—no Force Touch trackpad, no Retina display, 4GB RAM, etc.—but that's to be expected when you're paying less money.
The MacBook Air is still worth your consideration as an ultra-portable laptop: It weighs less that three pounds and is very thin. Carrying it is still a lot easier that carrying a MacBook Pro. But there's now the MacBook for users who think even the MacBook Air is too big and heavy, and that device connectivity and speed can be sacrificed to make an even lighter laptop. For those people, the MacBook is for them.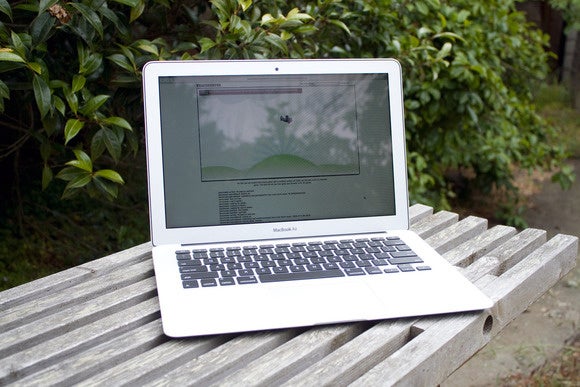 That all under consideration, something has to be said specifically about the MacBook Air's display. My everyday work computer is a 15-inch Retina MacBook Pro (lucky, I know), and because I stare at a Retina screen everyday, switching to a standard display feels like a noticeable step down in image quality. It's not that the standard display is that bad, it's just that the Retina display is that good.
Bottom line
The MacBook Air marches on as a solid, lightweight laptop with enough performance for a large number of users to serve both on the road and on an office desk. They might suffer from a case of feature envy, but more features would surely result in higher prices. If you can, consider getting a MacBook Air with 256GB of flash storage, unless you're OK with heavily relying on cloud storage.
Next page: Geekbench and Cinebench performance charts
64-bit Multi-Core Geekbench 3 results: 13-inch 1.6GHz MacBook Air (Early 2015)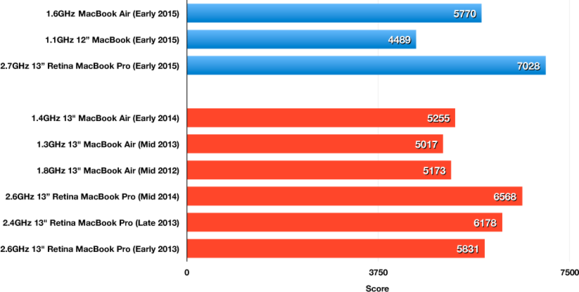 64-bit Single-Core Geekbench 3 results: 13-inch 1.6GHz MacBook Air (Early 2015)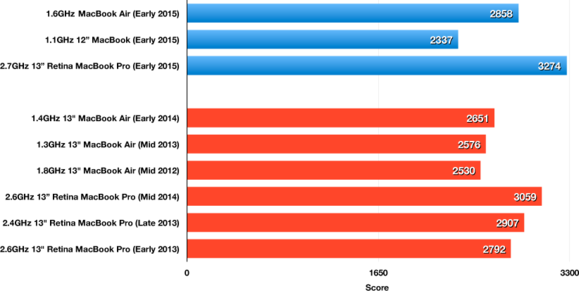 32-bit Multi-Core Geekbench 3 results: 13-inch 1.6GHz MacBook Air (Early 2015)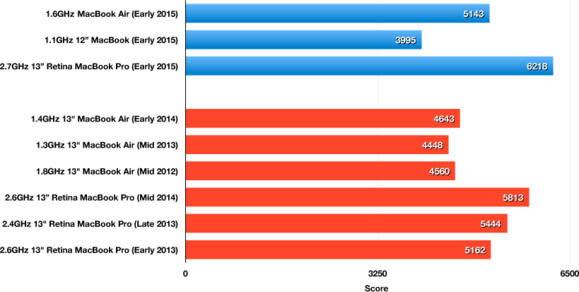 32-bit Single-Core Geekbench 3 results: 13-inch 1.6GHz MacBook Air (Early 2015)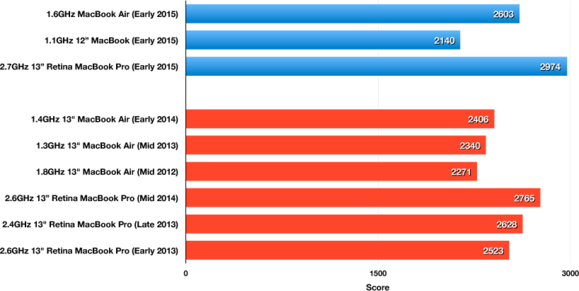 Cinebench OpenGL graphics results: 13-inch 1.6GHz MacBook Air (Early 2015)