Spotify wants to be your constant companion, as present in your daily life as your phone. The streaming music app on Wednesday rolled out a redesign that includes videos, podcasts, and contextually relevant playlists to accompany you throughout your day. You'll never need to leave Spotify.
The overhauled platform, which rolls out first in the U.S., U.K., Germany, and Sweden, greets you with recommendations that suit your mood, fit the time of day, and match your tastes (which Spotify already knows because of all the playlists you've made).
Beyond music
But it doesn't just offer you songs anymore. The app is now a one-stop shop for your favorite podcasts, if you'd rather start your morning with pop culture news from Slate or an episode of Radiolab than a high-energy playlist, and video clips from Vice News, ESPN, and shows like Broad City.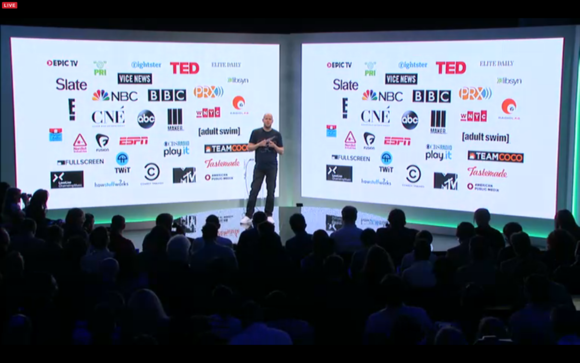 The world's largest media organizations have signed on with Spotify to contribute content, including ABC, BBC, NBC, TED, and Comedy Central, so you'll never run out of things to watch.
Spotify is also working with partners to develop original content for you to watch and listen to. Some of the more interesting ventures include Amy Poehler's Smart Girls, which will create a Dance Move of the Day video for the platform, and a show called Turntable, which features musicians and chefs performing and eating together.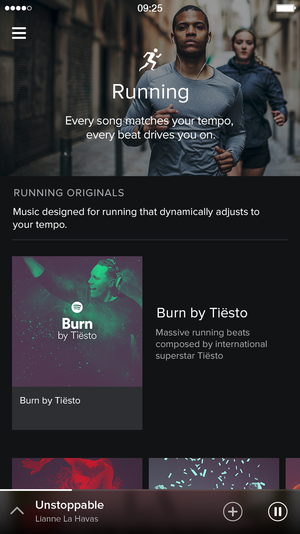 Running to the beat
The brand new Spotify experience also includes a feature just for runners, who already use the app to provide a soundtrack (I'm one of them). When you toggle over to Spotify Running in the main menu bar, the app will tap into your phone's sensors to figure out your pace and serve up songs that match your tempo.
Popular DJ Tiesto joined forces with Spotify to create music just for the Spotify Running experience.
"Most of my music is 128 beats per minute, so it's a little too slow to run to," Tiesto said on-stage at Wednesday's Spotify press event. "Finding music to match 160 bpm and keep the runner engaged throughout the whole session was quite a challenge."
That experience won't just be available in the main Spotify app. Runners who use Nike+ Running or RunKeeper to track their workouts will be able to access Spotify Running through those apps later this year.