These days, keeping up with games can be a full-time job. So how do you separate the signal from the noise, the wheat from the chaff, the Temple Runs from the Temple Jumps? Allow us to help by regularly selecting a game You Should Play.
It's tempting to lump every car game in with the racing genre, but Does Not Commute really is a different kind of experience: It's more of a driving game than a racer. And really, it's a defensive driving game, because there are a lot of crazies out on the roads. You should know—you're controlling every one of them, after all.
Does Not Commute is a wonderfully offbeat offering from Mediocre, the makers of the excellent Smash Hit, and it's essentially a traffic-directing simulator with a curious twist. You'll control every car in the city—individually, one at a time—and try to get everyone to his or her destination as quickly and efficiently as possible while a clock steadily ticks down to nothing.
Driving one car through the empty city is no sweat; maneuvering the fifteenth car around the grid while all the previous cars still follow the paths you set them on is something else altogether. Does Not Commute uses this odd time-shifting approach to create something akin to a puzzle experience: How can you get all of these cars, mopeds, boats, and more to their destinations without getting bogged down with collisions and unnecessary detours?
That's the challenge, and Does Not Commute delivers it with unexpected style and humor: It's startlingly hilarious, thanks to amusing tidbits about each driver. And it's also free, with a single in-app purchase to enable optional checkpoints—identical to Smash Hit's own design. Thinking about checking into this totally fun traffic nightmare? Here are three reasons why it's not likely to deliver road rage.
Traffic made amusing: Does Not Commute essentially creates a game of skill and memorization out of commanding a series of cars around tight city corridors. You'll guide at least a dozen vehicles per area from one location to the other, one at a time. And you're sharing the road with yourself, as each car you drive will duplicate that exact same route once you switch to the next car. You'll have to remember the paths you took with each previous car so they don't smash together on the way.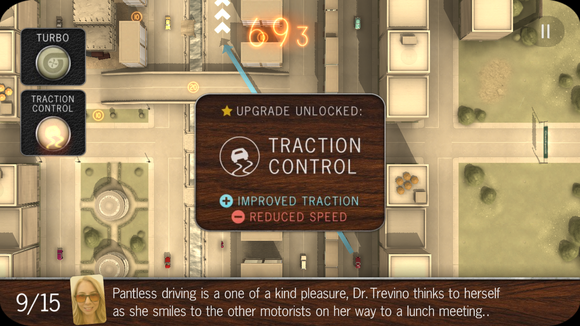 You can always rewind and restart your current car's journey, but it'll cost you a second from the clock—however, that's often a better fate than driving a crashed car across the map at half-speed. Meanwhile, time boost icons appear that might influence your route, and special abilities—which may boost your speed but diminish traction, for example—can be used to shave seconds off each jaunt. The goal is to have enough time to make it to the next city, and so on and so forth.
It's weirdly hilarious: Does Not Commute delivers a compelling, original play experience, but what I didn't expect at all is just how hilarious it is. That's because each driver has a strange bit of back story going on, and you'll get a small peek into each person's life before taking the wheel.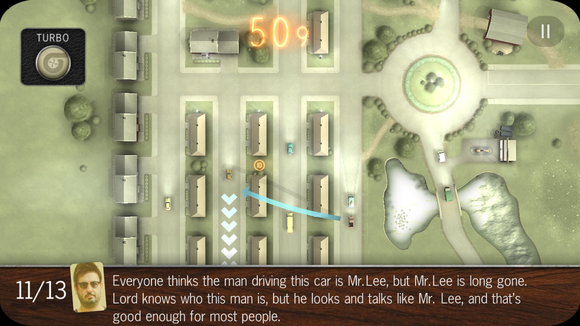 For example, "Balloon salesman Mr. Diaz heads home for the day, tired after talking with so many people. He prefers his inflatable friends at home. Or, "Irene Spencer has loved boats ever since she was three. She's now six." I laughed out loud at a few of them the first time I played, and still grin after seeing some of them several times over. It's a perfect little twist that turns what could've been a dry little driving game into great entertainment.
Free-to-play (but pay up!): Taking a cue from Smash Hit, Does Not Commute is a totally friendly free-to-play experience that lets you play all that you want without real gameplay restrictions. The only thing to buy is an optional, one-time unlock that lets you use checkpoints to skip the earlier cities once you've set great times in each. It trims some of the monotony from repeated play and makes progression much easier—at $2, it's totally worth it.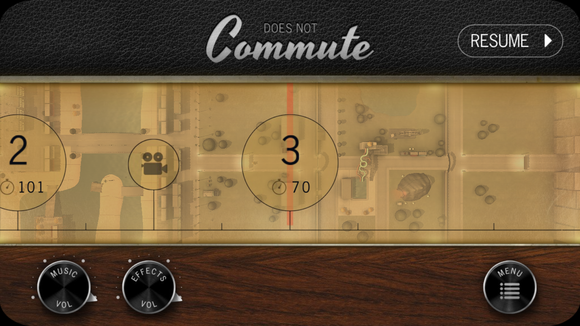 And it's an ideal, non-alienating way to monetize a game: After all, you still get a very good experience without paying a penny, but spend a couple bucks and the only potentially rote part of Does Not Commute disappears. Mediocre has nailed this model again, and Does Not Commute is another great effort, not to mention a rare original in today's free-to-play space.