Apple has been working to fix Maps in iOS since botching the launch in 2012 with iOS 6. Almost three years and two major iOS upgrades later, Maps might finally get the overhaul it desperately needs.
Apple has been busy collecting mapping and transit start-ups over the last couple years, including the recent purchase of GPS company Coherent Navigation, but we haven't seen those acquisitions at work yet. A new report indicates that the Maps reboot on deck for Apple's annual Worldwide Developers Conference in June will finally add transit directions, including trip-planning.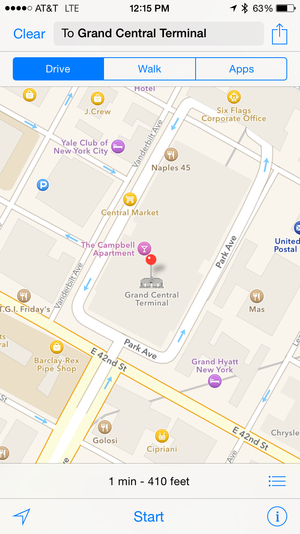 So what took so long? Well, according to a Thursday scoop in 9to5Mac, Apple was prepping a Maps overhaul for iOS 8, but pulled the plug prior to last year's WWDC for a whole mess of reasons. The company reportedly didn't have enough cities' transit information ready to go in time, and the data it did have wasn't completely accurate. Those problems have apparently been fixed. Apple is also working on indoor mapping, but that might not be ready to go in time for iOS 9's rollout.
The story behind the story: Apple Maps was slammed over its terrible location data when it launched, which provided people with completely inaccurate directions (and led to some hilarious snafus). Apple CEO Tim Cook apologized, Maps lead Scott Forstall left the company, and then…nothing. The app improved incrementally over the last few years, but without public transit information, Apple Maps isn't even in the same league as Google Maps.
But everyone knows Apple hates to release a product that isn't perfect, especially one that took so much initial criticism, so perhaps the company has been content to let Maps sit quietly on the sidelines while it powered up the project with a great team and better technology. As Macworld's Dan Moren noted, Apple needs public transit, indoor mapping, Street View, and accurate directions to compete with Google. If Apple spent the last few years making its Maps app even better than Google's, it will have been worth the wait.