I don't know how many people use iTunes Match, but I get a fair number of questions about this subscription service. This week, I answer three questions about iTunes Match. I also explain how to add detailed artist information to tags in iTunes, and discuss that Purchased playlist that shows up every time you buy something from the iTunes Store.
Can't match, won't match
Q: My music library is a combination of purchased music and CD rips. I recently subscribed to iTunes Match. After the matching process was complete I noticed that quite a few of the songs I had ripped showed their iCloud status as "Uploaded" instead of "Matched." In many cases, I had songs within the same album that were matched while others were uploaded. One example is the Beatles' White Album: of the 30 songs, six were uploaded while the remaining songs were matched. Do you know of any workaround where I can achieve match status without re-ripping or purchasing albums on iTunes?
Also, what type of quality should I expect from iTunes Match? I ask because some of the matched music is listed at 256 kbps (VBR) while other matched music is at 160 kbps or 128 kbps. I would think that all matched music would be at the 256 kbps (VBR) assuming that's the highest quality currently offered by Apple.
Two questions in one here. First, iTunes Match is notorious for not matching all tracks on many albums. Your White Album is a good example: six of 30 tracks don't match. I generally find that, when an album doesn't match, about two out of 10 tracks get uploaded. I have some where half the tracks don't match, but it's more often just two or three.
This said, I added my White Album to my iTunes Match library, and all the tracks matched. This could be because my version is a CD rip from the most recently remastered version of the Beatles' albums, from this 2009 box set. If yours is an older version, it may not match correctly; if it's the same version, I'd suggest removing it from your library, and then re-adding it to see if more tracks match. I was even able to get "She Came in Through the Bathroom Window," from the Beatles' Abbey Road album, to match, which did not work for most people when iTunes Match was first released.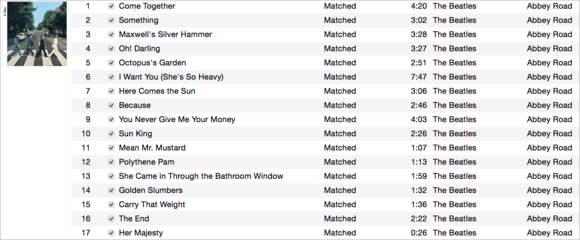 As for quality, matched tracks are 256 kbps AAC, and uploaded files are whatever bit rate and format you have in your library. (Though if they are Apple Lossless, AIFF, or WAV files, they're converted to 256 kbps AAC.) If you see some tracks that are matched and that show 160 or 128 kbps, that's because you still have the original files in your iTunes library. Delete them, and download the matched versions from the cloud.
Recovering lost playlists via iTunes Match
Q: Recently, iTunes crashed and all my playlists were wiped out. Since I have iTunes Match, my iPod and iPad still have them. I have no idea how to get them back into iTunes.
If you turn off iTunes Match (in iTunes, choose Store > Turn Off iTunes Match), then turn it back on again from the same menu, iTunes should re-download all your playlists, along with all the information about any tracks that are not physically in your iTunes library.
Who's on that record?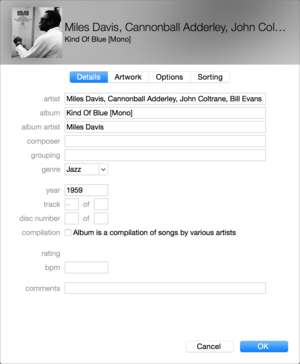 Q: I have a 30,000-item library that's about 95 percent jazz. It's important to me to be able to see not only the name of the album and the artist credited as the leader of the session. I want to see the names of the session musicians so I can trace the cats I'm especially interested in hearing. I've spent hours tracking down this info (which is ridiculously difficult sometimes…) and pasting it into the comments section. But comments aren't searchable! So is there any sorting technology that might help?
Most people use the Artist field for that, and then use the Album Artist tag for the main artist. So, for Kind of Blue, you'd put, in Artist, Miles Davis, Cannonball Adderley, John Coltrane, Bill Evans, Wynton Kelly, Paul Chambers, and Jimmy Cobb. In the Album Artist field, you'd put Miles Davis. You can then search for anyone.
Of course, this then means that the Artist entries in iTunes will be much more confusing. So it depends on how much you want this information to be front and center. One thing to note is that if you use the column browser to view your Music library (you can turn this on from the View menu), there's an option to use the Album Artist tag instead of the Artist tag, when sorting in columns.
On iOS devices, you can choose to group you music by Album Artist. Go to Settings > Music, and toggle that setting on.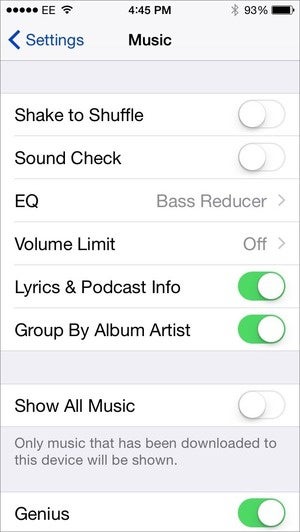 That darn Purchased playlist…
Q: Is there a way to prevent iTunes from creating a Purchased Playlist every time I purchase new music from the iTunes store? Each time I delete it only to then have it be recreated upon my next purchase of new music.
Nope, sometimes you just have to accept being assimilated. Resistance is futile.
Have questions of your own for the iTunes Guy? Send them along for his consideration.