Spotify took the wraps off its new app at a major New York press event last week that featured appearances from D'Angelo, Questlove, DJ Tiësto, and Broad City stars Abbi Jacobson and Ilana Glazer. Streaming music's dominant player spared no expense to prove that it's the company to beat.
And with more than 60 million active users, 15 million of whom pay for a premium subscription every month, Spotify currently reigns supreme. But with Apple reportedly set to relaunch Beats Music next month and new kid on the block Tidal nabbing exclusives from artists like Beyoncé and Rihanna, Spotify needed to do something to remain the industry leader.
That's where the new Spotify comes in. The Browse option has now been split into Now, which offers contextual playlists based on time of day and what you're already listening to, and Moments, which lets you pick a playlist by event or mood—basically what Browse used to be, complete with the same look.
The update is slowly rolling out to iPhone users in the U.S., Britain, Germany, and Sweden. I've been using the new Spotify for the past few days, and I loved it instantly. The two biggest improvements: a feature that matches song tempo to your running pace, and the long-rumored addition of videos and podcasts.
Beats for your feet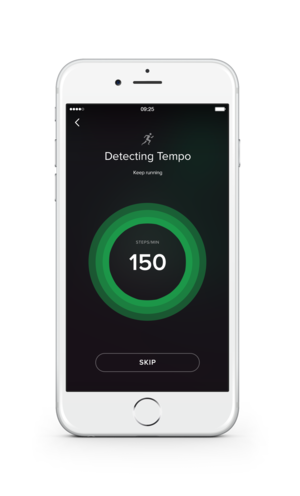 Spotify is already my running companion, but I didn't realize the playlists I made for myself weren't doing me any favors until I used Spotify Running. The new feature is available from the main menu, and at first just looks like a typical list of Spotify's curated playlists: Upbeat Run, Indie Kick, Electronic Moves, etc. But when you tap on your preferred genre—I went with Hip Hop & Rnb—the app prompts you to start running so it can measure your steps per minute. Then it selects tracks that match your pace.
I already have my go-to fast-paced jams queued up when I run, but they were in no way scientifically selected to help me keep up my pace. As soon as I hit the pavement, Spotify took a few seconds to register that I was running at 180 bpm, and begin playing songs at that tempo. It made a noticeable difference in my pace, which typically tapers off as I get a little bored and tired. Using my Apple Watch Workout app for reference, I was able to keep up a 9-minute mile the entire run, matching my steps to the playlist's beats. It also helps that I have no idea what song is coming next, so I don't fall into a comfortable rhythm.
Spotify also worked with popular DJ Tiësto to create original soundtracks for your run, if you're a fan.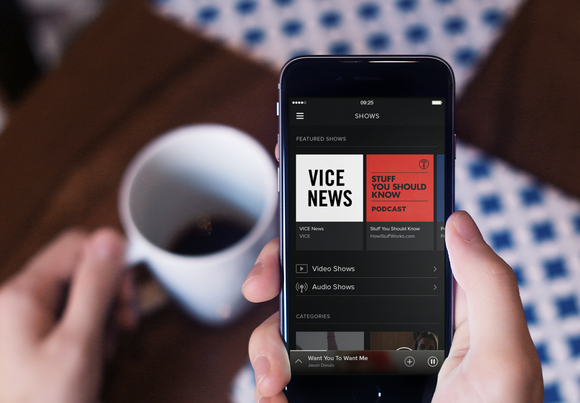 The ultimate boredom cure
Spotify's new Shows section is designed to add value to the streaming service. Being able to watch Broad City clips as I lounge on the couch or sync my favorite podcasts for offline listening on my daily subway commute would take two other apps out of rotation and make it easier for me to toggle between various types of entertainment when the mood strikes. When I finish listening to a podcast, I can start a playlist to accompany me on my walk from the train to my office without switching apps. It's ideal.
But Spotify's catalog of shows is too limited—at least right now. Some of my favorite podcasts, like Gimlet's StartUp and WNYC's Death, Sex & Money, are available, but show selection could be much larger (and hopefully will grow down the line). Same goes for videos. Need to catch up those Inside Amy Schumer clips everyone on the Internet is discussing? Spotify's got you covered. Music videos? Nope.
Spotify is working with media partners to get original content in the app, but those new audio and video shows aren't yet available to stream.
The new running feature and podcasts alone would convince me to pony up for a premium subscription if I didn't have one already. After all, I don't want ads interrupting my tempo-driven playlist. But that doesn't mean Spotify can declare victory over rivals like Rdio or prevent the overhauled Beats Music from taking over.
The going rate for a streaming service subscription is $9.99 a month, and every service has a pretty extensive library. If Spotify can't compete on price or song selection, and with Jay Z's Tidal promising subscribers exclusives, the dominant streaming service has to diversify. Shows and Running are steps in the right direction. Your move, Apple.