Android fans love to extol the virtues of Google Now, the personal assistant that goes beyond Siri's capabilities to intuitively give you information throughout your day. And they're kind of right.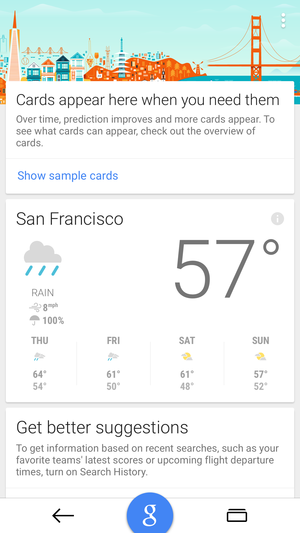 But Apple reportedly has plans to make your iPhone just as knowledgeable, if not more so, with an initiative called Proactive, which includes a host of upgrades to Siri, Spotlight, Calendar, Maps, and more. Proactive, according to a Wednesday report from 9to5Mac, will finally unite all of those services so your phone will give you what you want without you even having to ask.
Sure, Siri can set reminders for you and tell you the weather, but she can't surface information that you don't request from her, like what time to check into your flight or how far you are from your hotel. She doesn't know that you always check your Twitter feed at 7 a.m. to read the news before you start your day. With Proactive, your phone will become much more helpful: That information will just bubble up at the right time and place.
According to 9to5Mac's sources, you'll be able to reach into Proactive's interface with just a swipe: The assistant will be anchored to the left of your home screen. The new screen will put Spotlight at the top for searches and easy app launches. Relevant information from apps, maps, and contacts pop up beneath the search bar, so if you always check a particular app or call a specific person at the same time, Proactive will be standing by to help.
The story behind the story: Proactive is reportedly being prepped for iOS 9, and pieces of the initiative might be unveiled at Apple's annual Worldwide Developers Conference on June 8. But Apple might position the new, more intuitive features as upgrades to existing services rather than an entirely separate experience.
Siri, apps, and privacy concerns
The new features will reportedly work with third-party apps. While it won't be the deep Siri integration developers are wishing for, Apple is working on an API that would let Siri and iOS search results pick up info from third-party apps.
Google Now requires a lot of access to your personal information to give you the information you want to know before you ask for it. You have to give the service access to your location, your web browsing history, email, contacts, and apps. That's how your Android phone can tell you to leave for a concert on a specific day and time without you setting a reminder—because it combed your email and found a ticket purchase. Presumably, Apple's own personal assistant service would need just as much information to be userful, which is why the company reportedly doesn't plan to open the Proactive floodgates to developers right away. Privacy is hugely important to Apple, and the company doesn't want Siri sending your personal info to the wrong apps if she misunderstands your request, for instance.
Apple also Maps upgrades in the works, in addition to the long-awaited public transit feature. An augmented reality overlay would show information about a particular business when you point to it on the map, and a Browse Around Me feature would highlight places of interest on the map based on your prior searches and preferences.
None of these features are guaranteed to ship with iOS 9, but they all sound promising. What do you want to see most in the next version of iOS? Sound off in the comments.