The OS X version of Photos continues to provoke more questions than any other topic, likely because so many people have used iPhoto for so long and are working through the transition to software that was released while a little too green. While it ripens, I'm afraid the answer to so many of your questions is, "You didn't miss anything—the feature isn't in Photos."
In some cases, features have transformed and can still be found in other places or through other means. One hopes that some cherished options will return in future updates. While Apple doesn't respond to feedback, but it does accept it: If you want to see features return, file a request.
They give us those nice bright colors
Q: Can we still create a public website using the share button. I used that in iPhoto to share photos with friends with no Apple hardware.—JC Bronson
A: Yes: it's now called iCloud Photo Sharing. In Photos > Preferences, click the iCloud button and check iCloud Photo Sharing to enable it. Then you can select any photos or albums, click the Share button in the top-right corner of Photos, and create a shared iCloud album.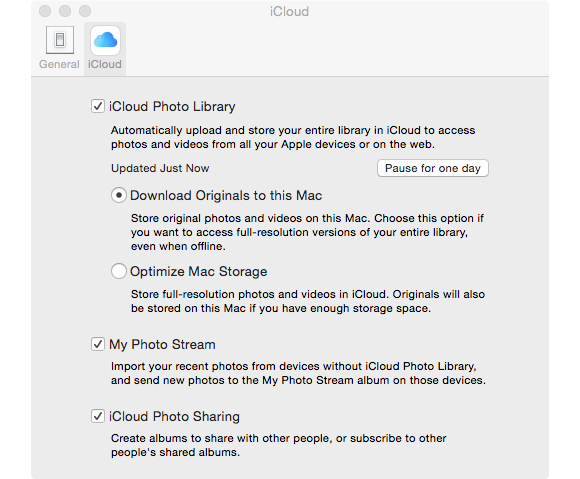 You can invite people to that gallery, and even let them add photos and videos. You can also click the album menu (a person's head in a circle as an icon), and check Public Website to open it up to anyone who has the URL.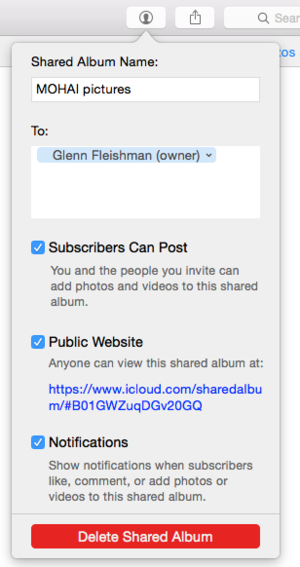 Q: One item I can not seem to find with the new app is the photo count for the albums column. There doesn't seem to be a quick-glance way of seeing how many photos are in each album you've created without opening the album!—Gary Prescott
A: You're correct. You must select an album, at which point the photo count appears in the upper right of the display as well as in the Info pane, if you have that displayed (Windows > Info).
Q: When editing photos, the Undo button is wonderful. Where is it in Photos?—Fred Tollison
A: It's still there! But its function is a little different. After selecting a photo and clicking the Edit button in Photos' upper right corner, each of the seven items have their own separate Undo. Click Enhance, and you can select Edit > Undo. But if you click Enhance, and then click Adjust, even without making any other changes, the Undo option is grayed out. You can always click Revert to Original, but then you lose all the changes you've made.
If you delete one or more pieces of media, there's no Undo for that, but Photos doesn't trash the items immediately. Instead, it puts them in a Recently Deleted holding pen for 30 days, which you see by choosing File > Show Recently Deleted. From there, you can select items and click Recover, or permanently delete (from this and all iCloud-connected devices) by clicking Delete.

Q: I cannot seem to copy and paste a photograph from my photo library to a Word document.—Matt Fisher
A: This should work, but I've found cases in which an image is displayed, but it's not "selected" in the way that Photos wants to let you copy it. Typically, when you're viewing images in any thumbnail view, you'll see a blue-selection rectangle around any chosen images. The same is true when you have the Split View enabled (View > Show Split View) for viewing images at full size within the Photos window. If you click Edit and then click Done (with or without any changes), the image appears selected but Edit > Copy is grayed out. Re-select or switch from Photos to another app and back. You can also drag one or more selected images into most other apps.
Q: Can we run a query to see if a photo *is not* attached to an album?—Jurgen Bosmans
A: There's no way to perform that query through the regular Find field or through Smart Albums. You can search for matches within albums using Smart Albums and perform date-range matches, among other operations. (Lesa Snider just wrote a detailed rundown on finding matches in Photos using Smart Albums.)
They give us the greens of summers
Q: After upgrading my photo library to the Photos app, I imported photos from an SD card that was in a field camera. While the import went well, I was not offered the option to delete photos from the card nor could I find a way to do this.—Jay Kappmeier

A: In my testing with an SD card, the option was there, but it has to be selected when you perform the import. The Delete Items after Export checkbox appears for any mobile, card, or drive except iCloud-linked iOS devices. Check that box before clicking Import Selected (if you've chosen images) or Import All New Items. You can also find this option in Image Capture, an alternative to managing import to Photos, other apps, or a folder, that also lets you directly delete media off an attached device by selecting items and then clicking the delete (red circle with a slash) icon at the screen's bottom.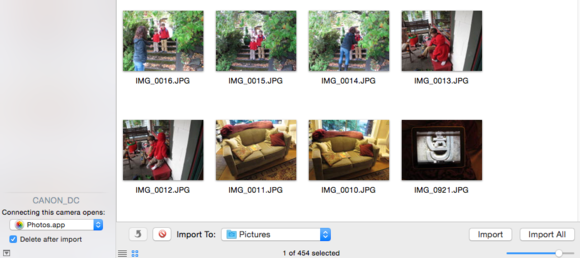 Apple's reconceptualization of photos in iOS and OS X has them existing everywhere (sometimes as thumbnails) and nowhere (where is the master copy? is there a master copy?). This means that "deleting" pictures from an iClouds-linked device isn't necessary except permanently from the cloud and everywhere (see above). You'll see a cloud next to an iOS device that uses iCloud Photo Library in Image Capture.
Q: I have many iPhoto and Aperture libraries with over 60,000 photos. I have wanted to have them all listed in a single library but iPhoto and Aperture could not handle that many photos. Can the new Photos app handle that many?—Ricky Shipard
A: Ostensibly so. Apple says that your only limit is the size of the drive on which you're storing the library and, with iCloud Photo Library, how much storage you've paid Apple for. I have over 40,000 photos in my Photos library, and the only problems I've had are uploading efficiently to iCloud and dealing with individual images which sometimes inexplicably stall.
Q: Christine Morel: I updated my Mac with the new Photo app and signed up for the iCloud storage feature. All my 12,000+ photos synced to the Cloud as well as manual folders I had created in the past. I updated my iPhone as well and turned on the iCloud Photos feature. My 12,000+ photos are visible there too, as well as the manual folders. Can you figure out why the "smart albums" do not sync? They are key to how I organize my pictures.
A: This is understandably maddening. Smart Albums only sync among Macs running Photos that are logged into and syncing with the same iCloud Photo Library. Smart Albums are not yet available at iCloud.com nor in iOS. This seems like a missing piece instead of an intentional and permanent design choice, but it's hard to tell how Apple prioritizes.
Smart Albums are technically created as a search query, matching results and updating whenever photos are modified. It may impose too much of a computational burden in iOS and on Apple's iCloud server? We can hope this changes in future releases. (If you're not seeing the same Smart Albums on all your synced-together Macs, there may be a sync problem or you have the wrong library selected if you switch among them.)
Ask Mac 911
Keep your Photos questions coming for as long as you have them, and we'll continue to shovel through the backlog and answer them. And ask us about other mysteries you want an answer to. Email us at mac911@macworld.com or tweet them at me (if brief) @glennf. Mac 911 can't provide direct email responses or answers for every question. For that, turn to AppleCare, an Apple Store Genius bar, or the Apple Support Communities.