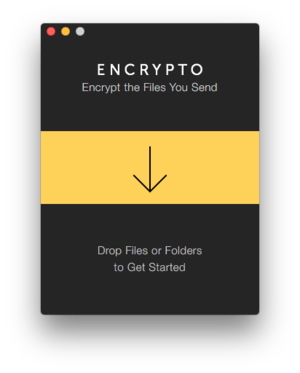 Here's some scary food for thought: Did you know one of the most commonly-used communication methods that everyone uses daily is actually one of the least safe?
Email is extremely convenient and ubiquitous across desktop, mobile, and web, but it was never designed with any real security—let alone privacy—in mind. This lack of protection also extends to the files we attach to those communiqués, a thorny predicament the folks at Kiev-based MacPaw have set out to resolve with Encrypto ( Mac App Store link), an ingenious little Mac app.
Encryption made simple
Available free for OS X and Windows, Encrypto wraps files with AES-256 encryption prior to you sending them on their merry way. Drag-and-drop one or more files onto a small window, add a password (and optional hint), click Encrypt, and within seconds the files are securely swaddled and ready for electronic delivery.
On the Mac, Encrypto works in tandem with the OS X Share Menu extension to deliver encrypted bundles via Mail, Messages, AirDrop, or other compatible apps. When shared this way, Encrypto automatically creates a new email or message with a brief description of what the file is, plus a convenient link the recipient can use to download the cross-platform app at no charge.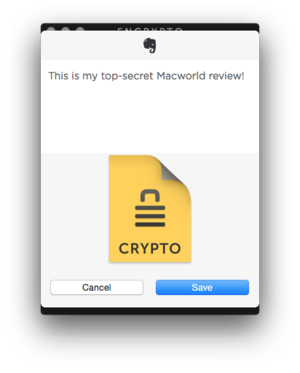 For other extension-compatible apps like Evernote, users have the option to add a handy description before uploading the archive to your account, which happens in the background even when the target application isn't open. There's also an option to save encrypted files to disk, which can be used for transporting archives on physical media or uploading later to services that lack extension support.
Although I had no problem transferring Encrypto files between compatible Macs using AirDrop, this method doesn't actually work between Mac and iPhone, for example, because there's currently no iOS version to accept the transfer. Otherwise, encrypted archives can be transferred, copied, or moved the same way any unencrypted file can.
Cross-platform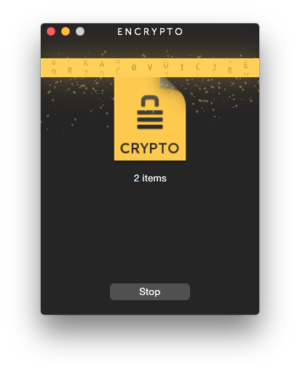 Encrypto really is as fast and easy as it sounds, and it's quite a handsome piece of software as well. As the app encrypts one or more files, an animation quickly "scans" the thumbnail from bottom top with digital zeroes and ones, covering it with a new yellow .crypto icon that nicely complements the app's user interface.
As far as sending files goes, the only real inconvenience is remembering to open Encrypto in the first place — it would be nice to have this kind of simplicity, versatility, and security baked into all of our favorite apps to begin with, but this is the next-best thing.
Encrypto works equally well on OS X and PC, but recipients using Linux or Chrome will be unable to open such files. On Windows 8.1 I had no trouble opening an encrypted archive emailed to an Outlook.com account, although the only option on that platform is saving files to disk. Senders can also include an optional password hint with archives, which is displayed when the recipient opens the file.
I found only one minor annoyance: Encrypto pesters you to share "anonymous usage data" with the developer each and every time the app is quit—unless, of course, you decide to surrender by choosing this option. I normally don't condone this kind of "nagware" behavior and a modest in-app purchase fee would be preferable.
Bottom line
Encrypto offers fast, cross-platform encryption to help protect sensitive files before they're sent or uploaded through the internet. It's unobtrusive, easy to use, and best of all, absolutely free.