To design a charging stand for the timepiece of the future, Brian Holmes looked to the past.
A few years ago, his grandmother gave him an old pocket watch that had once belonged to his long-deceased grandfather. He needed a way to show off the timepiece, and vaguely remembered seeing elegant, collapsible wooden stands made for this purpose.
Scouring the Internet, he found and snapped up a couple of these stands, both about a century old yet in decent condition. One of them turned out to be a reasonably good fit for his grandfather's pocket watch.
Holmes runs Pad & Quill, a Minneapolis-based Apple accessory maker that is best known for iPhone and iPad cases consisting of wooden frames wrapped in fine book-like bindings. But the Apple Watch required a very different kind of accessory—and those pocket-watch stands became Holmes's inspiration.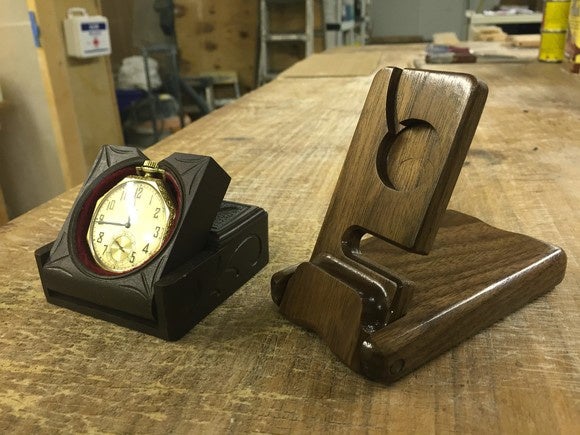 The company now offers the Luxury Pocket Stand for Apple Watch, a compact wooden watch holder that can be folded shut for convenient transport—a feature that makes it unique among the torrent of Apple Watch stands now coming on the market.
The $70 Pocket Stand, carved out of American cherry, African mahogany or American walnut, is made entirely in Minnesota.
Its pieces are carved from wood planks with a CNC router, a sort of computer-controlled cutting machine, at a rural plant northwest of the Twin Cities. The pieces are transferred to Holmes's Minneapolis workshop for more sanding, final finishing with furniture-grade oil, and assembly.
The result is an accessory with two hinged pieces, one serving as a base, and the other an angled platform for the Apple Watch. Cutouts for the round charger and its cord essentially let you make those part of the stand.
Holmes said he could not release his stand until he had a watch and charger to put on it for final tweaking, including adjustments to the wooden grooves where the charger and its cord rest. But he said the stand was much easier to design than an iPhone case, which requires more precise guesswork about an unreleased handset's measurements.
That's not all Pad & Quill has in store for Apple Watch owners. Other Apple Watch gear includes a $99 Timber Catchall, a wooden charging stand with a larger base with compartments for your iPhone and keys; the $50 Roll Up Kit, a trifold leather case; and for $120, the Luxury Travel Kit combines the Luxury Pocket Stand with the Roll Up Kit. Also $120, the Luxury Travel Pouch combines the stand and a cotton-lined leather pouch.
Betting on the Apple Watch
Holmes, like other Apple-accessory makers, is taking a leap of faith when designing gear for such a new device. Any such launch "is kind of fretful," Holmes acknowledged. "You design a product, you see what you think people would like to buy, but until you've announced it, you have no idea how well it will do."
He had doubts about the watch stand while it was being developed, for instance. "Maybe this is just stupid," he recalls thinking to himself.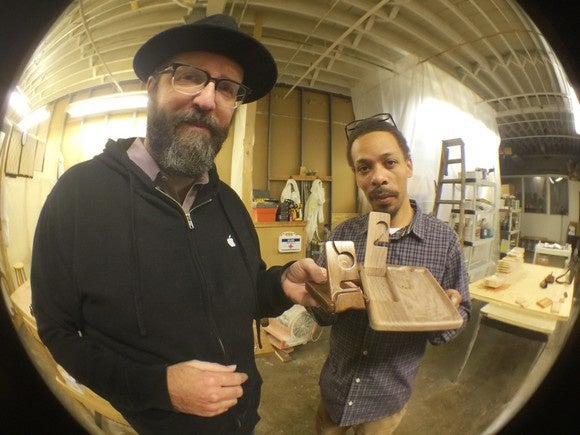 But the orders have been rolling in. "We've seen enough sales that we feel this is worth the investment," Holmes said. "This looks like a product we will be able to keep selling for the rest of the year."
Pad & Quill finds itself in a fairly secure position because of a highly diversified product line. Its Apple Watch line will initially be small potatoes compared with its gangbuster trade in cases for iPhones, iPads, and one version of Amazon's Kindle e-book reader. These are what made the company profitable just two years after its founding in 2010.
The iPhone and iPad cases, which look like elegant leather-bound books when they are closed, are also made in Minnesota. The frames are stamped out of wood sheets at the rural facility. The frames are then refined at Pad & Quill's Minneapolis workshop and then transferred to a St. Paul bookbinder, where they are sheathed in leather and lined with meticulously measured colored paper.
"I love design, and working with craftsmen," said Holmes, who runs his company with his wife, Kari. "When I have rough idea for a product, a vision, we sit down and banter about what is possible. It's a constant dance of creating something, and I'm constantly getting educated about how wood and leather and canvas work."