There's not much else that causes as much anxiety as your iPhone running out of battery and having no charger in sight. In order to relieve that anxiety, Apple has partnered with on-demand app Postmates to offer a sensible solution: same-day delivery of products from the nearby Apple Store.
On Wednesday, MacRumors first spotted how Apple buyers in San Francisco could order a wide range of Apple products—from a Lighting cable to an iPhone 6 to even a $3,000 Mac Pro—to be delivered on the same day by Postmates, using the Apple Store app for iOS.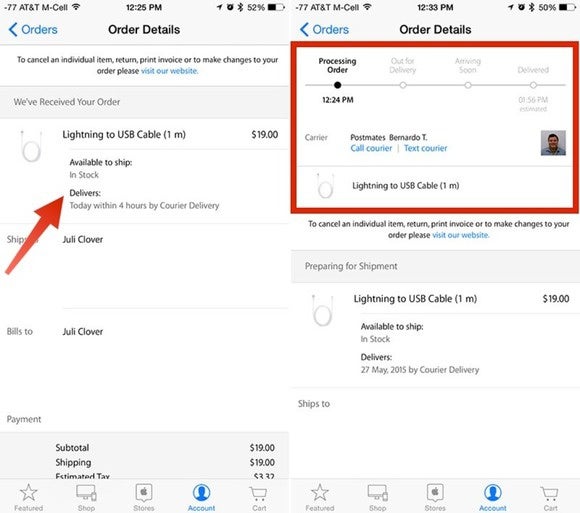 Postmates is a mobile-first delivery app available on iOS and Android that has enlisted a fleet of contract couriers in over 20 major cities in the U.S. to deliver items, like food from restaurants that aren't on Seamless or GrubHub. This Apple partnership indicates that the service is looking to expand so it can deliver other daily necessities.
While Apple products are already available for delivery on Postmates, this is the first time that same-day delivery has been an built-in option on the Apple Store app. Items available for Postmates same-day delivery will list an estimated delivery window of "Today within 4 hours by Courier Delivery." Once you order an item, the Apple Store app will show live tracking of the delivery and send you appropriate notifications, so you can follow your shiny new iPad as it ventures from the Apple Store to your hands.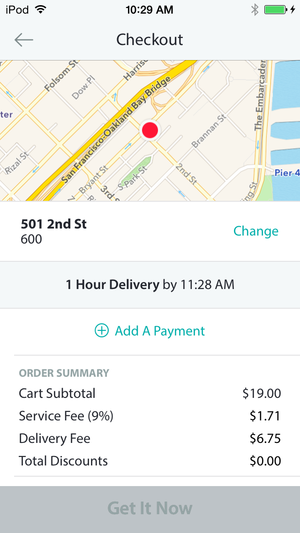 MacRumors noted that Postmates estimated a 4-hour delivery from the Apple Store to their offices in South Bay (although it was actually delivered in just 35 minutes) and the delivery fee was $19 regardless of the item being ordered. By comparison, using the Postmates app to order Apple Store products, same-day delivery to the more centrally located Macworld offices in San Francisco's SoMa neighborhood was estimated to be just an hour with a $6.75 delivery fee.
In March, Postmates announced a similar partnership to be the exclusive Starbucks delivery service. Set to start off in Seattle later this year, the pilot program will allow Starbucks drinkers to order their favorite frappuccino via the Starbucks iOS app and get it delivered by a Postmates courier the same day.