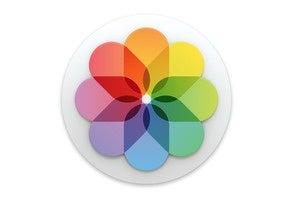 If more than one Mac- or iOS device-using person lives under your roof—or if you share your Mac with one or more people—using Photos in a family situation can be a complicated affair. Because you can't share Photos libraries across a network, you quickly end up with multiple libraries (one for each Mac user account) and nobody remembers which pictures live where. It's a nightmare; but fortunately, Apple has a solution.
Meet Family Sharing
Family Sharing enables you to create a special group that you invite family members to join. The end result is a shared album named Family that everyone in the group can access (and it can't be shared with anyone outside the group). Family members can easily add or remove their own pictures and videos, which are viewable and downloadable by everyone in the group. This album is also accessible on the Web; just visit iCloud.com and sign into your iCloud account to see all the goodies it contains.
With Family Sharing, each person maintains his or her own Photos library and gets to choose what's shared with everyone else. This gives each member some level of privacy while you, Family Commander-In-Chief, have access to shared items and can download them into your own library in order to include them in projects such as books, calendars, and cards
It's a great long-term solution, too. For example, as family members get additional iOS devices, their own Macs, or they move away (yippee!), their unique Apple ID ensures that all their pictures, videos, emails, and so on migrate to the new devices. Plus they can continue to share digital proof of their adventures, even from far away.
And that's not all; the Family album is just one of several services that you can share among the members in your group. Other services include a shared Calendar, purchases from Apple's App store, iBooks store, and iTunes store, and tracking the locations of Macs and iOS gadgets.
How to set it up
1. User accounts. If you haven't done so already, set up each person with their own user account on the shared Mac so they get their own Photos library, email, iCloud document storage, etc.
2. Apple IDs for everyone. If any of your family members lack an Apple ID, go online and sign up. Bear in mind that an Apple ID is automatically created when someone purchases an item from Apple.com or you turn on iCloud services on a device running iOS 5 or later, so check for existing accounts.
3. Create a Family Group. You can perform this on your Mac or on your iOS device. On a Mac, go to System Preferences > iCloud. In the resulting pane, click Set Up Family, and then follow the onscreen instructions. To set up family sharing on an iOS device, tap Settings > iCloud. On the next screen, tap Set Up Family Sharing, and then tap Get Started.
Because Family Sharing extends beyond sharing pictures and videos and into the realm of iTunes purchases and so on, you're prompted to enter a credit card.
4. Invite people to join the Family Group. Now that you have a Family Group, you can invite family members to join it.
On a Mac, go to System Preferences > iCloud and click Manage Family. Click Add Family Member or click the "+" button at the lower left and then follow the onscreen instructions. On an iOS device, go to Settings > iCloud > Family > Add Family Member.
You'll need each family member's email address. When you're finished entering the first address, click Continue. If you entered an email address associated with the person's Apple ID, the next pane lets you enter their Apple ID password or, if you don't, you can trigger an email invitation.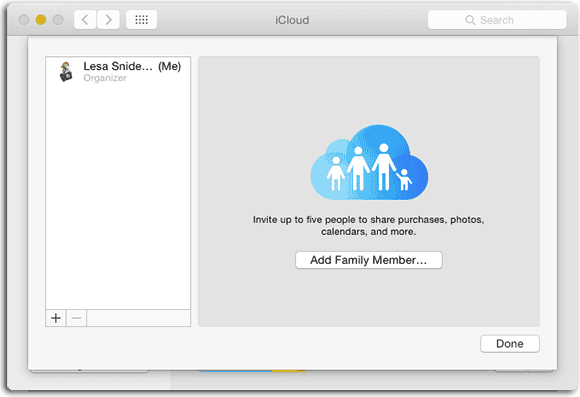 Your invitation winds up in the recipient's email inbox. Once they click the big blue View Invitation button in the body of the email, the Family Sharing preferences pane springs open and lists all the slick things they can do—share purchased music, movies, apps, and books; share pictures and videos; and share events on a family calendar.
Next, your recipient clicks Accept. If the person belongs to another family group, a message appears stating that they have to leave that group before joining another one. Your recipient can click OK, and then use the preference pane that appears to extricate his or herself from the other group. (Apple limits you to being a member of only one family group, and you can only switch family groups once per year.)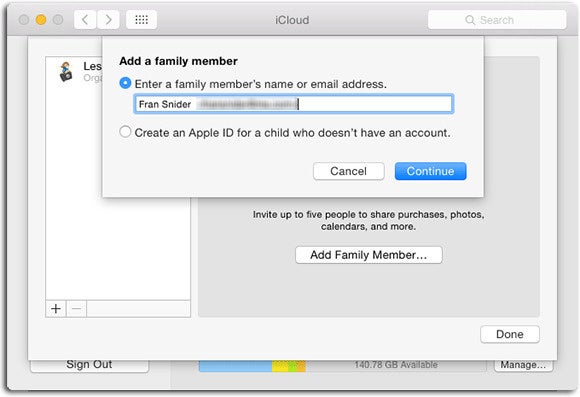 To check whether your family sharing invitation has been accepted, in the iCloud system preference and select Manage Family. Select a person's name to see the status of their invitation. If you need to resend it, select Resend Invitation. To check your invitations on an iOS device, tap Settings and in the iCloud pane, tap Family. If necessary, you can resend an invitation from there. No matter what, Photos automatically creates a new album named Family in Shared view. Apple also adds a Family category to the Calendar and Reminders apps. Nifty, eh?
Get the sharing party started
Anyone in your family group can now add pictures and videos to the album, though it's easiest if you turn on the sidebar, which is like iPhoto's source list. Choose View > Show Sidebar and then drag thumbnails from the preview area into the Family album. The new content immediately appears in the Family album on the other group members' devices.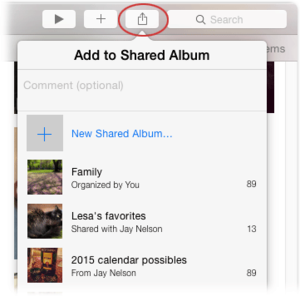 It's important to remember that shared items don't live on your hard drive (that is, unless you shared them). If a family member wants to edit or include a picture or video in a project, you need to download it from the Family album into your personal Photos library. To do it, drag the thumbnail(s) onto the Photos entry at the top of the sidebar or into an album in the Albums section of the sidebar. You can also Control-click the selected thumbnail(s) and choose Import from the shortcut menu that appears. Either way, the item now lives in your Photos library.
Now you can sit back and enjoy the fruits of your family sharing labors. Remember though, this isn't the way to share content with just anyone: As you recall, you entered a credit card that's now shared by all the family members in your group. To share goodies with those you aren't financially responsible for, use regular iCloud shared albums instead (that's fodder for another column). Until the next time, may the creative force be with you all!