Apple thought it was being subtle by sending unmarked, camera-equipped vans around a handful of American cities earlier this year, but news of the effort immediately sparked our curiosity: What's the Cupertino company up to? Will we see a self-driving Apple car in the future?
As cool as that sounds, our bet was on a more likely answer: That Apple plans to revamp Maps with its own 3D maps and street views in an effort to compete with Google. According to a new report from 9to5Mac, that's exactly what the company is up to. Apple has been acquiring companies and doing doing under-the-radar mapping work to build out its own map database by 2017.
Apple just re-upped its deal with mapping company TomTom to continue providing information for Apple Maps. No details on that contract have been released, but 9to5Mac's sources say Apple will end its partnerships with TomTom and other third-party mapping companies when it comes time to relaunch its own product.
Why this matters: The fact that Apple launched its Maps app too early is generally acknowledged. When it severed ties with Google in 2012, its own database wasn't robust enough to give people the information they needed, leading to some cringeworthy snafus. The company is reportedly improving Maps with the release of iOS 9 this year, even adding mass transit directions for the first time, but don't expect Apple Maps to fully rival Google Maps until 2018. And don't expect Google to stand still that whole time, either. Just yesterday at its Google I/O keynote, the company revealed it was working on better offline access for Google Maps, including information like when businesses open, and even offline turn-by-turn directions.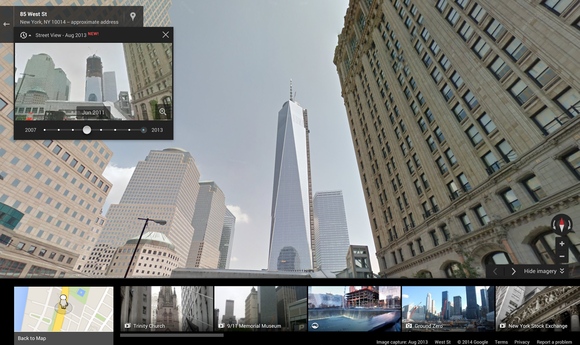 A new way to Street View
Google shines when it comes to offering you a bird's-eye view of the landscapes you're searching for, thanks to the extensive imaging work it's done with Street View. The only images available in Maps on iOS are sourced from Yelp, so they're amateur at best and useless at worst. Apple reportedly wants to add its own version of Street View to Maps, but 9to5Mac's sources say the company wants to approach Street View imagery differently than Google. It's unclear how Apple will present Street View, but its vans are on the road collecting data to build that feature.
Apple's vans are also shooting photos of businesses to replace the Yelp images that show up when you tap on a business in Maps to see more information.
It's clear that Maps is a priority for Apple, though the company clearly lags behind Google. If 9to5Mac is right and the results of this work don't become apparent until 2018, it might be too late for Apple to lure users back to its native Maps app. Do you use Apple Maps? What do you love about it and what does Apple need to work on? Let us know in the comments.