One annoying side effect of online life: We have far too many accounts on far too many devices that require a password. Probably the most common way to manage this confusion is to come up with a good password and use it everywhere… which we know is a terrible idea.
The best method is to use a unique password for each account, which is much more secure, but more difficult to manage. And for that, we need a good password manager, so that we don't have to use dangerous methods like spreadsheets, sticky notes, or overworked brain cells.
Two of the most popular password managers are 1Password by AgileBits and LastPass by Marvasol, and they both recently expanded their apps to include support for the Apple Watch. They work similarly on Macs, Windows computers, and Android and iOS devices—and now the Apple Watch—by storing your online logins in a database and then unlocking them with a single "master password" when you need to use them.
In addition to managing passwords, both apps provide a secure way to store other types of info, such as bank accounts and credit cards, or just general free-form secure notes. They also give you the option of creating profiles that can automatically complete payment forms with your name, address, and payment info. And each one provides a way to sync your data among all your devices.
We've come to trust how these apps work across our Macs and iOS devices, but how do they stack up on the Watch, given that we don't actually need to use our account passwords on the Watch that often (if ever)? Let's take a look.
Easy access to your password vault
Getting started with LastPass or 1Password on your watch is a cinch, once you have your account set up. You can enable these apps for the Watch from within their respective iOS app settings or from the Apple Watch app on your iPhone. Both apps give you the option of further securing your data with a 4-digit PIN code that you enter occasionally when accessing their Watch apps, but they take a slightly different approach in the way they let you access their password databases stored on your iPhone—LastPass for Apple Watch gives you access to your entire iOS password vault, while 1Password requires that you specially tag items in the iOS app before they will appear on the Watch. In either case, no data is being stored permanently on the Watch: Your Watch and iPhone must be paired and in communication for your password data to be available on the Apple Watch.
In both apps, you can scroll through your vault using the Digital Crown. If you've carefully tagged only a few important 1Password records, then finding any of them on the Watch is a quick and easy task. But since LastPass makes your entire database available on the Apple Watch, those items can be a little slow to appear, and scrolling can take awhile. Luckily, LastPass provides a bit of help: Rather than mixing logins, notes, and profiles into a single list as 1Password does, LastPass segregates them into separate views. LastPass also lets you search your vault using your voice, which I've found works relatively well. But all this takes a few extra steps.
At the start, I was hoping that I would be able to use my Apple Watch to control 1Password and LastPass on my iPhone, and I was a little disappointed to see that both apps limit you to only viewing your saved logins, profiles, and notes. But this still can be useful for keeping important information handy, in case you should need to log in to an account from an unfamiliar computer, for example.
In my case, I've used LastPass and 1Password's password generators to replace all my passwords with long cryptic ones, and reading those on the Apple Watch's small screen can be challenging, so I appreciate how 1Password helps make these more legible by displaying upper/lower-case, numbers and special characters in different colors. LastPass has a special feature that lets you create secure notes directly from the Apple Watch via voice dictation but I've had some trouble getting this to work reliably.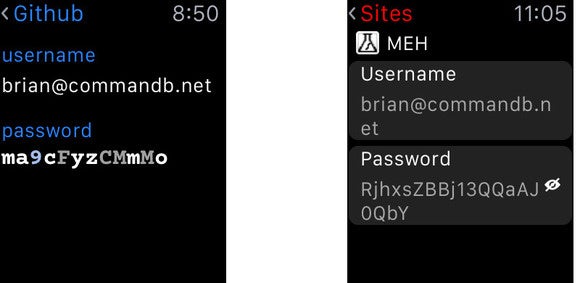 Bottom line
I'm an unusual case—I use both 1Password and LastPass on a daily basis. I've been a 1Password user on my Mac and iOS devices for many years, while at my day gig we recently deployed LastPass Enterprise—an enhanced version of the app with business-level security and sharing features. So, I find myself moving between 1Password and LastPass quite frequently on all my devices.
While I can appreciate the convenience of having my entire LastPass database available on my Apple Watch as well as the app's useful filtering and searching tools, I prefer 1Password's simpler (and arguably more secure) approach of displaying only the items that I really want to have available on my Watch.
Regardless, both apps' Apple Watch support is very limited, and I'm hoping this will improve once the Apple Watch's ecosystem starts to grow and the device becomes more powerful. Until then, I don't recommend that anyone choose one app over the other based solely on their Apple Watch features—you really need to evaluate all the very useful benefits of the desktop and iOS versions of LastPass and 1Password to make that decision. (And if it helps, our favorite is 1Password.)