Now that HomeKit devices are finally starting to ship, Apple fans will need to build an entirely new collection of HomeKit-certified smart home gear in order to command it all with Siri, right? Not necessarily.
Insteon is bringing its entire ecosystem of products under the HomeKit umbrella with the new Insteon Hub, which was announced at CES and is available to purchase starting Tuesday.
Why this matters: Insteon has decades of experience building home control devices, and its embrace of HomeKit will give users a jump start on building out an expandable system for their home. Even if you dont want to go all-in with Insteon, you can pick and choose some HomeKit prodcuts from other companies, and the Hub will bridge those to your Insteon gear, letting you control everything from the Insteon+ app. HomeKit also supports voice commands via Siri, and Insteon has already been working with voice assistants, adding Cortana support with Windows 8.1.
One Hub, many products
HomeKit devices use Bluetooth and Wi-Fi to communicate, but Insteon's family of home control devices (lights, plugs, switches, sensors, cameras, locks, the works) use a different dual-band communication technology that combines both wireless and powerline networking. The $150 Insteon Hub acts as a bridge between Insteon's mesh network and your regular Wi-Fi network, so you can reach your Insteon devices from outside of the house, and to bridge your Insteon system with HomeKit.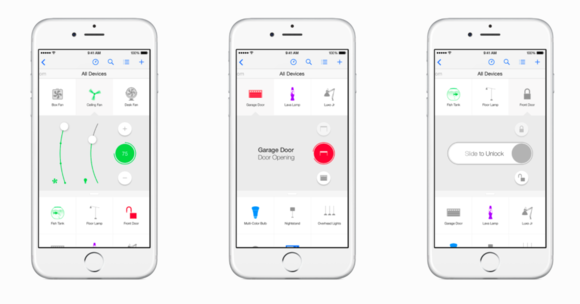 With an updated Insteon+ app, you'll be able to set up scenes, grouping devices together so you can control them in concert, with a single command. The Dashboard shows your favorite devices, along with all the scenes you've set up, and a quick-glance view at devices currently in use. You can set up timers, add new devices with just a few taps, and group them into rooms and scenes. With your iPhone, you'll be able to ask Siri to change an entire scene for you, and Insteon recently announced Apple Watch control as well.
The Watch app has thoughtfully designed controls for dimming your lights, changing the speed of a ceiling fan, or just flipping a switch on or off. The app also lets you check in on sensors, confirm doors are locked, and even get a live view of your cameras, right from your wrist.

HomeKit doesn't lock you into using devices from just one manufacturer—Apple certifies each device, and any certified device should work together. But Insteon doesn't even lock you into using HomeKit. Different hubs can bridge your Insteon gear to a Nest thermostat or (coming later) an AllJoyn-compatible setup. Having to switch hubs might seem like a pain, but it's better than having to replace an entire system you've built out one $50 lightswitch at a time.
Insteon's HomeKit hub is available at Amazon and Smarthome.com, and will have wider retail availability next month. We'll have a full review when we can. Apple will likely devote some of next week's WWDC keynote to HomeKit demos as well, especially if rumors of a Home app in iOS 9 or a next-gen Apple TV slash HomeKit hub prove true.