Apple has brought Yosemite to the mountain: El Capitan, specifically, which is the name of OS X 10.11 as well as a peak in Yosemite National Park. Revealed Monday at Apple's Worldwide Developers Conference in San Francisco, El Capitan the release is intended to reach a higher point, but not dig new ground.
Craig Federighi, Apple's senior vice president of software engineering, emphasized the release is about an improvement in experience and performance. El Capitan's announcement focused on small points of irritation and big bumps in efficiency.
Safari adds pinning, letting users keep particular pages readily available. The sites will be regularly updated in the background to keep them up to date. In a feature that received plenty of applause among the audience, Safari will now make it easy to reveal which tab or tabs is playing sound, and let audio be muted with a single click on in its tab. Safari can now push web video to Apple TV as an isolated stream, showing just that content and not the entire desktop.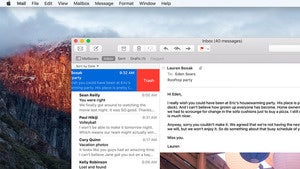 Apple emphasized new gestures that borrow from iOS, such as swiping left in Mail to reveal a Delete button that can be tapped. In Mission Control, a three-finger upward swipe reveals every desktop window in a single layer. Any window in Mission Control can be dragged to the top of the screen to create a new desktop space.
Federighi also showed off in Mail a new option for hiding windows within an app without minimizing them. Switch to the inbox minimizes a message you're composing to the bottom of the screen with its window bar showing. An image can be dragged from a message being viewed onscreen into the docked window. Mail also provides better hooks into calendars and contacts, and allows tabbed windows to managed different email threads.
The new release provides better options for working among multiple apps with improved use of full-screen mode, especially with 16:9 ratio and similarly broad monitors. Clicking and dragging the green window-resize button uses Exposé to show other available apps. Drop onto another app, and El Capitan creates a full-screen, side-by-side working view of both.
Little features also receive small and large tweaks. The Spotlight results window can be resized and moved—Federighi joked "that's innovation!" But Spotlight now encompasses more natural-language queries, like "documents I worked on last June." Spotlight also encompasses more up-to-date information, including weather, video results from the Internet, transit information, and, Apple's constant on all platforms, stocks.
The Photos app now supports third-party editing tools, and will sport minor interface improvements that Yosemite users will seemingly have to wait for and upgrade to get. Geotagging, available in iPhoto and absent in Photos 1.0, will return in Photos for El Capitan, as well as better handling of Faces.
Wiggling one's finger on a trackpad or shaking a mouse enlarges the cursor on screen to make it more easily visible, useful on a Retina screen for which a higher-density display option was chosen. Maps adds long-awaited transit directions, which can be pushed to an iPhone. And the old standby Notes, the butt of many jokes, gets a refresh. It can now handle media, URLs, and map locations alongside text, and sync via iCloud across all iOS and OS X devices you use with the same account.
Apple also emphasized performance improvements to address ongoing complaints about delays, spinning cursors, and other odd lags in speed in Yosemite, sometimes in comparison to previous releases of OS X. Federighi said that apps will launch up to 1.4 times faster, switching between apps will be twice as fast, and PDFs will open in Preview four times as fast.
On the graphics side, Apple is bringing its Metal framework to OS X, making graphics rendering 40 percent more efficient. For games, drawing performance can be ten times faster. Game developer Epic showed a Metal-based game it built, called Fortnite, and said its developers saw a 70-percent reduction in CPU use compared to OpenGL.
On the professional production side, Federighi said that Adobe was able to pull an eightfold improvement in After Effects rendering. Adobe is committed to adopting Metal across its OS X apps, he said.
The new version is available to developers today and in a public beta in July. It will ship to users in the fall as a free upgrade.