I don't use outlines often, but whenever I'm working on a book or a long article, I create an outline. I've long used The Omni Group's OmniOutliner but I know I don't need more than a fraction of the features that app offers. There are lots of other outliners available at much nicer prices, and Robin Schnaidt's $9 OutlineEdit is an excellent choice for those who want to make outlines but don't need all the power and complexity of other apps.
OutlineEdit offers all the usual features you'll find in an outliner. It automatically assigns levels to texts you enter as you press the Tab key. You can fold items, hiding the sub-items of a top-level item, for example, to make your outline view less cluttered. And it lets you move items up and down in the outline, changing their positions, or promoting or demoting them. It also offers checkboxes that you can use to mark items as completed. I often use this feature when I'm writing a book or long-form article, as I don't necessarily write in a linear manner.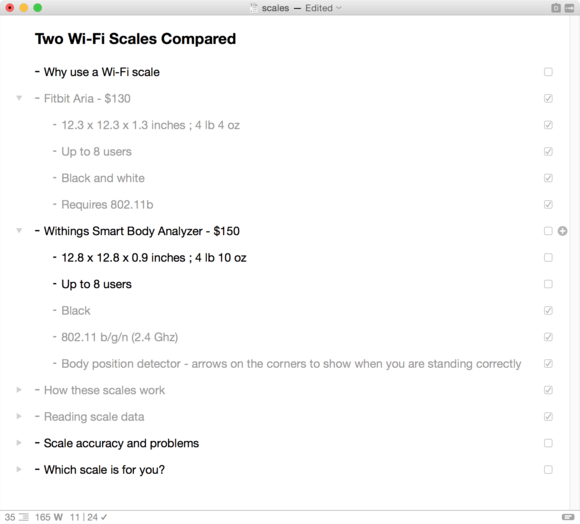 The app also offers a full-screen, distraction-free view, notes, statistics, and "categories," which are a kind of label you can apply to different parts of your outline. You can use categories to highlight different items using a selection of colors, and choose to only view one or more categories at a time. The category feature seems gadgety to me, but it could be that my workflow simply doesn't function in that way.
Like many outliners, OutlineEdit supports the OPML (outline processor markup language) format for both import and export, and can export outlines as PDFs. It does not, however, offer other outline formats, such as Word's .doc or RTF. But you can send outlines to an Evernote account, or to a Kindle.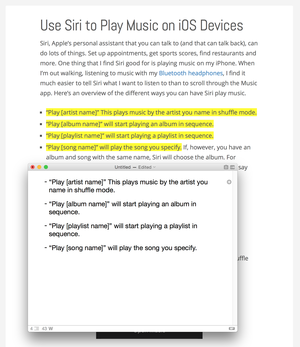 While OutlineEdit lets you style items, I much prefer the way OmniOutliner lets you set styles by level, so each level takes on a preset style without your having to tweak it.
One unique feature is a Safari extension called Marker. Using this, you can mark, or highlight, selected texts on web pages in Safari, and then send them to OutlineEdit. When you do this, they open a new document, with each of the highlighted items as an outline item. This is great if you plan to grab quotes or ideas on the web and want to bounce them into an outline.
Bottom line
OutlineEdit is a clean, easy to use outliner, which is ideal for those who want to make outlines, but don't need a more powerful tool. Even if you don't make outlines, OutlineEdit is the kind of app that can help you get started; its Safari extension, for example, is a great way to bring information from web pages into the outliner, and build from there.