At a Glance
Expert's Rating
Pros
Doubles as an external battery for charging devices.
Typing is smooth and reliable.
Magnetic channel works as an on/off switch.
Cons
Only one viewing angle when typing.
The extra adapter required for charging another device is one more thing to worry about losing.
Our Verdict
This protective case provides a pleasant typing experience, and then goes one step further by letting you top off devices with the built-in battery.
In an increasingly competitive market, Bluetooth keyboard manufacturers have to seek out ways to differentiate themselves from the competition. The forced innovation has lead to a range of products that extend a keyboard's functionality well beyond that of a tool to aide in typing.
One such feature found on the Kensington KeyFolio Thin X3 (for iPad Air 2) adds an interesting dynamic to an otherwise standard keyboard: the ability to charge another device using the keyboard's battery.
Even with such a useful feature, if Kensington didn't create a quality keyboard the ability to charge a device doesn't hold much weight.
A quality case
The KeyFolio Thin X3 is a folio keyboard, which means it encloses your iPad in a protective case. It's heavy but not bulky, leaving you with a feeling of protection without feeling like you're lugging around a brick.
The Folio folds back onto itself, allowing you to use the iPad with the keyboard portion of the case tucked behind your iPad.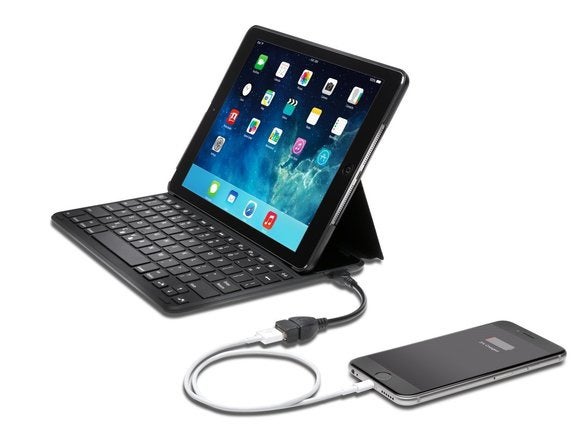 Magnets inside the keyboard hold the case closed and replicate the Apple Smart Cover method of putting your iPad to sleep and waking it up. It's just enough magnetic power to offer a little resistance, eliminating the case from opening and closing on itself (and the screen of your iPad) when it's being carried.
Typing experience
When you open the case, a small channel sits just above the keys. Placing the edge of the iPad into this channel triggers a magnet, that in turn powers on the keyboard itself. This small feature is sure to save battery life for both devices involved, but it comes at a cost.
Since you have to place your iPad in the channel just so, you can't change the viewing angle. I did find the angle to be sufficient in most instances, but I'd prefer to have the option of pushing it back to increase the angle while working at a standing desk or when sitting on a couch and typing on my lap.
Typing on the KeyFolio Thin X3 is smooth, I didn't have to suffer a long adjustment period or learning curve. The keys offer sufficient play, and are evenly spaced. I don't have anything bad to say about typing on the KeyFolio Thin X3.
The top row offers keyboard shortcuts, as is now standard for all iPad keyboards, for common iOS functions such as media controls, locking your iPad, and a home key.
Double-duty
Allowing the battery inside the keyboard to charge another device is an intriguing idea, and I enjoyed using the feature. The 1650mAh battery inside the KeyFolio is more than enough to top off my iPhone, while still allowing me to get some work done on the iPad. It took roughly 35 minutes to charge my iPhone 6 from 55 percent to 90 percent in my testing.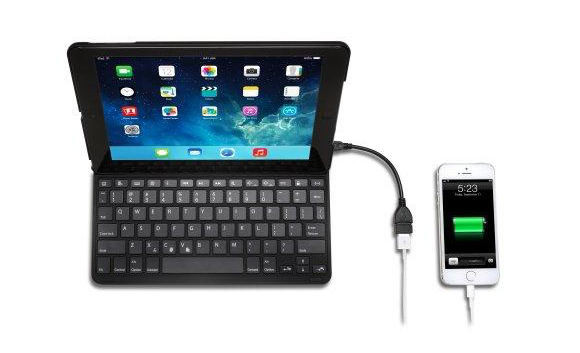 And when the battery in the KeyFolio started to get low, it stopped charging my iPhone, but still allowed me to use the keyboard.
If it weren't for the small Micro-USB to standard USB adapter that's required to connect another device to the keyboard's battery, this feature would be perfect. I understand why the adapter is warranted; it's the only way to keep the KeyFolio Thin X3 so, well, thin. I just wish there was another way.
The adapter is roughly 6-inches in length, and serves its purpose well. However, I can already see myself losing it while traveling, or misplacing it at home. Beggars can't be choosers, right? I'll take the feature and run with it—at least until I lose the cable.
Bottom line
The KeyFolio Thin X3 for iPad Air 2 is the best folio-style keyboard I've used thus far. I never felt like I was struggling when typing, and the added functionality of being both a protective case and a spare battery only sweetens the pot.
This is one keyboard-case-battery combo that holds its weight.